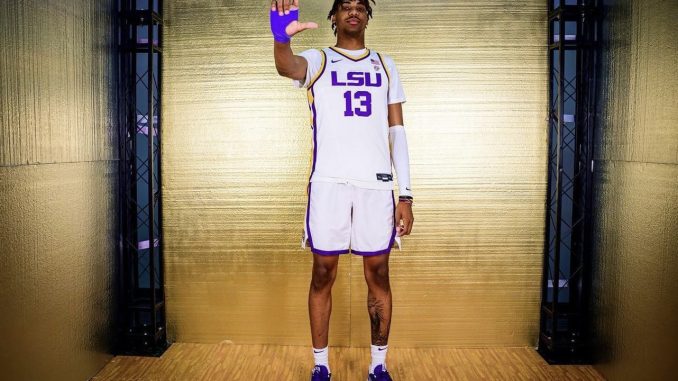 The son of a former LSU football player will continue the family's athletic legacy in a different sport in Baton Rouge.
Four-star power forward Robert Miller III of Pasadena, Texas became the first commitment Friday in LSU coach Matt McMahon's Class of 2024. He made an official visit to the school Sept. 8 and returned two weeks ago for an unofficial visit for the Grambling State football game.
The 6-foot-10, 225-pound Miller, son of Robert Miller II who was a defensive tackle at LSU in 1993-94, selected the Tigers over Texas, Colorado and Alabama. His mother played collegiate basketball at Tulane and in the WNBA.
"Throughout the journey, they've been really consistent, proving to me that they wanted me to be a big part of their program and to come in day one and make a big impact," Robert Miller III told 247 Sports. "I've always kept that in the back of my mind and pulled the trigger on it. My relationship with coach McMahon has grown, we've grown pretty close over the last couple of months, staying in touch a lot. They have a plan; they've shown me a plan for what they have in store for me my freshman year."
Miller, whose primary recruiter at LSU was assistant Ronnie Hamilton, is the nation's No. 49 overall prospect by 247, No. 11 power forward and No. 2 prospect in Texas.
He averaged 19.7 points, including a season-high 31 points, and 13.4 rebounds to go with 55% shooting from the field, 5.4 blocks and 1.5 steals. Memorial went 23-12 and reached the second round of the state playoffs.
"They run the floor there, get out and read and react," Miller told On3 of LSU. "They take great pride in defense there; that is something they told me. I would be able to play on the wing there, go inside out. Playing from the outside and going inside when I need to."