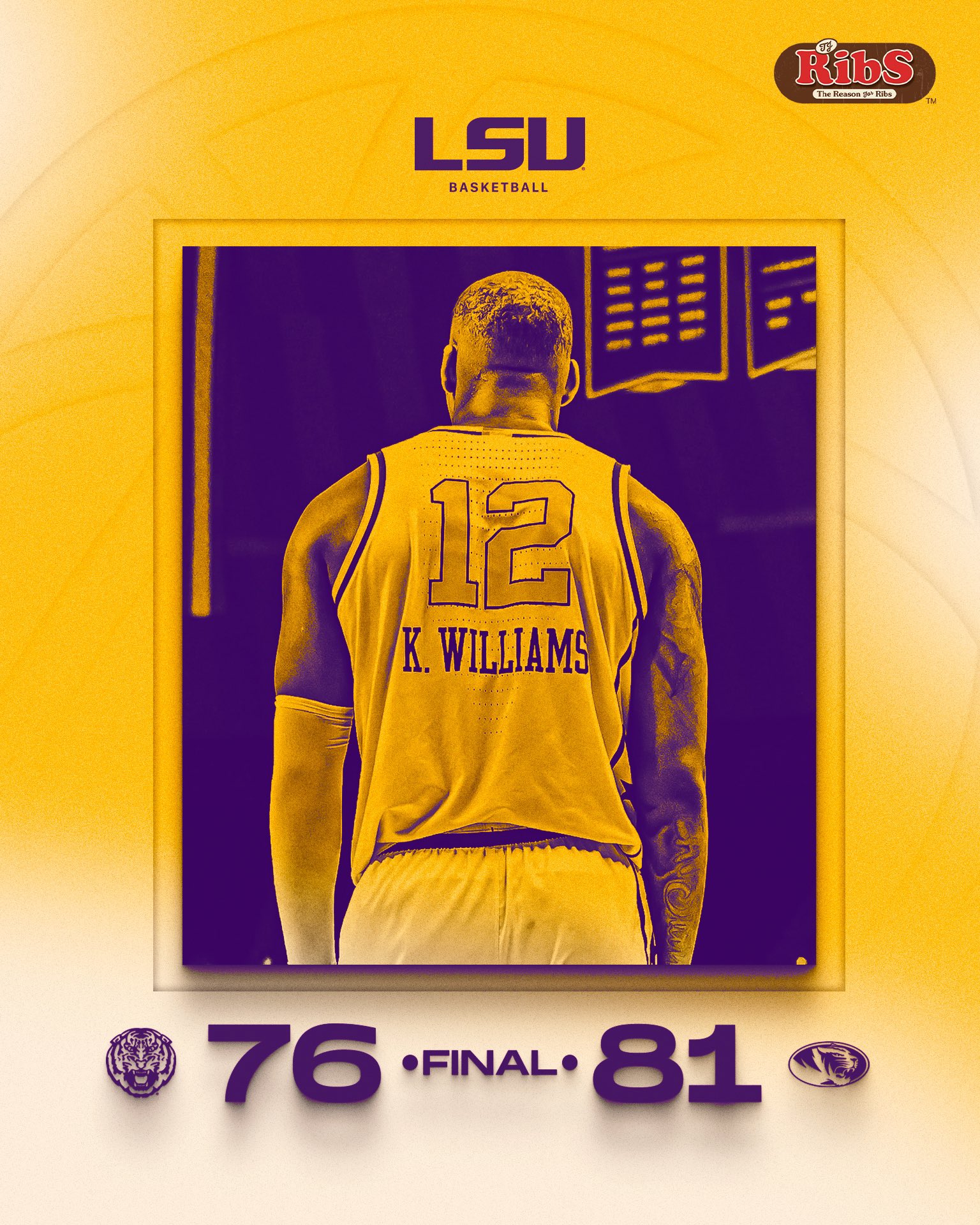 LSU found itself in unfamiliar territory, leading by 13 points at halftime against a Southeastern Conference opponent after a hot-shooting first 20 minutes on Wednesday night in the Pete Maravich Assembly Center.
The problem was they simply could not hold on.
Missouri turned the tables in the second half, outscoring LSU by 18 points and took its first lead of the game with a 1:34 left to play and held on for a 81-76 victory on Senior Night in Baton Rouge.
LSU closes out the regular season at Florida on Saturday and will then play as the SEC's No. 14 seed against Georgia in the first round of the SEC Tournament on March 8 at 8:30 p.m. at Bridgestone Arena in Nashville, Tennessee.
D'Moi Hodge scored 23 points, DeAndre Gholston added 20 to lead Missouri over LSU.
Hodge made 8-of-16 shots with five 3-pointers for Missouri's Tigers (22-8, 10-7 SEC), who have won three straight and picked up their first win on LSU's home floor. Hodge added five steals, giving him a school-record 78 this season. Gholston made 7-of-12 shots with two 3-pointers. Noah Carter pitched in with 13 points and seven rebounds off the bench.
"Just disappointing, you come out to start the second half and we leave the ball there and give up an easy 15-footer and then come down and turn it over to get it back to single digits," LSU coach Matt McMahon said. "I think they (Missouri) finally tied it right around 59 and we did mount a response there. We were able to build the lead again but just couldn't get enough stops. Then, just unfortunate, we had back-to-back possessions where we didn't even get a shot at the goal because turned the ball over. That's poor execution there."
Fifth-year senior KJ Williams finished with 24 points and 14 rebounds to lead LSU (13-17, 2-15). Williams picked up his eighth double-double of the the season. Adam Miller added 17, while freshman Jalen Reed scored 11 points and had seven rebounds off the bench.
In the first half, Williams had 15 points, Miller scored 14 and LSU sank 11-of-15 shots from 3-point range to build a 47-34 lead at halftime. LSU led by 19 before Missouri went on a 10-4 run to close out the half.
LSU senior Parker Edwards, who had played only one minute total the entire season before getting the start on Senior Night. The walk-on transfer from Southeastern Louisiana hit two 3s to help the Tigers jump out to a 6-0 lead in the first minute of the game. They went on to build an early lead to 13-2 in the first three minutes plus of the game before Missouri appeared to know what hit it.
"I thought our guys really competed tonight," McMahon said. "Parker Edwards got us off to a really special start there with his two threes and his start on Senior Night. I thought that carried over to our team. I think we competed the way we need to play every single night. Credit to Missouri, they stayed the course there when we built a lead in the first half. I think we had one two-point field goal there, everything else was done beyond the arc and it was going to be hard to continue to shoot at a 73% clip from behind the arc. Unfortunately, in the second half, some of the same problem that have bother us all year. A lot of turnovers, unforced turnovers at times.
"KJ (Williams) with another monster game, they (Missouri) put two and three on him at a time, but we were trying to get it to him on every trip," McMahon said. "Unable to do so there late in the game. A couple of key possessions I thought, we got a stop with about two minutes to go up by two, they shot an airball three, we were unable to come up with the rebound and they (Missouri) got a putback there. We take a bad shot late. We were unable to get anything going there and then (D'Moi) Hodge buries a huge three. Credit to Missouri. They put a lot of pressure on you defensively. All one through five can beat you off the dribble and get to the rim and make plays at the basket. If you go double, they can all shoot it from three. Obviously disappointed in the result tonight."
Hodge scored 13 points after intermission and Missouri chipped away at the lead until East hit a jumper to tie the game at 72 with 3:01 remaining. Williams and Carter traded baskets before Hodge nailed a 3-pointer to give Missouri its first lead 77-74 with 1:37 left. LSU managed just two East free throws over the final 2:21.
Missouri shot 46% overall, but shot better in the second half, making 17-of-33 shots (51.5%). They finished 13 of 13 at the free-throw line.
LSU shot 48% in the first half but just 37.5% after the break. They made half of its 28 shots from beyond the arc and hit 20 of 22 foul shots.
LSU turned the ball over 16 times, 10 coming in the second half, and Missouri scored 20 points off of those turnovers. Missouri also outscored LSU 32-12 in the paint.
"It's tough. We haven't shot the ball, you know the numbers, we haven't shot it every well at all this season," McMahon said. "We are 14-of-28 from three tonight. I did think we left some opportunities on the scoreboard around the rim. I think we were 7-of-21 from two-point range, which isn't good enough. But the turnovers are just brutal. It's just brutal, there's no other way around it. In games we've had opportunities to win this year we took care of the basketball. You look at 16 turnovers leads to 20 points for Missouri.
"With the way they score the ball, they certainly don't need you helping them out by giving them easy points," McMahon added. "They do a good job defensively. I thought they really tightened their defense up down the stretch. They were going to key in on taking KJ away and we were unable to make plays off the bounce at that point when they were switching everything out."