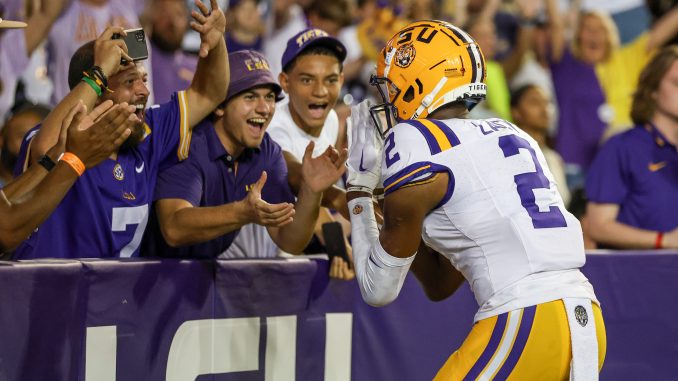 Double-digit wins, a trip to the Southeastern Conference Championship Game and Citrus Bowl win in his first season didn't exclude LSU football coach Brian Kelly from having to move around some pieces of his team for the right fit this year.
Three weeks into the 2023 season the Tigers have relied on lineups with moving parts on both sides of the line of scrimmage that resulted in the team's best performance to date – last week's 41-14 victory at Mississippi State in the SEC opener.
Maintaining that momentum behind a developing team will be of paramount importance when No. 12 LSU (2-1, 1-0) hosts Arkansas (2-1, 0-0) at 6:00 p.m., Saturday in the Battle for the Boot in Tiger Stadium.
ESPN will televise the game with 98.1-FM broadcasting the game locally.
"Unless your team is ready-made, I made it pretty clear that with 14 transfers and the amount of freshmen we were going to have to play, that's a red flag," Kelly said. "If you're really looking at it carefully, that's going to require some tweaking. That's going to require you to understand there's going to have to be some movement in terms of changing direction with your team along the way.
"We were able to do that," Kelly added. "I think we're finding the formula for this team. I think most teams that I've had, there haven't been as many that are 'just add water' and just go. They all require a little bit of changing the formula as the season goes along to get the right mix."
The biggest area of change a week ago occurred on defense when LSU, despite missing three starters, limited Mississippi State to 201 total yards with 94 on the ground.
The Tigers will start true freshman Whit Weeks in place of an injured Omar Speights for a second week at linebacker. He produced a team-high eight tackles against State and the Tigers expect the return of senior 'jack' Ovie Oghoufo but will now rally around the loss of senior captain Greg Brooks Jr. who had surgery last Friday to remove a brain tumor.
Kelly said the team will honor Brooks, who wears No. 3, by wearing No. 3 decals on the backs of their helmets.
Senior safety Andre Sam, a transfer from Marshall, has been the team's starter the previous two weeks and true freshman Ryan Yaites gained valuable playing time at the nickel position last week in Brooks' absence.
Kelly also expects to be 100% on offense with the return of sophomore tight end Mason Taylor from an ankle injury where freshman Mac Markway started in his place and caught a pass last week.
"We need all hands on deck," Kelly said. "We've got to be able to play with the same competitive edge, the same kind of preparation. This is the grind of it now. This is where you get into your process and make sure everybody has an understanding of doing the little things the right way every single day. We're off and running. We've got to keep them focused on every single day."

Since a fourth-quarter collapse in a season-opening 45-24 setback to Florida State, Kelly has tried to appeal to his team's competitiveness – an element he felt was missing in the second half of that game.
He felt the Tigers took a step in the right direction two weeks ago in a 72-10 romp over Grambling State, scoring on 10 consecutive offensive possessions and overcoming a slow defensive start.
Against State, LSU's performance was more reminiscent of a team rounding into shape, especially an offense that exploded for 530 total yards behind the combination of quarterback Jayden Daniels and wide receiver Malik Nabers combining for 13 completions, 239 yards and a pair of touchdowns.
Daniels, 30 of 34 for 361 yards and 2 TDs, and Nabers shared the SEC's Offensive Players of the Week for their effort.
"I think this is as good a football team as we'll play all year," Arkansas coach Sam Pittman said of LSU. "They're very talented. That's why you have game plans. We've got a good football team. We've lost just a game and we've got to go get our pride back, get our respect back."
Daniels, who is No. 3 in the country with 377.7 total yards per game, is the leader of the SEC's No. 1 offense in total yards (537.0) and league's No. 2 scoring offense (45.7). He's completed 73.7% (70 of 95) of his passes for 976 yards and eight touchdowns with one interception and is also the team's leader in rushing with 157 yards rushing two 2 TDs.
The Tigers' top two targets are Nabers (24 catches, 393 yards, 3 TDs) and Brian Thomas Jr. (20-280, 3 TDs).
Since Arkansas joined the SEC in 1992, this year's rendition marks the earliest the two border rivals have met. While the Tigers have been installed as 17-point favorites this year, the last three games have all been decided by three points, including LSU's 13-10 road win in Harold Perkins Jr.'s coming-out party in 2022.
"I don't think anyone on the team pays attention to that," LSU linebacker Greg Penn III said of this year's point spread. "We know the type of game it's going to be Saturday night. We know Arkansas is going to come out with an edge that we have to match. It's going to be a great game. We know it's going to be a tight, physical game."
Arkansas is looking to bounce back from its first loss of the season, losing the grip on leads of 14-0 and 31-21 in a 37-31 home loss to Brigham Young. The Razorbacks, who have been without top running back Rocket Sanders (2,063 career rushing yards) for two weeks, are sixth in the SEC in scoring offense (38.3) and 12th in total offense (370.3).
"I don't know if he's going to be able to play or not," Pittman said of Sanders earlier in the week.
Kelly has plenty respect for 6-foot-3, 247-pound senior quarterback KJ Jefferson, who missed last year's game with LSU because of injury. He's completed 55 of 71 passes for 629 yards with six touchdowns and an interception.
"He's still the big, physical, athletic quarterback that scares you," Kelly said. "He's hard to bring down. He's got a live arm and we're going to be prepared for him to play his best against us."
Arkansas counters with one of the SEC's top defensive units – a group led by Cincinnati linebacker transfer Jaheim Thomas (29 tackles, Pitt defensive tackle transfer John Morgan (25 tackles) and a pair of LSU transfers defensive end Landon Jackson and cornerback Dwight McGlothern. The Razorbacks are ranked No. 1 in the league in rushing defense (55.7) and second in total defense (257.3).
"It's a rivalry game," LSU center Charles Turner III said. "Every year we're going to get their best shot and they're going to get our best shot because we're playing for a trophy. It just means a lot, especially in the SEC, these rivalry games mean a lot."