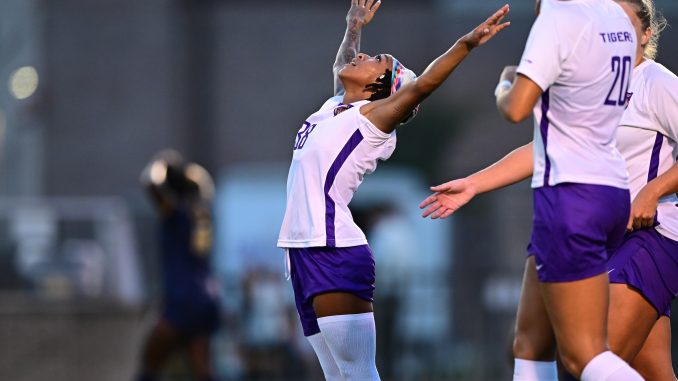 ATHENS, GA. – LSU's soccer team had to work hard for its second Top 25 win of the season, but that's what the Tigers managed to accomplish.
LSU (6-3-1, 1-1-0 in SEC) rallied from a two-goal deficit with three second-half goals, including Sage Glover's game winner in the 84th minute, for a 3-2 Southeastern Conference victory Thursday at No. 22 Georgia.
"Just really proud of the team," LSU soccer coach Sian Hudson said. "To go 2-0 down in the first 10 minutes of the second half and have an unbelievable response against a Top 25 team on the road, I couldn't be more proud of the players. We played a lot of different systems within the context of the game and the fight and grit in the second half was unbelievable."
Georgia (4-2-3, 0-1-1) took a 1-0 lead into halftime and made it 2-0 in the 56th minute of the match.
As been customary during her career, goalie Mollee Swift converted a penalty kick in the 74th minute and Rammie Noel followed two minutes later with a shot from six yards that clanged off the bottom of the right post and into the net.
Glover delivered the game-winning goal eight minutes later, collecting a loose ball in the box from and scoring from five yards out past a Georgia defender in goal.
LSU began its comeback on the third penalty shot of Swift's career after Noel was fouled in the box. Noel later scored her third goal of the season and ninth of her career for the equalizer.
"Rammie (Noel) was key on the first and second goal," Hudson said. "She won the penalty on the first goal and then scored the second goal, a fantastic effort tonight."
The deciding goal was ignited when Mollie Baker dribbled into the box and her shot beat the keeper, but was blocked by a Georgia defender. The Bulldogs couldn't recover the ball in time before Glover collected it and beat a Georgia defender with the game-winning shot for her third goal of the year.
"The whole team's performance tonight with the different types of gameplans was just fantastic," Hudson said.
LSU returns home to host Mississippi State at 6 p.m. Sunday.