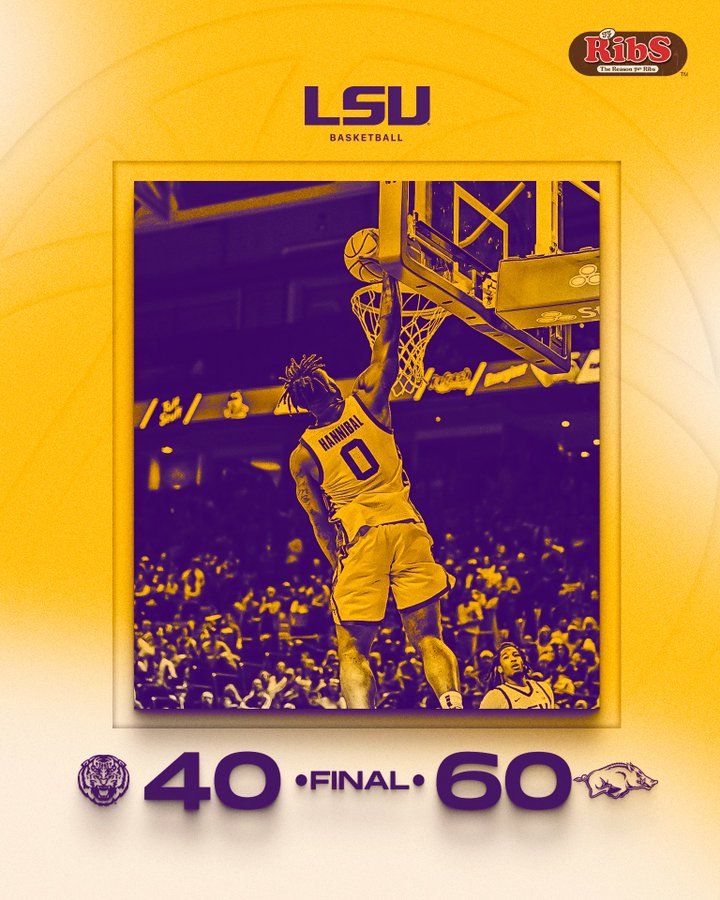 Arkansas shot a pedestrian 45% from the field on Tuesday night but it was more than enough to blow out LSU, 60-40, in Bud Walton Arena.
The Razorbacks avenged a Southeastern Conference season-opening loss to the Tigers, 60-57, in Baton Rouge on Dec. 28.
LSU (12-8, 1-7 in SEC) made only 26% of its shots for the entire game after shooting only 12% in the first half. The Tigers lost their seventh game in a row, the last six have been by double digits.
Less than a month ago – before falling on hard times – LSU opened SEC play with first-year coach Matt McMahon's first signature win of his career over Arkansas.
That was then.
This is now.
"It's the conversation no one wants to hear, but I do agree. In the first half, we just couldn't finish at the rim and the turnovers killed us," McMahon said. "We have a pretty simple formula that would give us a chance, you saw that some in the second half. We were able to execute and finish some plays, not have the crazy turnovers that led to transition.
"What that enables you to do is set your defense," McMahon added. "When you turn it over 10 times and miss 22 of you 25 shots against an elite transition offensive team, you are in big trouble. Second half, we were able to finish a few plays, make a few shots and set our defense and were pretty effective there in our half court defense."
For the first 9 minutes, 13 seconds of the game, even though LSU could not hit the broad side of a barn, the Tigers somehow were still in the game and trailed Arkansas (14-6, 3-5) by four points (15-11) with 10:47 to play before halftime after KJ Williams hit three consecutive free throws.
LSU was shooting 20% for the game to that point, compared to 60% for Arkansas.
LSU defied all odds, however, and finished the first half shooting 12%.
Then, in the blink of an eye, Arkansas went on a 23-3 run to finish the half with a commanding lead, 38-14.
LSU heated up some in the second half and got within 11 points on several occasions, but never closer.
Davonte Davis led Arkansas with 16 points. Anthony Black finished with 14 points, seven rebounds, three assists and three steals. Ricky Council IV had 10 points with six boards and seven assists and Makhi Mitchell added 10 points and grabbed eight boards.
KJ Williams and Adam Miller each scored nine points and Williams grabbed 11 rebounds.
LSU's 40 points were the fewest allowed by Arkansas this season and the second fewest points allowed in an SEC game in Arkansas history. The Tigers started the game 0-for-5 from the field and did not score its first field goal until more than five minutes into the game.
LSU returns home Saturday to play to Texas Tech at 6 p.m. in the SEC/Big 12 Challenge. The game will be televised on ESPNU.