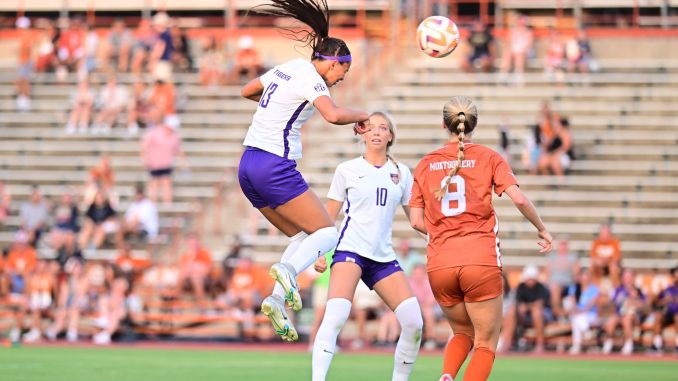 AUSTIN, Texas – A brace from Taylor Dobles and Ida Hermannsdotir's penalty kick were part of a three-goal first half output that helped LSU to a 3-1 upset victory Thursday of No. 9 Texas at Mike A. Myers Stadium and Soccer Field.
"I'm so proud of this team," LSU soccer coach Sian Hudson said. "Every week we have the desire to get better. It's a togetherness. It was a fantastic performance for a Top-10 win on the road. We can use this same energy for bigger and better things as the season progresses."
It was LSU's first win over a ranked opponent since a 4-2 win over No. 4 Arkansas in 2021 and first road win over a ranked foe since a 5-2 victory over No. 21 Arizona State in '21.
Dobles scored on a header 29 minutes into the match and Hermannsdottir added a penalty shot in the 39th minute. The Tigers (2-1) closed their scoring in the first half when Dobles capitalized on a defensive error and beat Texas' keeper one-on-one with a ground shot into the right corner.
Texas (2-1), which had an 11-match winning streak at home snapped, scored its lone goal in the 52nd minute from 12 yards out.
"We had some really big performances tonight. Rammie Noel was outstanding in the backline," Hudson said. "Taylor Dobles showed her experience today as a fifth-year senior. She came off the bench and caused Texas problems and scored two goals. Ava Galligan had a huge moment of skill for the assist on the first goal as well."
LSU broke the scoreless tie when Ava Galligan crossed a pass from the right side of the field to the back post to Rammie Noel. Noel found Dobles with a header, who then sent her header from the six-yard box into the top of the net for her first goal of the season.
Dobles was fouled in the box and set up Hermannsdottir's penalty shot for her third goal of the season. Dobles then picked up a loose ball after Texas was unable to clear a long ball, dribbled into the box and skipped a 15-yard attempt into the goal – the third brace of her career.
"Mollee Swift in goal is instrumental for us," Hudson of her keeper. "She brings so much experience to the pitch."
LSU returns home to host Southern at 6 p.m. Sunday at LSU Soccer Stadium. The game will be available to stream on SEC Network+ and live stats will be available on LSUSports.net.