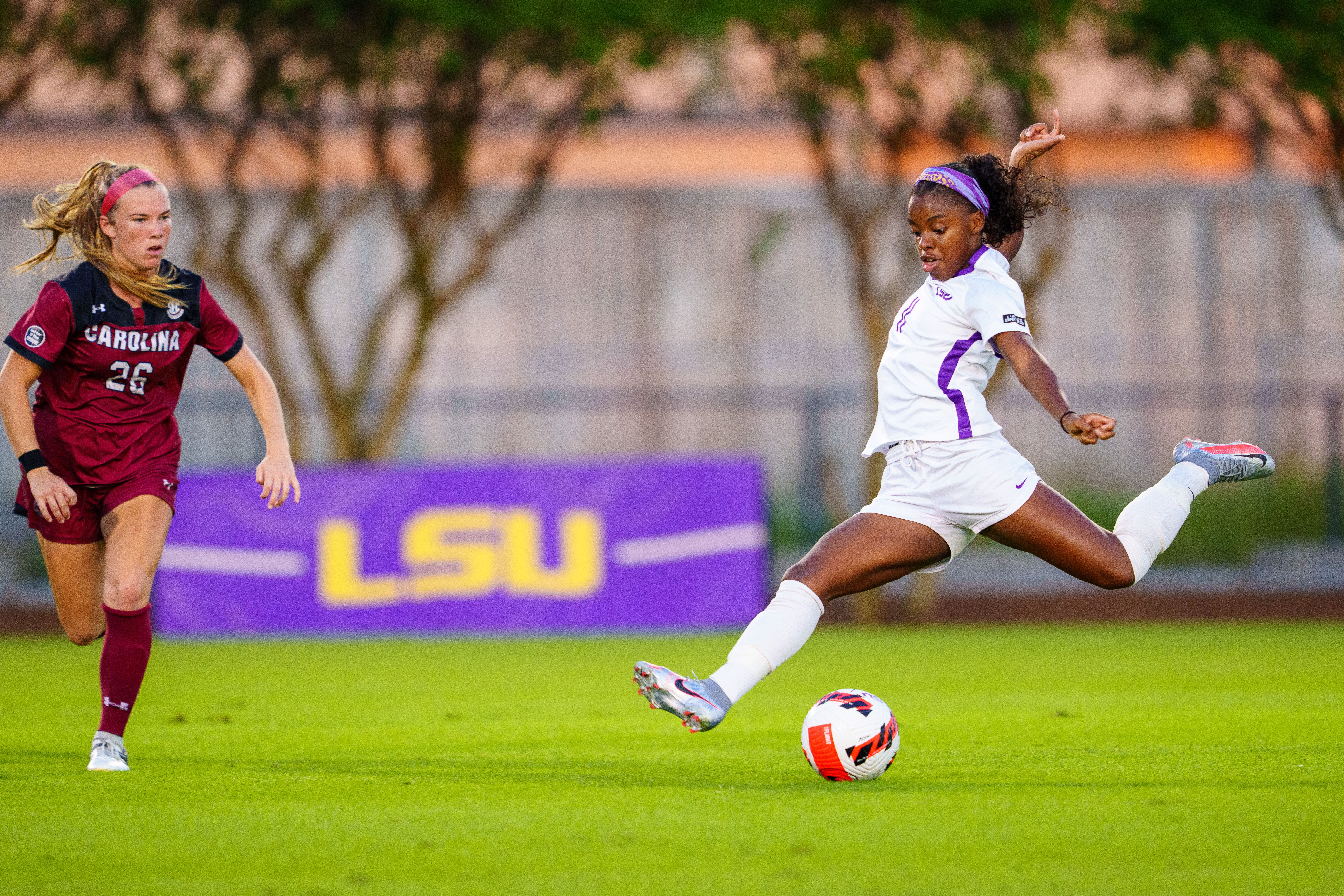 The thrill of getting into the NCAA tournament has long subsided into the reality of the moment.
For LSU's soccer team, which has run the gamut of emotions during the regular season, has ebbed to another high where the Tigers (11-7-1) make their first appearance in the NCAA tournament in three years when they face Memphis (13-4-2) at 1 p.m. Sunday at Memphis' Billy J. Murphy Soccer/Track and Field Complex.
The game will live streamed over ESPN+
"We're just thrilled for this team, for this program in terms of where we were a couple of years ago when we arrived to where we are today," LSU second-year soccer coach Sian Hudson said. "We're going to go into the tournament ready to compete and fight. We're not just happy to be there, we want to go there and make a statement."
Senior forward Tinaya Alexander, a first-team All-SEC selection, was one of seven current players on this year's team that got a taste of postseason success when LSU advanced past the first round in penalty kicks against Boston University. The Tigers were then eliminated a round later by USC, 2-0.
"The pressure's always good, I'm definitely ready," Alexander said. "I like that we're the underdogs and that way you can go out and show what you can do. There's nothing to be afraid of. We just have to believe in ourselves. I feel like we're capable and we've shown we could be No. 5 in the country, so we can definitely get there again. It's just about believing and having confidence in yourself."
LSU rebounded from a five-game losing streak in time to re-establish a case for the NCAA tournament. The Tigers won three of four games to close the regular season, including a 4-2 verdict over fourth-ranked and SEC champion Arkansas, which qualified the team for the SEC's postseason tournament.
They advanced in the first round of the SEC tournament in a penalty kicks shootout over Georgia before being unable to reprise their magic in a rematch with Arkansas that resulted in a 2-1 setback.
"We all knew we were capable," Alexander said. "Maybe we fell off a bit, but we all knew we could actually get back to where we were. It started with a belief in ourselves and a belief from our coaches. We actually do better when we're under pressure. We always wait until the last moment to show what we can do."
LSU had to wait until the midway point in the NCAA's selection show to have its name called, sending a euphoric roar through the Champion's Club at Alex Box Stadium where they team gathered to watch the proceedings.
Not only did they draw a first-round assignment against Memphis, but should the Tigers advance to the second round, they would do so on the road against Duke, a 1-0 winner over Old Dominion.
"Anytime you get to the national tournament you're going to be up against really quality teams," Hudson said. "We're on Duke's side of the bracket so that's obviously a huge opponent if we can overcome Memphis. The team has shown all season long that they're capable of beating anybody in the country on our day. We're excited to be in the big dance."
Memphis, which went 9-1-1 at home this season, advanced to its fourth straight NCAA tournament with a win over South Florida in a penalty kicks shootout to capture the American Athletic Conference's automatic bid.
The Tigers also had meteoric start to the season and were 10-1-1 starts with seven shutouts under long-time coach Brooks Monaghan.
Memphis qualified for its 10th NCAA tournament where it is 1-9 all-time and hasn't won a tournament game since 2011. They are led by two-time first-team all-conference midfielder Tanya Boychuck with six goals and three assists.
Senior forward Alesia Garcia is also part of LSU's balanced offense with six goals and four assists. Sophomore goalkeeper Mollee Swift has 76 saves, allowed 21 goals and has been part of six shutouts.
"It's going to be like the Arkansas game," Alexander said. "Our season was on the line. We feel that under pressure we always excel and I'm excited to see the team play. The coaching staff will give us good information we need to be prepared."