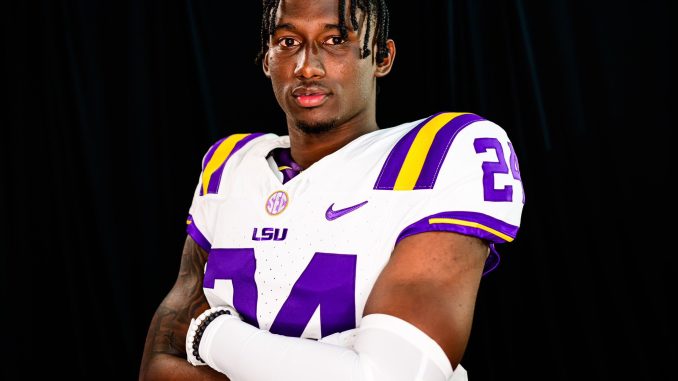 One of LSU's projected starters at cornerback – Zy Alexander – doesn't believe he has anything to prove.
Opposing offenses may have a differing opinion of Alexander, a two-time All American at FCS Southeastern Louisiana, when the No. 5 Tigers open the 2023 season on Sept. 3 against No. 8 Florida State at Camping World Stadium in Orlando, Florida.
Kickoff is scheduled for 6:30 p.m. for the nationally televised game by ABC.
"I don't try to prove anything to anyone," Alexander said to reporters following Wednesday's practice. "I felt like I owe it to myself that I'm able to come to the SEC and do the same thing I did at Southeastern."
The 6-foot-2, 188-pound Alexander acknowledged the disparity in battling LSU's wide receivers such as Malik Nabers in practice compared to the tests, he faced during his three seasons at Southeastern. The former quarterback at Loreauville High distinguished himself with nine interceptions, including two returned for touchdowns, with the Lions but less than three weeks after playing his final game entered the transfer portal and committed to LSU.
"I was looking to increase my level of competition and a place I could call home," Alexander explained of departure from SLU. "When I first entered the recruiting process in the portal, I couldn't imagine how many offers I would get. It was just a challenge at first. You've got different coaches calling and texting you. When LSU offered me, I was ready to commit."
The recruiting interest in Alexander out of Loreauville was scarce at best. He was exclusively a Class 2A quarterback, having played 10 plays at cornerback his freshman year, served as a backup as a sophomore and missed his junior season with a broken collarbone.
Southeastern joined a short list of Northwestern State, Grambling State and Mississippi College to extend scholarships but following the season-ending injury in a collision with current LSU teammate Princeton Malbrue of Lafayette Christian, Alexander said the coast was clear.
"After the collarbone injury, it was like all the colleges went away," he said. "Southeastern stayed and took their chance on me."
The transition from full-time quarterback to college cornerback wasn't without its challenges and Alexander admitted as much. He started in four of a COVID-shortened seven-game season in the spring of 2021, recording 31 tackles with a forced fumble.
"When I first got to college it was kind of a struggle," Alexander said. "I had worked on the offensive side and then I had to change to cornerback. I didn't realize how hard cornerback was. My coach at Southeastern (Del Lee-Collins) did a good job of believing in me."
Alexander repaid the faith and began to blossom, earning the first of his two All-Southland Conference honors and spot on the FCS All-America second team with a SLC-high six interceptions (third best in school history). That set the stage for an even bigger sophomore season, appearing in all 12 of his team's games in 2022, making 27 tackles with three interceptions – two returned for touchdowns – and four pass breakups.
When the Lions lost 48-42 at Samford on Dec. 3 in the second round of the FCS playoffs, Alexander was ready to move on and bet on himself. With his eyes affixed on the NFL, he entered the transfer portal after a difficult conversation with his head coach Frank Scelfo.
"I felt I owed it to myself," he said. "That I could compete in the SEC. I always believed I could play in the SEC. In one moment, I felt it was time to take the next step.
"It was very difficult," he said of having to tell Scelfo. "Coming out of high school, they were the only school that took a chance on me after I broke my collarbone. I felt like they were the first school who believed in me. Going into his office and telling him I had made this decision was kind of hard, but they all supported me."
The scholarship offers that were rather non-existent out of high school came pouring in once Alexander's name hit the transfer portal.
He reported the first flurry of offers on his Twitter page, a group that included Baylor, Georgia Southern, Houston, Louisiana Tech, Marshall, Miami, Tulane, USC, West Virginia.
Once LSU quarterbacks coach and Baton Rouge-area recruiter Joe Sloan called to inform him of an offer, Alexander said his recruiting process was over.
"It was crazy, said Alexander, who said he received more than 20 offers. "You would get phone calls at 6 in the morning, 8 o'clock at night. Once LSU called me, I knew this is the place I wanted to be.
"Coach Sloan called … That's where I knew I wanted to be," Alexander added. "Growing up, I'm from Louisiana. I always watched LSU growing up on TV. I always wanted to be part of the brotherhood."
For the second straight year LSU had to rebuild a depth-thin cornerback position through the transfer portal.
The Tigers signed and started both Jarrick Bernard-Converse and Mekhi Garner in 2022, but with Bernard-Converse out of the eligibility and Garner entering the NFL Draft (he signed an undrafted free agent deal with Philadelphia), they were in the same predicament and in search of experienced cornerbacks.
Alexander, who has tremendous length to play press-man coverage, was part of a four-member signing class from the transfer portal at cornerback with multiple years of eligibility remaining. He enrolled at LSU in the spring, went through spring practice and participated in the spring game.
LSU second-year coach Brian Kelly certainly noticed Alexander's attributes.
"He's a guy that's trustworthy," Kelly said. "Does the little things the right way. Takes care of his work off the field. Reliable. Those traits, as we know, are transferable. At his position, that's what you're looking for."

Alexander has been a constant at one of the team's No. 1 cornerback positions since LSU opened fall practice on Aug. 3. He's remained there throughout and had impactful plays in the team's first scrimmage on Aug. 19 with a knock away on the first series and forced a fumble which he recovered against tight end Mason Taylor.
"I'm just going out there and playing with confidence, showing the coaches what I'm able to do," Alexander said. "Each and every practice I go out there and try to get better."