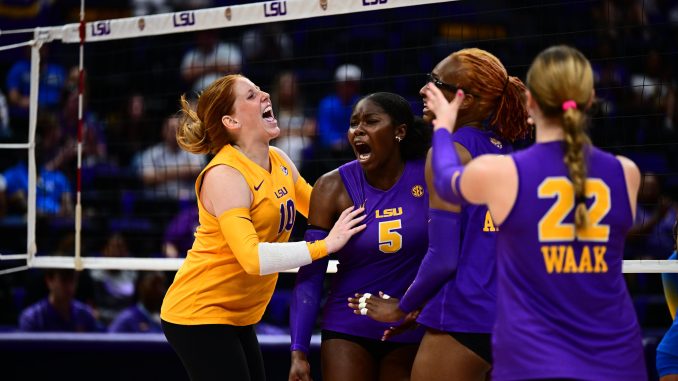 LSU's volleyball team ushered in its new season Friday by outlasting UCLA 25-20, 25-18, 20-25, 21-25, 15-10 before a crowd of 1,32 in the Pete Maravich Assembly Center.
The two teams meet again in the PMAC at 5 p.m. Saturday.
Freshman outside hitter Jurnee Robinson led LSU with 23 kills with Wisconsin transfer Jade Demps delivering a double-double with 14 kills and 10 digs. First team preseason All-SEC selections Anita Anwusi (.667 hitting percentage, 14 kills, 6 blocks) and Sanaa Dotson (12 kills, 6 digs) also enjoyed solid performances.
Robinson, who had a .362 hitting percentage, added six digs, three blocks and one ace. Setter Maddie Waack had a career-high 51 assists and contributed 11 digs for her fourth career double-double.
LSU swept the first two sets, snapping a 17-all tie in the first set with five straight points and extended the lead to 25-20 on Dotson's kill. The Tigers maintained the upper hand throughout in the second set, leading 17-10 and 21-16 before reeling off the last four points with Anwusi and Demps leading the way with four kills and Anwusi three blocks in the set.
UCLA rallied to tie the match at 2-2 when LSU took an 8-7 lead in the deciding set on Demps' kill. She later added her 13th kills following a long rally for a 10-7 lead when the Tigers went on a 4-0 run to run away to win the set.