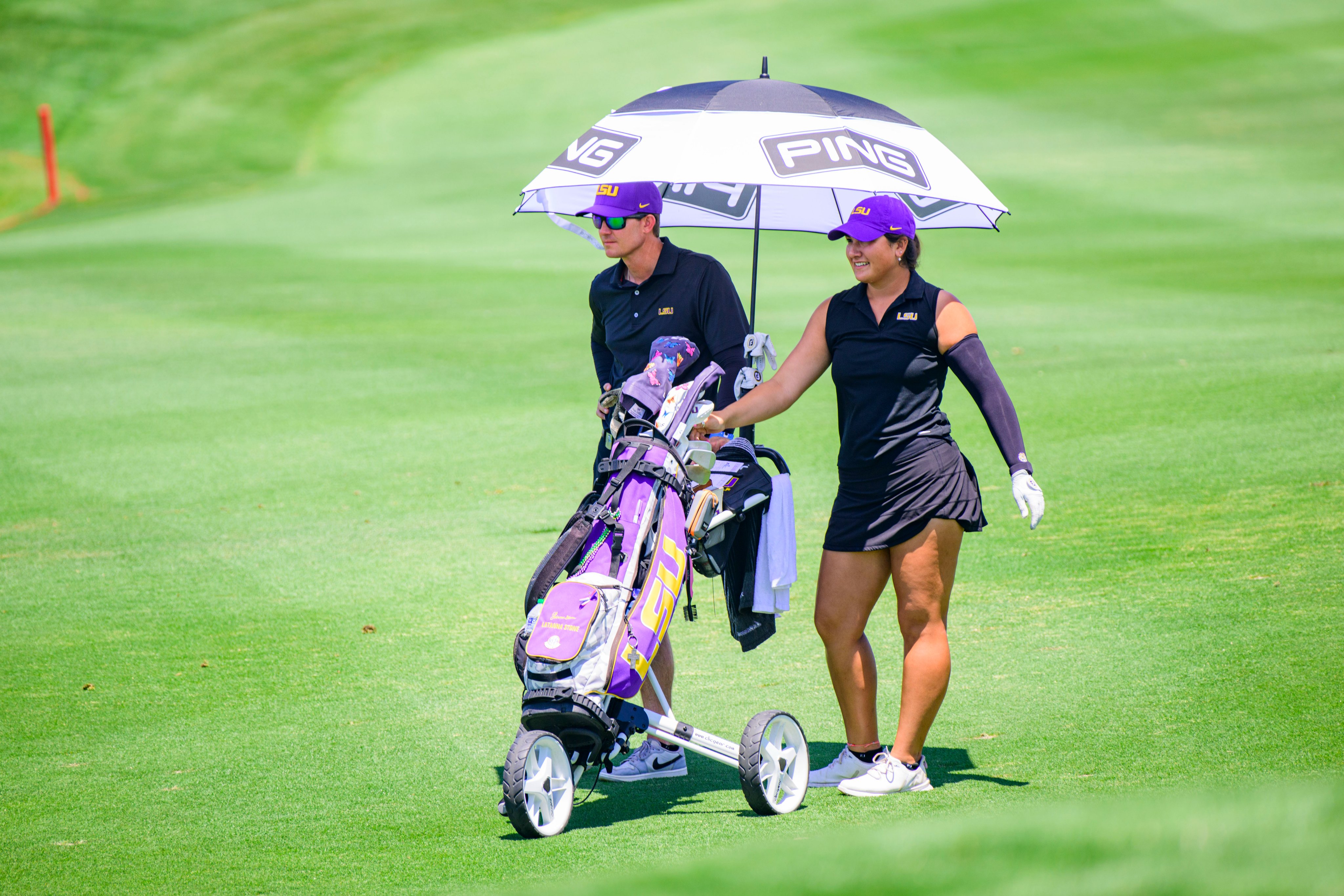 SCOTTSDALE, Arizona – LSU senior Latanna Stone overcame an arm injury to post the fourth lowest score in Saturday's NCAA Women's Golf Championship with a 5-under 67 to find herself in a tie for ninth overall at the Grayhawk Golf Club, Raptor Course.
Because of the perseverance of Stone, the Tigers' even par 288 was the best score the program's produced in an NCAA Championship.
LSU's in the final wave of teams off the front nine Sunday and will be with Arizona and Duke. The field will be cut in half at the end of the third round and the 15 remaining teams, and the nine top individuals not on the 15 teams, will compete on Monday for the eight match play spots and to decide the NCAA individual champion.
LSU's 288 moved the Tigers up four spots into 14th place after two rounds with an overall score of 6-over 582 (294-288).
Stone was coming off a 1-over 73 in Friday's opening round, made 10 consecutive pars, then five consecutive birdies and three more pars to complete a clean card 67 in the second round to stand at 4-under par 140 after 36 holes (73-67) and was in a group tied for ninth place.
"I slept with my (left) arm bent and when I woke up, I went to extend it and I had this weird shooting pain in my arm. So (trainer Cory Couture, traveling with the team) fixed me up," Stone said, describing her arm ailment. "He put a heating pad on it which numbed it, took some medicine and put a (compression) sleeve on it. It was okay. On the back nine it began to hurt. I told (Coach Garrett Runion) that basically today I made a ton of pars and five putts. And those five putts were for birdie and that really helped. I was not thinking about making birdies. I was just like let's just get through today. I didn't know how I was going to be when I started out."
Stone's round of 67 was the fourth lowest round ever posted by an LSU women's golfer in the NCAA Championships (final tournament).
LSU played the front nine at 3-over par, but with Stone leading the way on the back nine, the Tigers were 3-under.
LSU stayed at 1-over for the day much of the final three holes but Ingrid Lindblad in the last group, came up with a birdie on the par 5 18th hole. She stands at 2-under 142 after 36 holes and is tied for 24th overall.
Carla Tejedo was also under part as well at 1-under 71 and is at even par 144 (73-71).
"It was a solid round," LSU women's golf coach Garrett Runion said. "Our goal all year has been whatever we shoot the first round we want to improve the next round and we did that today. Ingrid's birdie on the last (hole) to make it an even par round was good. Made lunch taste a little bit better. I'm very pleased with this round, especially with the way they started. I'm proud of the way they competed and kept going. A couple of them didn't start off the greatest and they just kept fighting and showed a lot of competitive toughness.
"You have to give a lot of credit to Latanna (Stone). Five straight birdies. No bogeys. Just really put the team on her back and carried us across the finish line today and I was proud of the way Carla (Tejedo) played. She was playing with the No. 1 amateur in the world (Rose Zhang of Stanford) and that can be a challenge sometimes and she held her own, a 1-under 71. Ingrid didn't drive it very well today and still managed an even par round."
LSU also counted a six-over 78 from graduate student Alden Wallace, who was making her first start for LSU since September in this event.
Live updates will be available on Golfstat.com and updates on the round can also be found on Twitter @LSUwomensgolf and notes @LSUKent.
NCAA Women's Golf Championship
Grayhawk Golf Club – Raptor Course
Scottsdale, Arizona
Second Round Team Results (Par 288-576)
1 Wake Forest 279-820 – 559 -17
2 Stanford 288-273 – 561 -15
3 South Carolina 286-276 – 562 -14
4 Texas 292-276 – 568 -8
T5 Oklahoma State 280-291 – 571 -5
T5 Texas A&M 287-284 – 571 -5
7 Southern California 296-276 – 572 -4
T8 Pepperdine 2985-279 – 574 -2
T8 Florida State 288-286 – 574 -2
10 New Mexico 287-288 – 575 -1
11 Georgia 286-290 – 576 E
12 Baylor 289-290 – 579 +3
13 Arizona 292-288 – 580 +4
14 LSU 294-288 – 582 +6
15 Duke 288-296 – 584 +8


Individual Top 5 (Par 72-144)
1 Lauren Walsh, Wake Forest – 67-67 – 134 -10
2 Catherine Park, Southern California – 71-64 – 135 -9
3 Maddison Hinson-Tolchard, Oklahoma State – 66-70 – 136 -8
T4 Adela Cernousek, Texas A&M – 69-68 – 137 -7
T4 Lucia Lopez-Ortega, San Jose State – 71-68 – 139 -5
LSU Scores
T9 Latanna Stone 73-67 – 140 -4
T24 Ingrid Lindblad 70-72 – 142 -2
T38 Carla Tejedo 73-71 – 144 E
T137 Alden Wallace 78-78 – 156 +12
T140 Aine Donegan 78-79 – 157 +13