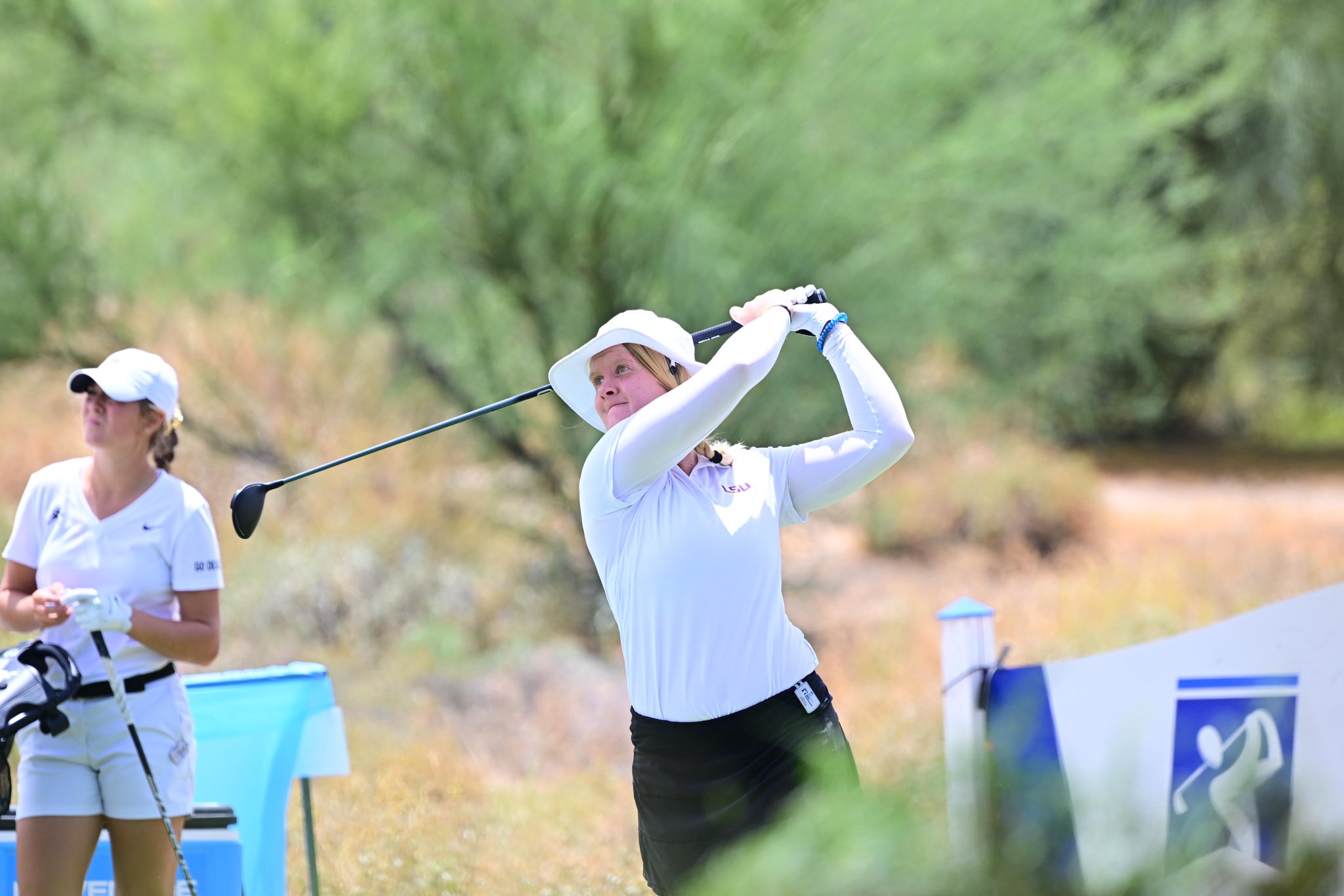 SCOTTSDALE, Arizona – LSU All-American Ingrid Lindblad fired a 2-under 70 on the opening day of the NCAA Women's Championship at the Grayhawk Golf Club's Raptor Course.
Lindblad is tied for 10th in a field led Oklahoma State's Maddison Hinson-Tolchart at 6-under 66.
"Two under out here is a good score," LSU women's golf coach Garrett Runion said of Lindblad's opening round. "She was playing well. She drove it well and that allowed her to be on offense and go for a lot of pins."
LSU's first round score of 6-over 294 is two shots out of the 15-team cut that takes place after 54 holes.
"We played the back nine fine and turned and we stumbled a little bit (on the front side). Carla (Tejedo) birdied four of her last seven holes and then we got three birdies on seven that helped keep us going," Runion said.
Tejedo played the last seven holes in 3-under par with birdies at three, six, seven and eight. Lindblad and Stone also birdied the par 5 seventh coming in.
Lindblad played the par 4s at 1-under and the par 5s at 2-under par.
Tejedo and Latanna Stone both came in with 1-over 73s on the day, while Aine Donegan and Alden Wallace both checked in with 6-over 78s.
The team leader after 18 holes is Wake Forest, the No. 2 team in college golf, with a 9-under score of 279. That was one shot better than No. 24 Oklahoma State at 8-under 280. It was six shots back to No. 28 Georgia and No. 4 South Carolina at 2-under par 286 and No. 39 New Mexico and No. 8 Texas A&M both shot 1-under par 287, putting six teams under par for the opening day.
The first cut spot that will come after Sunday's third round is presently a tie for 13th between Texas, San Jose State and Arizona at 4-over par 292. LSU is in solo 18th place at its 6-over 294.
The Tigers will again be paired with Stanford and Wake Forest in Saturday's second round.
Live scoring can be found at Golfstat.com and updates and comments on the round during the day on Twitter @LSUwomensgolf and @LSUKent.
NCAA WOMEN'S GOLF CHAMPIONSHIPS
Grayhawk Golf Course – Raptor Course
Scottsdale, Arizona
First Round Team Results (Par 288)
1 Wake Forest 279 -9
2 Oklahoma State 280 -8
3 Georgia 286 -2
3 South Carolina 286 -2
5 Texas A&M 287 -1
5 New Mexico 287 -1
7 Duke 288 E
7 Florida State 288 E
7 Stanford 288 E
10 Baylor 289 +1
11 SMU 291 +3
11 Texas Tech 291 +3
13 Texas 292 +4
13 San Jose State 292 +4
13 Arizona 292 +4
16 Michigan State 293 +5
16 TCU 293 +5
18 LSU 294 +6

LSU Scores
T10 Ingrid Lindblad 70 -2
T51 Latanna Stone 73 +1
T51 Carla Tejedo 73 +1
T127 Aine Donegan 78 +6
T127 Alden Wallace 78 +6