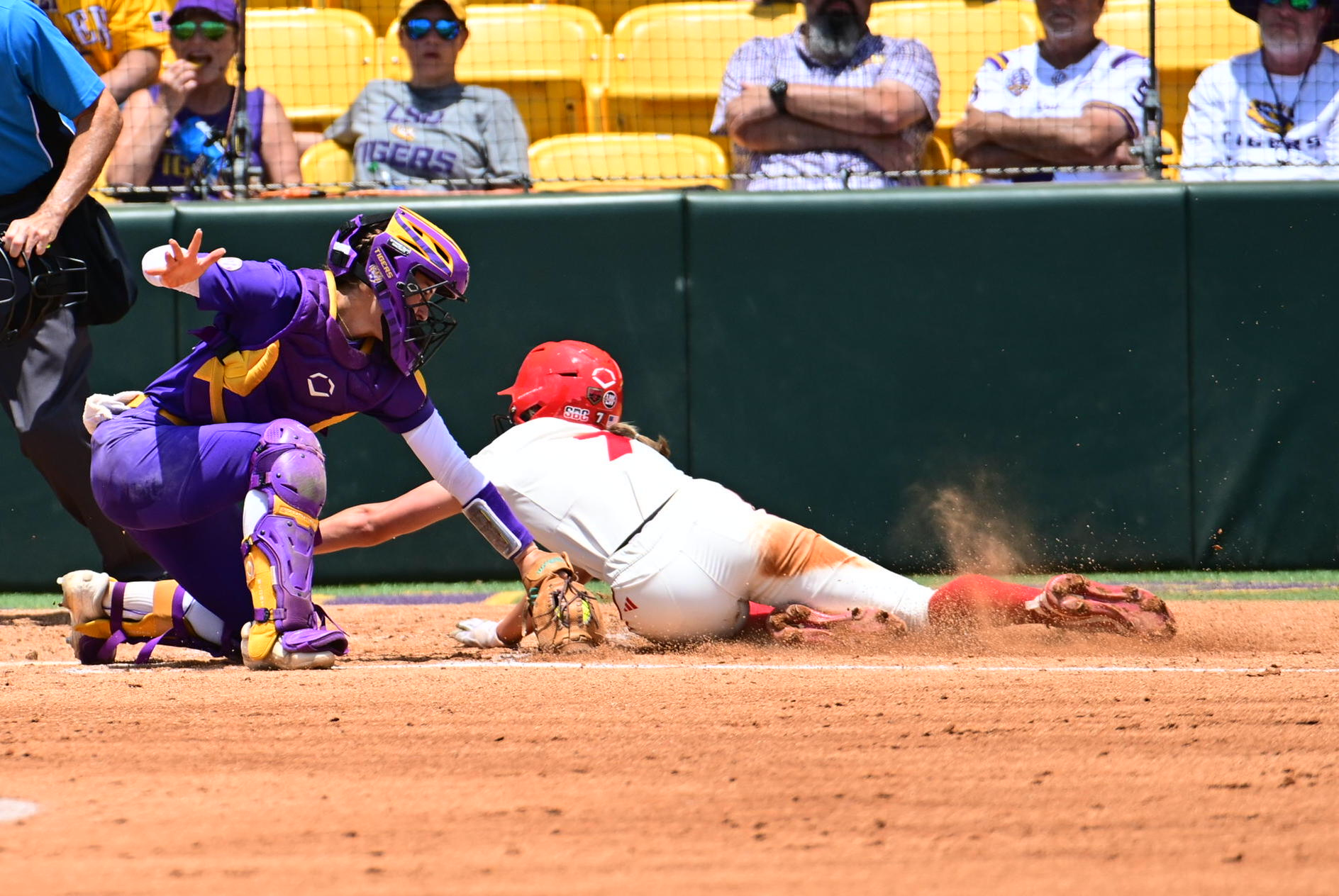 Freshmen have made quite an impact for LSU's softball team in the 2023 NCAA Regional.
A day after rookie catcher Maci Bergeron homered in her first postseason plate appearance, freshman pitcher Sydney Berzon tossed a five-hit shutout to lead top-seeded LSU to a 4-0 victory Saturday over second-seeded UL-Lafayette in the winners' bracket of the NCAA Regional before a crowd of 2,179 at Tiger Park.
It was the fourth shutout of the season for Berzon (14-7) who also threw her 10th complete game. She struck out four and walked one to post the Tigers' 13th shutout of the season.
Berzon also became the first pitcher this season to shut out the Cajuns and stopped a 13-game winning streak.
"I am proud of the effort from our entire team," LSU softball coach Beth Torina said. "The big home run early really set the tone. I debated this pitching decision down to the wire but made the right choice. Sydney Berzon was absolutely incredible today.
"She's been incredible for us all year, and I'm just proud to be her coach," Torina continued. "She's made me love being in the bullpen every second this year. It was a great day for Sydney Berzon and the defense. They were both incredible. Just really proud of the effort."
LSU (42-15), which shutout UL-Lafayette (47-14) for the first time in postseason play, advance to Sunday's championship game at 1 p.m. with the 'if necessary' game to follow 30 minutes afterward.
The game will be streamed by ESPN+ and will be broadcast over 107.3-FM.
Third baseman Danieca Coffey led LSU with a 3-for-3 performance. Catcher Ali Newland (1-2) drove in a pair of runs and the Tigers also got run-producing hits from center fielder Ciara Briggs (1-2) and right fielder McKenzie Redoutey (1-3) – who homered for a 1-0 lead in the second.
Redoutey's homer followed a momentum-shifting defensive play in the top half of the second when second baseman Karli Petty threw to Newland, who tagged out Karly Heath trying to score from third on a grounder by Maddie Hayden.
Cajuns' coach Gerry Glasco appealed the ruling, but video review upheld the out call.
LSU broke the game open with a three-run third inning to account for the final score.
Briggs' grounder into center drove in Coffey after she led off the inning with a single and stole second base. After the second out of the inning, Newland drove an offering from relief pitcher Chloe Riassetto just past the third-base bag for two runs to score Briggs and Taylor Pleasants.
LSU knocked out losing pitcher Sam Landry (19-4) in the third inning on Pleasants' single. She was charged with four runs on five hits and didn't walk or strike out a batter.
Petty turned in another sterling defensive play to close out the fifth, making a leaping grab of a liner off the bat of Laney Credeur.
The Cajuns ran themselves out of a potentially big inning in the sixth against Berzon who allowed consecutive one-out hits. Lauren Allred sent a long fly ball that bounded off the wall in center, but LSU's relay caught Stormy Kotzelnick in a rundown between second and third for the second out.
Instead of a 4-1 game and facing the tying run at the plate, Berzon escaped further trouble with a strikeout of Heath to end the inning after allowing three hits in the frame.