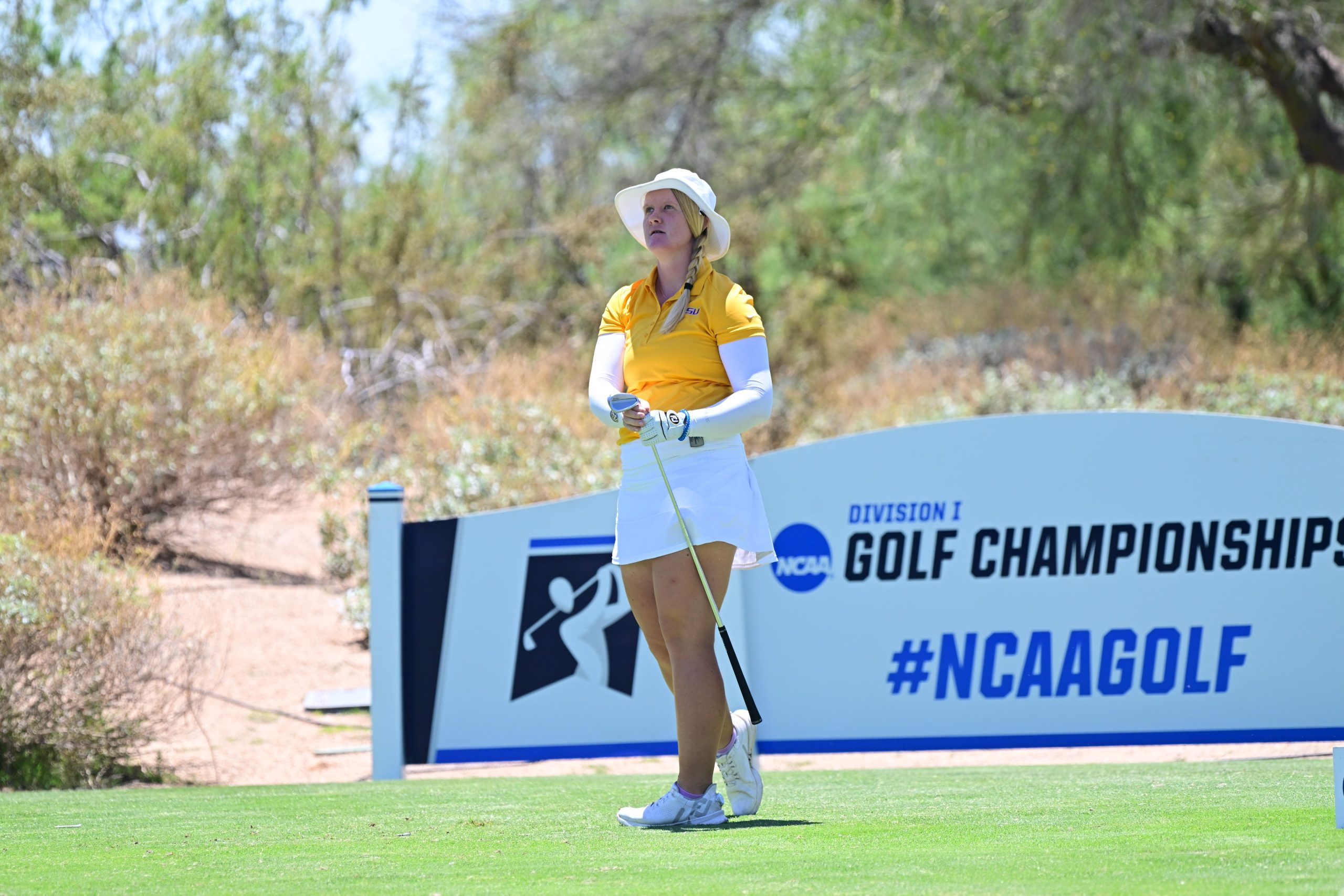 SCOTTSDALE, Arizona – LSU senior Ingrid Lindblad tied the school scoring mark for 72 holes in finishing in a tie for fifth place in the 2023 NCAA Women's Golf Championships came to an end at Grayhawk Golf Club's Raptor Course Monday.
Lindblad posted a 1-under par 71 on the final day to finish at 7-under par 281 (70-72-68-71). She tied the LSU scoring record for 72 holes set originally by freshman Austin Ernst in 2011 when she won the NCAA Championship in 2011 at The Traditions Golf Club in Bryan, Texas.
Lindblad posted back-to-back top five finishes after finishing in a tie for third at year ago at 1-under 287. Five LSU golfers – Lindblad twice, Ernst, Megan McChrystal, Tessa Teachman and Katy Harris – posted under par 72-hole totals in their NCAA play.
Rose Zhang of Stanford was the individual winner with a 10-under score of 278 after a final round of 68. She was one shot better than Lucia Lopez-Ortega of San Jose State and Catherine Park of Southern California who both posted 9-under 279.
LSU finished seven shots short of making the eight-team cut to advance to match play and the NCAA Championship. The Tigers, who tied for 14th with fellow SEC member Georgia, had a solid round of 2-over par on the day to finish 72 holes at 15-over par 1,167.
The Tigers would also set a school mark for a 72-hole total of 1,167, topping the mark of 1,173 set by the 2011 LSU team that finished third in the NCAA Championships.
"We just got off to slow starts all four days," LSU women's golf coach Garrett Runion said. "I was proud of the way they fought back and made it close and give it a shot. There's only one team that leaves here happy. I'm proud of the fact that we came here all three years and made the top 15 all three years. It's never easy. We had a great year. We won four times and won the stroke play at SECs. We were obviously hoping for a special year, but I'm proud of the way the ladies played all year long. We played some good golf and broke some LSU records. We look forward to what the future holds and what we need to do to get back again."
LSU started the round eight shots out of the final qualifying spot but the Tigers were only able to get one counting birdie in the first six holes, going to 8-over for the day at that point. But the Tigers, which rallied from eight down with less than nine holes to go in the NCAA Regional to get a qualifying spot, tried to rally.
The Tigers on the par 5 seventh hole got birdies from Alden Wallace, Aine Donegan, Lindblad and an eagle three from Carla Tejedo. Latanna Stone and Donegan followed with birdies on the par 3 eighth hole. At one point early in the final nine holes, the Tigers rallied back to 1-under par in the round and three shots out of the eighth spot.
Besides Lindblad's 71, the Tigers got a great rebound round from Donegan, who posted a 1-under 71, playing the last 12 holes in 4-under par. Tejedo finished at 1-over 73 and Stone finished out with 3-over 75. Alden Wallace, who was playing for the Tigers for the third time in the Championships and for the first time since September, had a 77 in her final college round.
"We fought back today," said LSU Coach Garrett Runion. "It was nice to see Alden birdie the last hole of her college career after coming back for her fifth year. I was proud of Aine. She struggled the first three days and for her to step up for us when she needed to and shoot 1-under was outstanding. Two years in a row top five for Ingrid. That's pretty strong. It's been a great run for her at LSU.
NCAA WOMEN'S GOLF CHAMPIONSHIPS
Grayhawk Golf Club Raptor Course
Scottsdale, Arizona
Final Stroke Play Results (Par 288-1152)
Top 8 Advance To Match Play on Tuesday
1 Stanford 288-273-29-282 – 1133 -19
2 Texas 292-276-290-280 – 1138 -14
3 Wake Forest 279-280-299-281 – 1139 -13
4 South Carolina 286-276-302-289 – 1153 +1
5 Southern California 296-276-290-282 – 1154 +2
6 Florida State 288-286-289-292 – 1155 +3
7 Texas A&M 287-284-298-287 – 1156 +4
8 Pepperdine 295-279-296-290 – 1160 +8
(Did Not Advance)
T9 New Mexico 287-288-301-287 – 1163 +11
T9 Arizona 292-288-289-294 – 1163 +11
T11 SMU 291-295-295-283 – 1164 +12
T11 Oklahoma State 280-291-300-293 – 1164 +12
13 Mississippi State 301-288-291-285 – 1165 +13
T14 Georgia 286-290-294-297 – 1167 +15
T14 LSU 294-288-295-290 – 1167 +15
Individual Top 5 (Par 72-288)
1 Rose Zhang, Stanford – 72-67-71-68 – 278 -10
T2 Lucia Lopez-Ortega, San Jose State – 68-69-71-71 – 279 -9
2 Catherine Park, Southern California – 71-64-71-73 – 279 -9
4 Maddison Hinson-Tolchard, Oklahoma State – 66-70-74-70 – 280 -8
T5 Ingrid Lindblad, LSU – 70-72-68-71 – 281 -7
T5 Michelle Zhang, SMU – 72-72-67-70 – 281 -7
LSU Scores
T5 Ingrid Lindblad 70-72-68-71 – 281 -7
T45 Latanna Stone 73-67-77-75 – 292 +4
T45 Carla Tejedo 73-71-75-73 – 292 +4
T76 Alden Wallace 78-78-75-77 – 308 +20
T78 Aine Donegan 78-79-81-71 – 309 +21