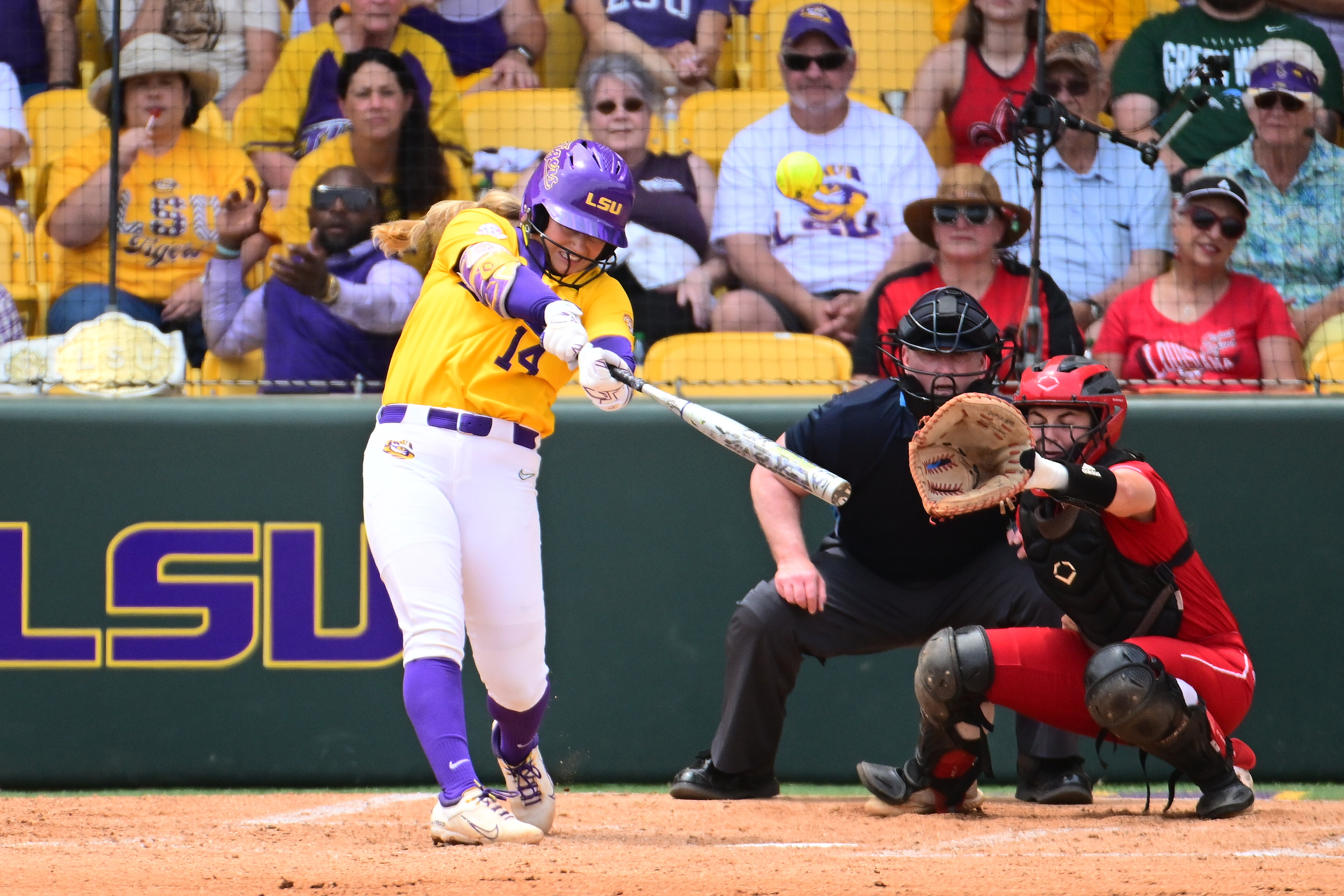 Top-seeded LSU created a bit of drama in the top of the seventh with a pair of runners on base and trailing second-seeded UL-Lafayette by three runs.
Clean-up batter Georgia Clark sent a 1-2 drive down the left-field line and beyond the wall, sending head coach Beth Torina into a jubilant posture until the ball was ruled foul.
A lengthy conference ensued, and a video replay followed before the call on the field was upheld and Clark grounded out, finalizing UL-Lafayette's 7-4 victory Sunday over LSU and forcing a second championship in the NCAA Regional at Tiger Park.
The Ragin Cajuns (49-14) pounded out 11 hits, including three home runs, to turn an early three-run deficit into a four-run victory that kept alive their season after losing 4-0 to the Tigers on Saturday.
Relief pitcher Sam Landry (19-5) was sterling in her five-inning effort of starter Meghan Schorman. She kept LSU scoreless during her stint, allowing only Taylor Pleasants' double in the seventh, to go with three walks and two strikeouts.
Pleasants dropped in a double in front of a diving Mihyia Davis in center, sending Ciara Briggs to third base. Clark quickly fell behind Landry 0-2 before fouling off several pitches – including her long drive to left field.
UL-Lafayette reeled off a stretch of six unanswered runs – capped by pinch-hitter Jourdyn Campbell's three-run homer – to erase a 4-1 deficit for a 7-4 lead after four innings.
The Cajuns homered three times off LSU starter Ali Kilponen and relievers Alea Johnson and Raelin Chaffin and had 11 hits through four innings.
Kilponen was knocked out in the second inning after yielding three runs (two earned) on three hits, and Johnson (7-1) suffered her first loss of the season when she allowed three runs on four hits.
Shortstop Alexa Langliers (2-for-3) hit the first of UL-Lafayette's home runs – leading off the second inning – followed by Campbell's three-run shot off the light post in left and catcher Sophie Piskos added a solo shot to lead off the fourth.
LSU erased a 1-0 deficit with a three-run second inning that second baseman Karli Petty ignited with her fourth homer of the season – ending a 0-for-25 slump. Petty's shot to right-center came with McKenzie Redoutey aboard following a lead-off walk.
The Tigers showed off their speed in producing their next two runs for a 4-1 lead.
Raeleen Gutierrez hustled into third with a triple after Davis was unable to secure a catch over the fence and then scored on Danieca Coffey's fielder's choice with a slide at the plate. Briggs then produced an RBI-fielder's choice with a grounder up the middle to score Stewart.