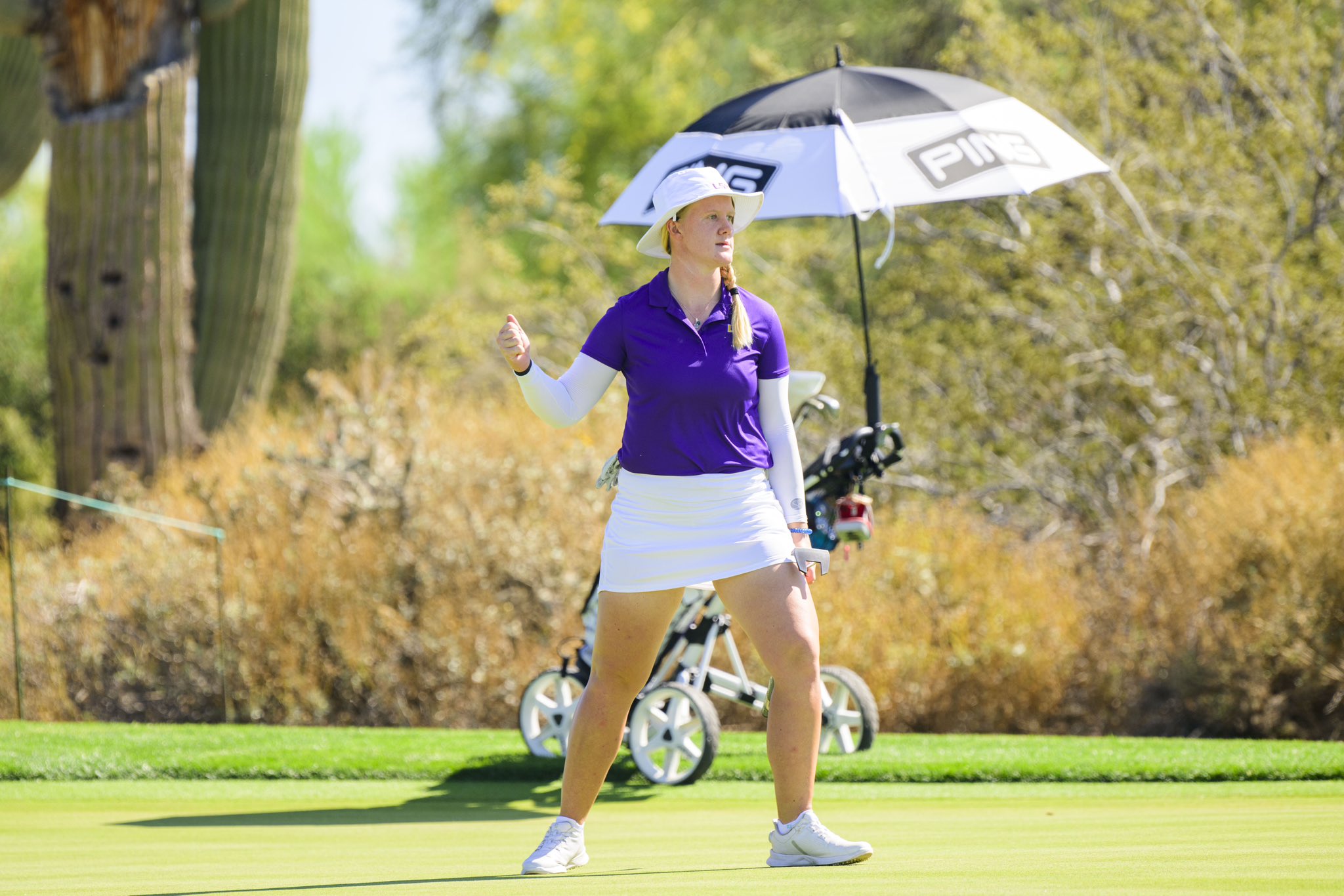 SCOTTSDALE, Arizona – LSU All-American Ingrid Lindblad moved into a tie for third in the overall competition of the NCAA Women's Golf Championships with a 4-under 68 on Sunday at the Grayhawk Country Club's Raptor Course.
The No. 3 Tigers finished the last three holes of their round at 4-under to conclude a 70over par 295 that placed them in 13th entering Monday's final round of qualifying.
LSU will need to be in the top eight after Monday's round to advance to match play for the first time in the women's championship.
"You can't win the national championship if you don't have a tee time (Monday) and we have a tee time. I'm proud that this is three straight years we've made it to Grayhawk and three straight years we have advanced through the top 15," LSU women's golf coach Garrett Runion said. "You've heard me say it a hundred times, we don't just want a good team, we want a good program. To have a good program you have to be around it and be consistent. We've done that the last three, four years.
"Monday, we are eight back and have a realistic shot to make the top eight. It will be a little different as we are chasing instead of being chased. We're healthy compared to last year. I'm really proud of Alden (Wallace). Her play the last three days has held us in there. Her birdies on the last two holes were huge for us."
Lindblad's four-birdie, no-bogey round moved the senior up 21 spots in the standings and to four shots out of the lead. She has rounds of 70-72-68 for her 210 total.
LSU was 5-over after the front nine and was at one point 11 over par entering the final three holes for the round. But Carla Tejedo birdied the par 3 16th and then Wallace birdied the par 4 17th and the par 5 18th and Lindblad finished things off with her birdie on the final hole.
LSU counted a 75 from Wallace, as well as Tejedo and a 77 from Latanna Stone. Stone is tied for 30th after 54 holes at 1-over par 217 (73-67-77).
Stanford has moved to a seven-shot lead in the team standings at 13-under par after a 2-over round of 290, while Wake Forest, despite posting 11-over on the day, is tied for second with Texas at 6-under 858. Southern California is at 2-under 862 and Florida State in fifth the other under par team for 54 holes at 863.
Monday's final round is set to begin at noon Baton Rouge time.
Live scoring will be available on Golfstat.com and coverage will begin on College Central at 3 p.m. CT followed by live coverage at 4 p.m. CT.
There will also be updates during the round @LSUwomensgolf on Twitter and @LSUKent.
NCAA Women's Golf Championship
Grayhawk Golf Club – Raptor Course
Scottsdale, Arizona
Third Round Team Results (Top 15 Advance to Monday) (Par 288-864)
1 Stanford 288-273-290 – 851 -13
T2 Wake Forest 279-280-299 – 858 -6
T2 Texas 292-276-290 – 858 -6
4 Southern California 296-276-290 – 862 -2
5 Florida State 288-286-289 – 863 -1
6 South Carolina 286-276-302 – 864 E
T7 Arizona 292-288-289 – 869 +5
T7 Texas A&M 287-284-298 – 869 +5
T9 Pepperdine 295-279-296 – 870 +6
T9 Georgia 286-290-294 – 870 +6
11 Oklahoma State 280-291-300 – 871 +7
12 New Mexico 287-288-301 – 876 +12
13 LSU 294-288-295 – 877 +13
14 Mississippi State 301-288-291 – 880 +16
15 SMU 291-295-295 – 881 +17


Individual Top 5 (Par 72-216)
1 Catherine Park, Southern California — 71-64-71 – 206 -10
2 Lucia Lopez-Ortega, San Jose State — 68-69-71 – 208 -8
T3 Ingrid Lindblad, LSU – 70-72-68 – 210 -6
T3 Rose Zhang, Stanford – 72-67-71 – 210 -6
T3 Maddison Hinson Tolchard, Oklahoma State – 66-70-74 – 210 -6
LSU Scores
T3 Ingrid Lindblad – 70-72-68 – 210 -6
T30 Latanna Stone – 73-67-77 – 217 +1
T47 Carla Tejedo – 73-71-75 – 219 +3
T125 Alden Wallace – 78-78-75 – 231 +15
T143 Aine Donegan – 78-79-81 – 238 +22