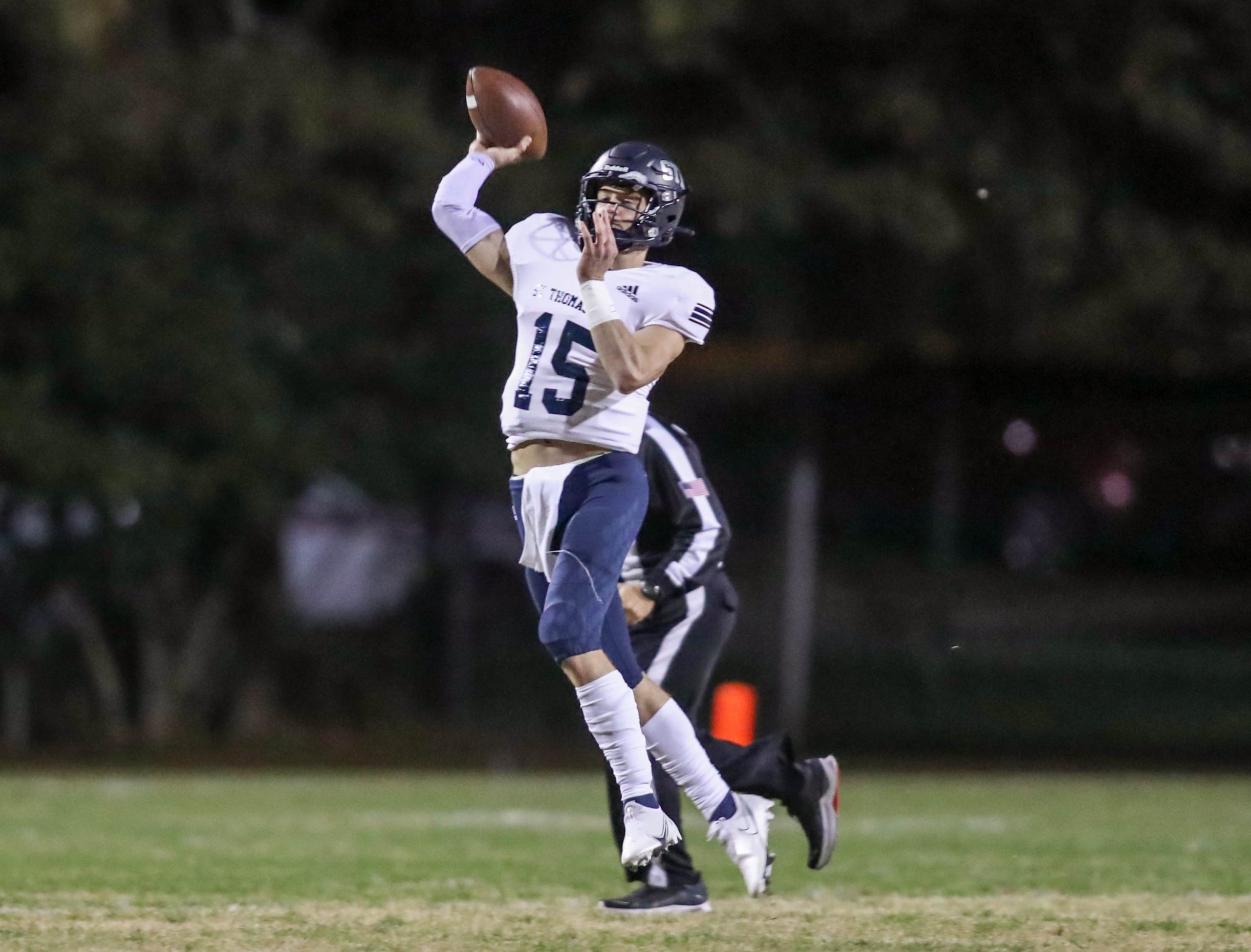 With his recruiting process in a holding pattern, the product of LSU's firing of football coach Ed Orgeron, five-star quarterback Walker Howard of St. Thomas More decided to explore his options.
The long-time LSU commitment and nation's fourth-ranked quarterback, who was originally set for an unofficial visit Oct. 2 to Notre Dame, instead made an official visit to South Bend, Ind. three weeks later when the Irish faced USC and came away impressed.
The reason why?
Then Notre Dame head football coach Brian Kelly, who more than five weeks later was hired at LSU to replace Orgeron where he'll end coaching Howard.
"I'm pretty fired up," Howard said on the Jordy Culotta Show. "He's a great guy, a great football coach. We don't know the word on the OC (offensive coordinator) yet. There are a couple of ideas. I'm fired up from what I'm hearing. I ready to get this thing rolling with most of my class."
The consensus among the 13 commitments in LSU's current recruiting class is one of relief after the coaching search stretched six weeks until the school released Kelly as its new coach Monday and formally introduced him on Wednesday.
"I don't know too much about him," Catholic High offensive tackle Emery Jones said. "I know his resume' looks really good. Pretty much every program he's been with has been successful. I'm excited about that and ready to get LSU turned back around."
During his introductory news conference Kelly acknowledged the difficult balance from a time standpoint of putting together his coaching staff and begin recruiting with an eye toward the NCAA's early signing period Dec. 15-17.
"The most important thing in recruiting is to take care of your base first," Kelly said. "My focus will be on those that have made a decision to come to LSU. So, we'll be reaching out to those young men first and foremost. That's the most important thing. You can be assured that our focus and direction relative to recruiting will be on the young men that have already decided to come to LSU. That will be our direction."
During the period that followed Orgeron's firing, LSU lost two heralded recruits that where were committed to the Tigers in Karr wide receiver Aaron Anderson, who has since committed to Alabama, and running back Tre'Vonte Citizen of Lake Charles College Prep.
The Tigers, who had a Top 5 recruiting class by 247Sports going into the 2021 season, are currently ranked 15th nationally by 247Sports and 19th by Rivals.com.
Howard said he remains committed to LSU and the hiring of Kelly played a big role in being able to chase his dream of playing in Baton Rouge where his father Jamie quarterbacked the Tigers (1992-95) and his late mother Kathryn also attended.
"He's a great recruiter, a great football coach," Howard said. "He tells you the truth. He's honest. He's going to be real hard on us and that's what I'm fired up about. Look at the guys he's recruited at Notre Dame. It isn't the easiest place to recruit. Just all the kids he's gotten from the South is pretty crazy. It just shows you what kind of recruiter he is. He's a great football coach. He's a winner."
Howard, like fellow five-star prospect Will Campbell of Neville, is scheduled to be early enrollees at LSU in January where they'll be able to participate in spring drills.
He's been a regular for most of LSU's home games during the season, including being outfitted in a LSU Joe Burrow jersey for last Saturday's 27-24 upset of No. 14 Texas A&M in the team's regular season finale.
"It was awesome," he said. "(A) Couple of recruits got together. I saw Shaq (O'Neal). I was loving every second of it. All of the recruits were having a blast. It was a good time. Those are my future teammates. It was great seeing them and hanging out with them."
Howard, who committed to LSU before his senior year, acknowledged the angst in having to sit through the coaching search and watch presumed candidates for the LSU position either get improved contracts to remain at their current school or in the case of former Oklahoma head coach, Lincoln Riley, leave for USC.
"All the talk on social media and it was getting kind of frustrating," he said. "I didn't know who the guy was going to be until I found out on social media, it was really exciting knowing that it was coach Kelly. I'm so glad LSU got him."