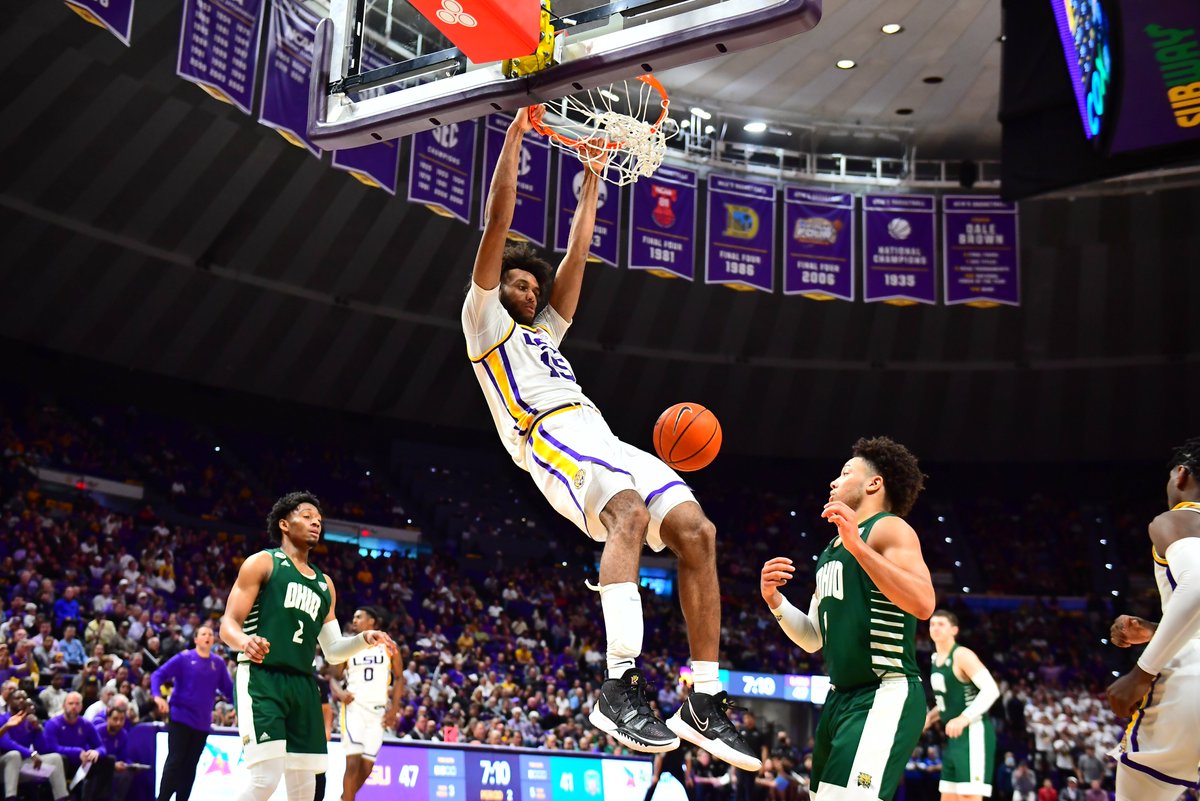 This is the "new look" of LSU's men's basketball team, to play so poorly and still beat a feisty mid-major team by double digits.
On Wednesday night, LSU got crushed in offensive rebounds, turnover happy on fastbreaks and fired up a string of missed 3-pointers so fast the Tigers' shooters acted like the ball was going to detonate in their hands.
And that's not to mention four guys standing around on offense watching a teammate trying to beat his defender one on one.
"We've got a lot of work to do on offense," LSU coach Will Wade said as his team heads into a 10-day break. "I need to get to this break to reset everything. We're going to have a helluva reset on Saturday."
In the past, it all sounded like something Wade would have said after a 15-point loss but he said all of the above after his team remained unbeaten at 8-0 with a 66-51 victory over Ohio in the Pete Maravich Assembly Center.
A crowd of 11,328 – boosted by 2,300 students, $1 upper bowl admission tickets and a brief halftime introductory rah-rah speech from new LSU football coach Brian Kelly – saw the Tigers hold the visiting Bobcats (6-2) scoreless in the first 8½ minutes of the game taking a 14-0 lead
Then, LSU fell into offensive funk against Ohio's zone defense in an almost 18-minute stretch from 8:19 of the first half to 10:24 of the second half when the Tigers made just 6-of-28 shots including 2 of 14 3-pointers.
It was no coincidence that after Ohio tied the score at 37-37 with 14:07 left, the Tigers didn't attempt another 3-pointer for the rest of the game. The route to LSU's victory went through its inside game of Tari Eason, Efton Reid and Darius Days, a trio that combined for 22 points and 17 rebounds in the second half.
Eason, the 6-8 sophomore transfer forward from the University of Cincinnati, again came off the bench to fill the stat line. He scored 13 of his 20 game-high points in the second half and finished with 5 rebounds, 5 steals and 3 blocked shots.
"Anytime you come off the bench, you want to bring energy to the team," Eason said. "That's kind of like my job just, you know, be kind of a nightmare on the court, just be everywhere and fly around."
Senior forward Days finished with 12 points and 13 rebounds. Freshman center Reid had 8 points and 7 rebounds with a 2:35 stretch in the game's final 7:09.
But it was Eason who seemed like he saved the day for the Tigers, who shot 46.9 percent from the field while holding Ohio to 26.5 percent.
"Nobody saved the day," an animated Wade said. "We didn't play well. Nobody saved the day."
While Ohio coach Jeff Boals was pleased with the way his team fought back – "We stood together tonight and we didn't bend or break, a lot of positives that came out of our performance – Wade was seething.
"I said this the other day that I could see this (poor performance) coming from a million miles away," Wade said. "We had too many distractions, we were too loose.
"I get it right. I'll get it fixed."