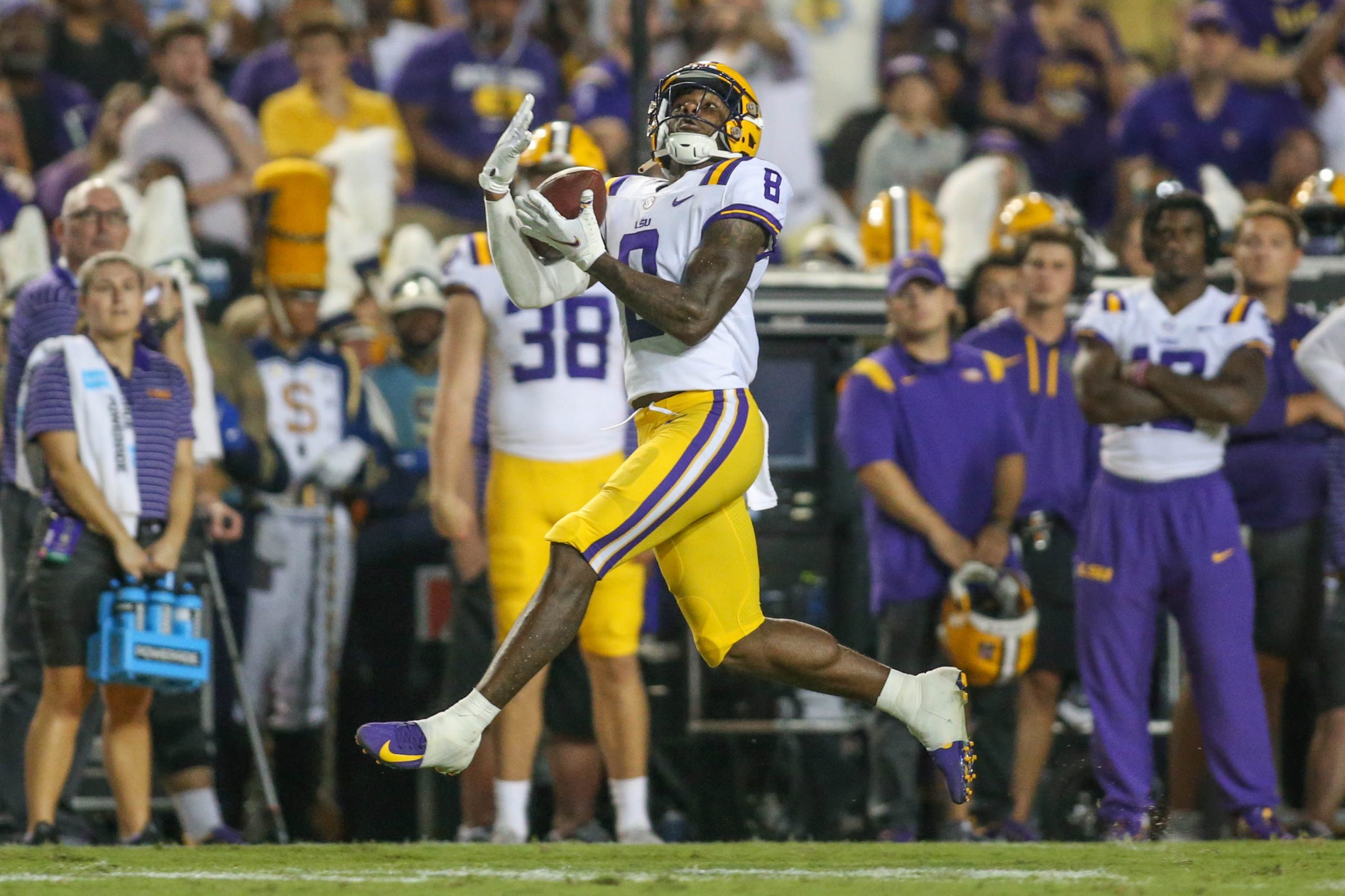 Whether there's a reversal of fortune or not remains to be seen, but New Mexico football coach Danny Gonzales has detected a difference in his team this week.
Last season, when the Lobos took on their first Power 5 Conference opponent at Texas A&M, the Aggies scored 14 early points en route to a dominating victory, 34-0.
New Mexico (2-1) gets another such opportunity Saturday at 6:30 p.m. where host LSU (2-1) is a 31 ½ point favorite at Tiger Stadium.
The game will be carried by SEC Network+/ESPN+ and will be broadcast locally by 98.1-FM.
"Our kids aren't afraid," Gonzales said. "We're going to go over there and put up a good fight, compete and if we can create some turnovers, it will be a good afternoon. We're playing a very good football team."
More than the $1.6 million check the school is picking up to play at LSU, Gonzales believes the break from the Mountain West Conference could be beneficial.
"It's a great opportunity," he said. "You can go with cliches. You could say they put on their pads just like we do. One leg at a time with their pants. You can say those things, but it really doesn't matter. You're either going to go in there and compete or you're not.
"Against Texas A&M, the stage was too big, and I thought we were scared. I thought our football team wasn't prepared. The moment was too much, and we played like it. I don't think there was any expectation of success of any kind."
First-year LSU football coach Brian Kelly said the message this week involving his team has been about consistency.
The Tigers won their second straight contest, rallying from a 13-0 deficit in the first half and defeated Mississippi State, 31-16, to open Southeastern Conference play.
"(I'm) Looking at a football team now that has a chance to be a good team, (but) you have to have consistency," Kelly said. "And that means coming back after a good win and putting together a complete performance. So that's mental and physical and that is in how they prepare.
Sophomore defensive lineman Jacobian Guillory said this week is not different than any of the previous three.
"No matter who we're playing this Saturday it's still a football game," Guillory said. "We're going to be preparing for this football game. We're ready to get the ball rolling. These games are really important. It can go either way for us. It's really important to hone in on every game every Saturday so we can be locked in for the next (team)."
The first meeting between the team two teams comes with a tinge of familiarity for LSU's offense which eventually solved Mississippi State's aggressive 3-3-5 defensive scheme.
New Mexico features a similar approach and the Lobos, under veteran defensive coordinator Rocky Long, are eighth nationally in total defense (229.7), are tied for fourth in turnovers (10) and are fifth in third-down conversion percentage (.179).
They're yielding 13.7 points a game and are led by defensive back Jerrick Reed II with 25 tackles and six pass breakups and linebacker Cody Moon with 21 tackles, four tackles for loss and three sacks.
"This is a defense that will give you problems," Kelly said. "If you're not executing at a high level they will turn this game into a close game, there's no doubt about that."
Kansas transfer Miles Kendrick is New Mexico's quarterback and has completed 36 of 64 passes for 379 yards with three touchdowns and three interceptions.
"It's another week you have to focus," LSU cornerback Jarrick Bernard-Converse said. "New Mexico's a pretty good football team. We've got to come in focused just like any other opponent. Just trust the game plan and just do our best."
LSU's won its last 10 games against non-conference opponents and 59 of its last 60 in Tiger Stadium.
Having spent two years as defensive coordinator at Arizona State, Gonzales has a deep understanding of the skill set Arizona State transfer Jayden Daniels has brought to LSU's offense.
Daniels accounted for 303 of his team's 416 yards and produced a touchdown on the ground and through the air against Mississippi State. He's completed 69.5% of his passes (57 of 82) for 556 yards and six touchdowns and no interceptions and leads the team in rushing with 35 attempts for 225 yards and two TDs this season.
"He's fast, he can run," Gonzales said. "I played with him for two years. I know what kind of competitor he is. He won that starting job at one of the premier schools in the country for a reason. He's that talented."
Daniels will be without preseason All-SEC wide receiver Kayshon Boutte who was excused from the team Thursday because of the birth of his son.
Sophomore Malik Nabers emerged in last week's win over Mississippi State with a team-high six catches for 76 yards, including four grabs for 51 yards on a key drive that led to Josh Williams' 7-yard TD and 24-16 lead with 6:53 remaining to be played.
"It's all about us," LSU starting center Charles Turner said. "That's how we take every week. Mississippi State, it doesn't matter who we play. We start with us. It's all about us. We correct ourselves first and then we worry about New Mexico. It's a very respectable opponent with the same type of defense. I'll be expecting to see a lot of same things."