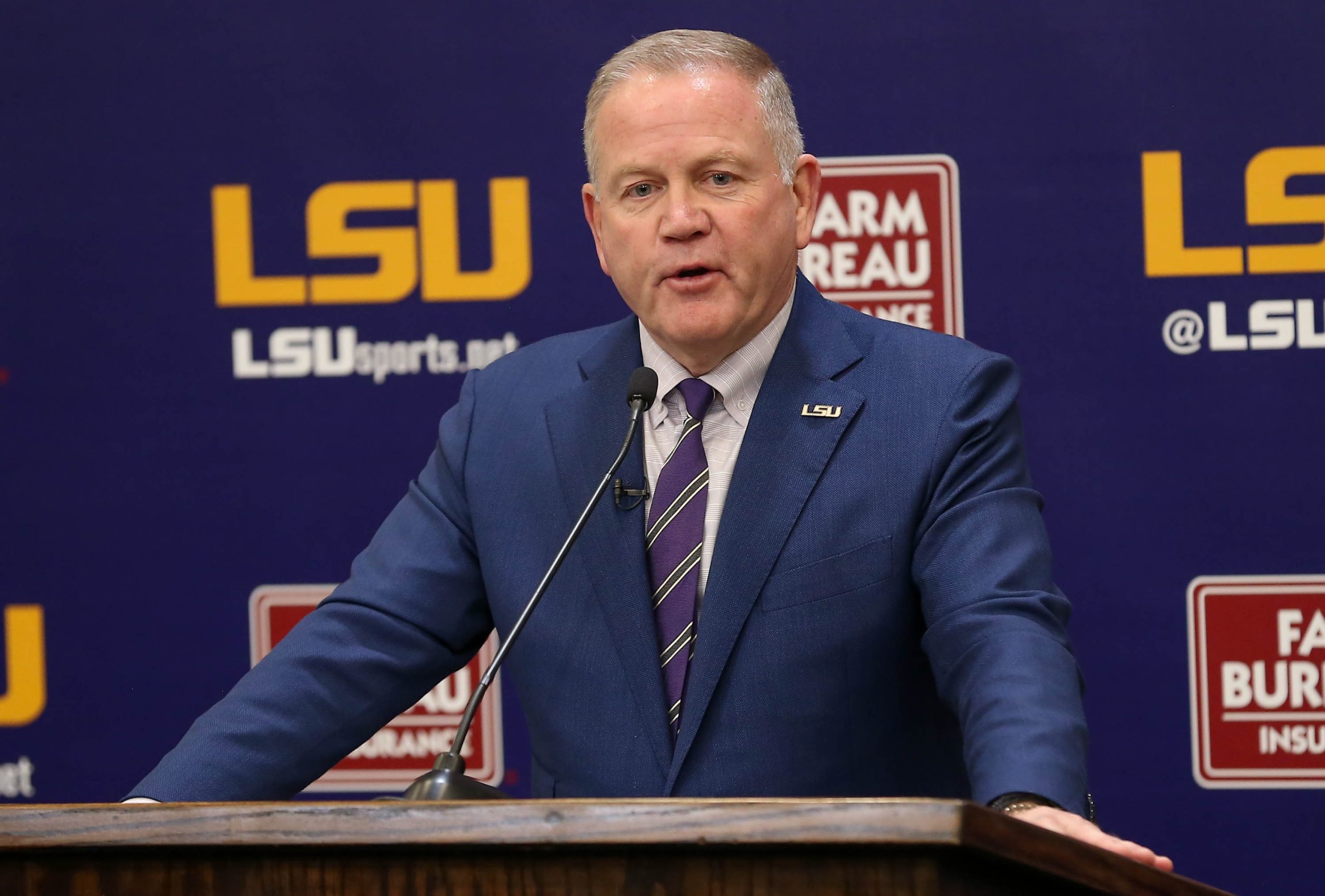 Through the decades, most football coaches considering job offers decide to accept or decline based on certain essential elements required to consistently win and challenge for championships.
It runs the gamut from size of recruiting budget to having the best practice and training facilities to possessing the resources to hire the best assistant coaches and support staff available.
Back in the day, it was called a coach and the school administration "being on the same page."
Brian Kelly, introduced in Tiger Stadium's Lawton Room at a Wednesday press conference as the 34th head football coach in LSU history, has another term about everyone working toward a common goal.
"This is so much about alignment," said Kelly, 60, who left Notre Dame after 12 seasons with a 113-40 record and a current string of five straight 10-win seasons including the 2021 11-1 Fighting Irish ranked 6th in the College Football Playoff standings. "It just comes down to for me an alignment about excellence. That's what I'm about.
"Excellence in academics, excellence in academics and athletics here at LSU and seeing that, feeling that, and now knowing that we can go off together and fulfill that goal."
In 31 years as a head coach at four schools, Kelly's record of 284-97-2 ranks him first among all active FBS coaches in career victories, ahead of Alabama's Nick Saban (272 wins) and North Carolina's Mack Brown (265 wins). Kelly has only had two teams finish below .500.
LSU athletic director Scott Woodward, making his third dynamic head coaching hire in the last nine months as Kelly joins new coaches Kim Mulkey (women's basketball ) and Jay Johnson (baseball), said he understood what LSU needed in a football coach.
"In decades I've known and loved this university," said Woodward, an LSU graduate and Baton Rouge native, "from the time I grew up in Baton Rouge selling peanuts in Tiger Stadium until the day I returned as athletic director in 2019 and everyday since, many things have changed.
"But through all these years from my first memories of this place until the second I stepped up to this microphone today, there is one constant that has never changed, never has and never will.
"LSU fans love a winner. And that's why I know LSU fans will love Brian Kelly. Success follows him everywhere he goes. All he does is win."
LSU President Bill Tate called Kelly's hiring "an historic moment for Louisiana State University" and proudly pointed out Kelly is the first Notre Dame head football coach since 1907 to leave the school for another college coaching position.
Tate revealed what he told Woodward what he was looking for in a new head football coach.
"I said to Scott, 'The LSU Tigers need a claw.'," Tate said. "He said, `What do you mean by claw?
"Someone with Character that translates. Leadership that inspires. An Attitude about athletics that ignites our student-athletes. A Winning tradition that solidifies our investment in this program."
That investment is Kelly's 10-year, $95 million contract, plus incentives that push his annual pay over $10 million. It's the richest deal in LSU sports history and Kelly clearly understands he needs to deliver a return on investment for a program with four national championships, the last in 2019 with 15-0 record under Ed Orgeron who was fired after going 11-11 the last two seasons.
In an introductory meeting with his new team on Tuesday after he and his family arrived with Woodward and Tate in Baton Rouge on LSU's private jet, Kelly told his players why he accepted the job.
"I'm here because I wanted to coach the very best players in the country that are afforded the best resources in the country," Kelly said, "and play in the best conference (the SEC) in the country. That's an incredible challenge to a football coach.
"And I get that here and I get a chance to work with the best athletic director, the best president, all in alignment to get to the end of winning a national championship.
"That's why we're here. That's why I took this job."
Kelly reiterated that point on Wednesday.
"I came down here because I wanted to be with the best," Kelly said. "The resources here are outstanding. It starts with the alignment, excellence, the standard of expectation. Listen, you're looked at in terms of championships here. I want that. I want to be under the bright lights. I want to be on the Broadway stage. That's what my passion is."
Kelly said he entered the 2021 season not seeking another job, Then, LSU approached him early in its search process to replace Orgeron after Woodward announced Oct. 24 he was making a coaching change effective at the end of the season.
"I had a great football team that we were developing," Kelly said. "But when you get an opportunity to talk to Scott Woodward, he has a clear way of communicating. It was 45 minutes, and I had an understanding of where LSU was from a commitment and how this was going to look.
"It was an exciting vision for me to look at. As I got a chance to speak to more people about this opportunity, I just felt it was something that I had to take on.
"When I talked to the boss (Kelly's wife). . .and she was part of that decision-making process, there was no turning back."
Kelly said he hasn't decided who to retain from the current LSU coaching staff, though it had been reported defensive backs coach Corey Raymond and running backs coach Kevin Faulk will return.
As far as hiring assistants off his former Notre Dame staff, Kelly said he has to respect the fact that the Fighting Irish will have a postgame season to prepare for.
"The coaches that are on staff there at Notre Dame are still employed there," Kelly said. "Are there coaches there that I would like to join me here? Certainly. But that's a process that we'll have to work through.
"There are teams to coach on both sides. This team is going to be preparing for a bowl game. Hopefully Notre Dame gets a chance to play in the playoffs. They have to be prepared."
Bowl bids will be announced Sunday. LSU is expected to get a bid and assistant Brad Davis was named interim coach.
But depending when the bowl is played, Kelly said he is open to discussing with Woodward about coaching the Tigers in a bowl.