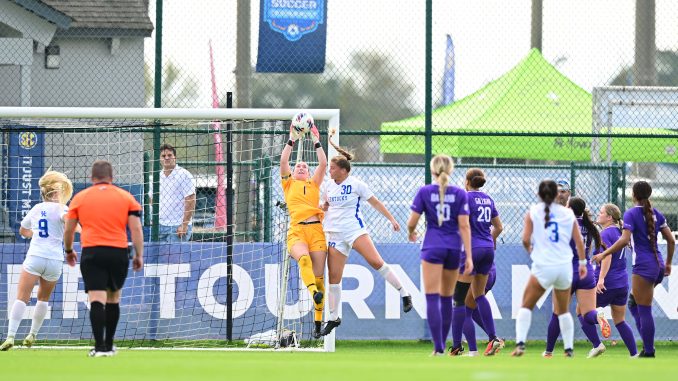 PENSACOLA, Florida – The future of the LSU soccer team is now in the hands of the NCAA Selection Committee.
Three days after advancing to the SEC Soccer Tournament, No. 10 LSU fell 4-2 in a penalty kicks shootout to No. 7 Kentucky in the first round of action Sunday at Ashton Brosnahan Soccer Complex.
LSU (8-7-4) will have to wait for an at-large bid to reach the 64-team draw for the NCAA Tournament on Nov. 6. The Tigers entered the tournament with a RPI of No. 44.
"We are obviously really disappointed to lose on penalties. It's a tough way to exit any tournament," LSU soccer coach Sian Hudson said. "We had some big moments in the game, in particular the goal we scored that got called back for offsides, a good chance for Rammie Noel from a slip ball by Taylor Dobles, Ida's (Hermanndottir) shot from the top of the box and also a header for (Mollie) Baker when she got rattled by the keeper. I was proud of the team's fight to the death and we will prepare in the hopes we get a bid into the NCAA tournament next week."
LSU, which gained a player advantage in the 55th minute of regulation, couldn't take advantage when Kentucky's Maggy Henschler picked up a second yellow card just outside of the box. Hermanndottir's free kick went directly to goalie Marsz Josephson.
Defender Jocelyn Ollivierre had a shot on goal in the 66th minute that was saved while Baker was denied in the 86th and 90th minutes.
The match remained scoreless after a pair of 10-minute overtime sessions, forcing penalty kicks to decide which team would advance to Tuesday's quarterfinal against No. 2 Georgia.
Hermannsdottir helped LSU make it 1-1 in the penalty shootout but Josephson denied back-to-back shots from Baker and Jordan Johnson.
LSU remained within 3-2 on Sage Glover's penalty kick but Kentucky put it away on PK from Jordan Rhodes, the program's career leader in goals scored.
LSU outshot Kentucky 17-12 overall and 6-5 on shots on goal. Goalie Mollee Swift finished with five goals and Stephenson six.
LSU came close to a game-winning goal twice in the second overtime when Baker's header inside the box went wide in the 105th minute and Hermanndottir's shot from outside the box in the 109th minute was off frame.