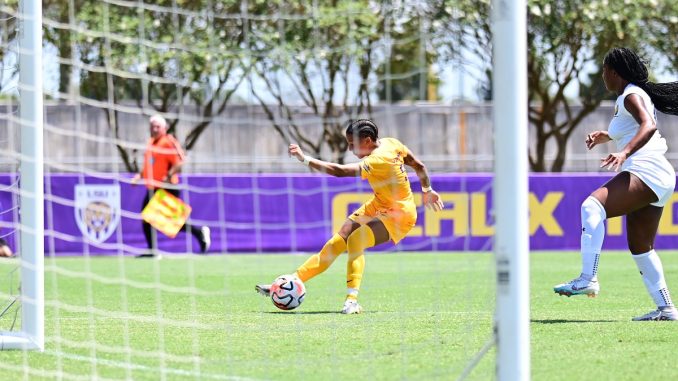 LSU's soccer team successfully bounced back from its worst loss of the season with a 6-0 victory Sunday over Texas A&M Commerce at the LSU Soccer Stadium.
The Tigers (4-2-0) led 2-0 at halftime and blew the match open in the second half led by New Orleans native Kelsey Major's first two career goals. She missed the entire 2022 season with an injury.
Five different players produced goals with Sage Glover and Raelyn Prince scoring in the first half. Britney Bertram and Rammie Noel, along with Major, helped the Tigers stretch their lead with second-half goals.
Freshman Caley Swierenga had a pair of assists and joined Ida Hermannsdottir, Mollie Baker, Jordan Johnson and Laney Gonzales in picking up assists.
LSU dominated play in shots (26-3) and shots on goal (13-0). The Tigers took 11 corners, compared to none for Texas A&M Commerce, and goal keepers Mollee Swift and Bella Zanotelli combined for the shutout.
"Overall, it was just some really good soccer and I'm pleased with the outcome," LSU soccer coach Sian Hudson said. "There were a lot of different players contributing and anytime we get a win at this level is really good. Now, we just have to use this as an opportunity to build going into a huge game next week against Pepperdine.
"I'm really excited for some of the goal scorers and people with assists today," Hudson added. "Caley Swierenga had two assists as a freshman. Kelsey Major missed last season with a big injury so I'm excited to see her get her first and second goals in the Purple & Gold today. She has had an unbelievable attitude and work rate since she arrived."
Glover scored in the 22nd minute and Prince's half volley from outside the box gave LSU a 2-0 lead in the first half. Bertram's header from the box came in the 53rd minute with Major breaking into the scoring column for the first time five minutes later for a 4-0 cushion.
The Tigers finished up the last six minutes of play with goals from Noel, the eighth of her career, in the 83rd minute and Major took a pass from Gonzales and headed in her team's final goal in the 85th minute.
LSU returns to action at home Thursday at 6 p.m. against Pepperdine. The match will be streamed live on SEC Network+.