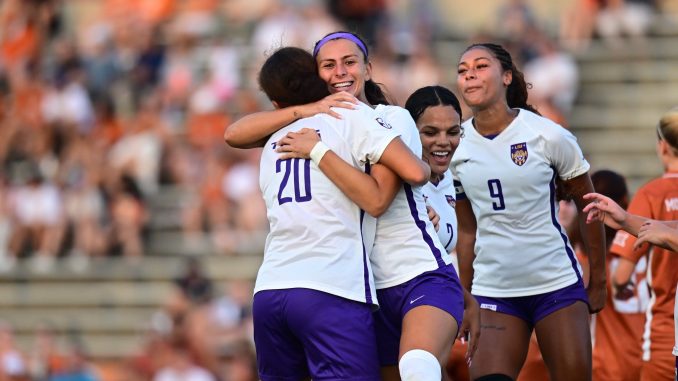 With her team not having won a match in a month LSU soccer coach Sian Hudson admitted to feeling a bit unsettled going into Monday's NCAA selection show.
"We definitely did," Hudson said. "I had some conversations with people I trust in the industry to get their thoughts. I was told there had never been a team above 50 in the RPI that had gotten in."
LSU (8-7-4) didn't have to wait long, though, they would still be dancing. The Tigers earned their third consecutive NCAA berth under Hudson and will travel to Memphis (18-1) for a first-round matchup at 7 p.m. Saturday at Billy J. Murphy Soccer Complex.
It's been two years since the NCAA last paired the two programs together when Memphis took a 3-0 victory in 2021.
"We want to be one of the top teams in the country," Hudson said. "In order to do that you have to be playing your best at the end of the season. Every team that makes the national tournament is a good team. They've been tested. We remember from playing them two years ago, Memphis is a fantastic team, very well coached, disciplined and very well defensive. They're organized and don't concede many goals. It's a difficult place to go and get a result. We're excited to be in it."
LSU won its first-round NCAA match a year ago, defeating Lamar 3-1 at home before going onto to fall 4-1 at Florida State.
The Tigers were the beneficiary of playing a strong schedule this season which afforded them opportunities to knock off No. 9 Texas (3-1) and No. 22 Georgia (3-2) and played No. 9 Arkansas to a 1-1 draw.
They also finished tied with Texas A&M, Pepperdine and Mississippi State.
"I knew there was a really good shot because of our results against Top 50 teams," Hudson said. "It shows that it's not all down to the RPI, but your ability to perform against top teams. We're excited to get in. We knew it would be touch and go for a little bit."
LSU's draw with Texas A&M in its regular-season finale helped catapult the Tigers to the Southeastern Conference Tournament where they battled to a 0-0 tie through regulation and a pair of two, 10-minute overtime sessions.
Kentucky advanced, though, with a 4-2 victory in the penalty kicks shootout.
"That's the frustrating thing that we know on our day," Hudson said, "we can beat any in the country, but we haven't shown the ability to do that consistently. The NCAA's one game and everybody's got to roll up and fight for 90 minutes."
Memphis, of long-time coach Brooks Monaghan, is making its sixth straight NCAA appearance and 12th overall. They advanced to the Round of 16 for the time last season.
Memphis riding a school-record 15-game winning streak and hasn't lost since a 2-1 decision at Alabama on Aug. 27. They've outscored its opposition 48-7 and with the AAC Goalkeeper of the Year and co-Defensive Player of Year Kaylie Bierman (42 saves), the Tigers have 13 combined shutouts to their credit.
The AAC Player of the Year is fifth-year senior Saorla Miller who leads Memphis with 11 goals and two assists and fifth-year forward/midfielder Mya Jones has 10 goals and 10 assists.
LSU, which averages 1.58 goals per game, is led by second-team All-SEC selection Ava Galligan (3 goals, 5 assists). Graduate forward Taylor Dobles has a team-high five goals and sophomore midfielder Ida Hermannsdottir and sophomore forward Sage Glover both have four goals, while senior forward Mollie Baker and fifth-year senior forward Rammie Noel have four assists apiece.
Graduate goalkeeper Mollee Swift has allowed 26 goals in 19 games to go along with 66 saves and three solo shutouts. She's also delivered two penalty kicks on offense.
"We've beat the Big 12 Conference champion (Texas) and beat the SEC champion (Georgia)," Hudson said. "I don't think we fear anyone. We just have to make this game about what we do well."