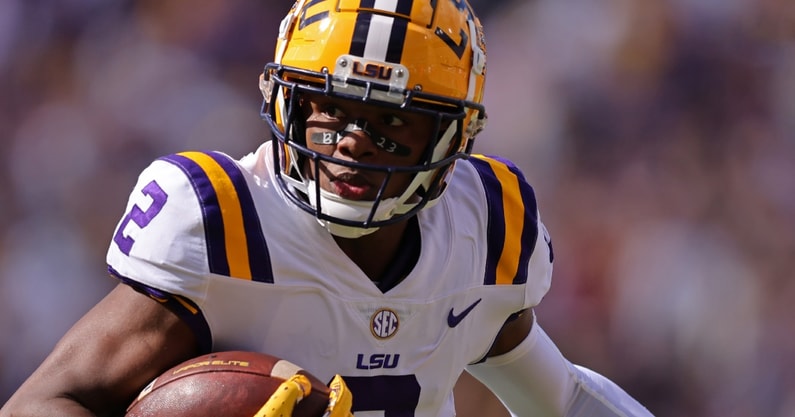 If you were looking for anyone to try and turn heads in LSU's annual spring game, wide receiver Kyren Lacy would have certainly been a good candidate.
The Tigers have a deep and talented wide receiver corps and Lacy, a transfer from UL-Lafayette, was the fourth leading receiver returning for 2023 season.
Lacy, a senior, showed on the game's first play he may be someone LSU could count on to play a bigger role, leaping for a one-handed catch from quarterback Jayden Daniels and breaking out of a tackle to complete a 70-yard touchdown.
The White (offense) had a matching 70-yard scoring play to open the third quarter between quarterback Garrett Nussmeier and wide receiver Landon Ibieta, highlighting a 90-minute scrimmage that wound up in a 32-32 tie when placekicker Damian Ramos made a 34-yard field goal on the game's final play Saturday in Tiger Stadium.
"I'm pleased with the outcome," LSU second-year coach Brian Kelly said. "We got out of it clean with no injuries which is always important."
LSU played without a total of 17 players either recovering from offseason surgery or were injured during spring drills. The game featured a pair of 15-minute quarters in the first half and two 10-minute quarters in the second half played with a running clock.
Daniels, who was 10 of 11 for 168 yards, and Nussmeier, who was 5 of 8 for 139 yards, each threw for two touchdowns to four different receivers.
The Purple (defense) was awarded points for a variety of things such as true freshman Whit Weeks 40-yard interception return late in the first quarter. They were also able to pick up five points on missed field goals in which there were two, two points for a pass breakup and a point for a sack or tackle for loss.
There were a total of 54 snaps in the game that featured LSU's No. 1 offense going against the No. 1 defense, and the Tigers' No. 2 offense battling the No. 2 defense.
Kelly reiterated his depth on the offensive line was extremely thin with only nine healthy linemen and required two players switching from the defensive line to the offensive line to help facilitate the game.
Lacy had a team-high four catches in five targets with 92 yards followed by Brian Thomas Jr. with three catches for 66 yards, a touchdown and two-point conversion. Malik Nabers, the team's leading returning receiver, had three receptions for 35 yards.
Freshman running back Trey Holly was the leading rusher with eight carries for 26 yards. He also caught two passes for 19 yards and a touchdown.
"I thought Daniels was efficient and played very well," Kelly said. "Garrett Nussmeier was equally as efficient. At times he didn't have the same protection that Jayden does. Given those circumstances you can make the case, he was equally if not better in some instances. I'm pleased with the quarterbacks."
Converted former center Fitzgerald West Jr. and redshirt freshman Quency Wiggins were credited with five tackles apiece to lead the defense. True freshman Jaxon Howard and walk-on safety Quad Wilson, who had an interception return for a touchdown in the Citrus Bowl, each had four tackles.
LSU's defense had five tackles for loss for minus-23 yards, including one each from Howard, Bradyn Swinson and Jalen Lee, and four sacks for minus-22 yards.
"We got strong play across the board," Kelly said. "I think our safety play needs to continue to get better at the second level. We missed some tackles."

Lacy went up and came down with Daniel's high throw at the 45-yard line of the defense, broke out of a tackle at the 30 and got into the end zone for a 7-0 lead.
The defense tied the game at 7-7 on Nathan Diebert's missed 46-yard field goal at the five-minute mark of the first quarter and took a 14-7 lead on Weeks' interception return of a Rickie Collins pass attempt to the inside of the field. Ramos added the extra point.
Nussmeier marched the White 75 yards in six plays and connected with Thomas on a 7-yard scoring pass to make it 16-14 with 8:15 before halftime.

The Purple picked up nine points on the White's final drive of the half for a 29-14 halftime lead. They got a sack from Lee, a PBU from cornerback Laterrance Welch, a sack from Brayden Swinson and Ramos' missed 44-yard field goal on the final play.
Ibieta, who was injured for most of the 2022 season, beat Texas A&M transfer Denver Harris on a reception from Nussmeier to open the second half, broke out of a tackle and turned the play into a 70-yard score and Dibert added the extra point.
Nussmeier passed 15 yards to Holly out of the backfield for a touchdown to draw the White within a point of the Purple (30-29) with less than two minutes to play in the third quarter.
The Purple got its final two points on a PBU on first-and-goal from the 16-yard line to lead 32-29 before Ramos closed with a game-tying field goal from 34 yards out.
"We had some guys step up and make plays," said Kelly, who led LSU to a 10-4 record and the SEC Western Division title in 2022. "The first offensive possession with Lacy being very dynamic with the football in his hands, adds to a mix of receivers that can obviously be very good for us in the SEC."