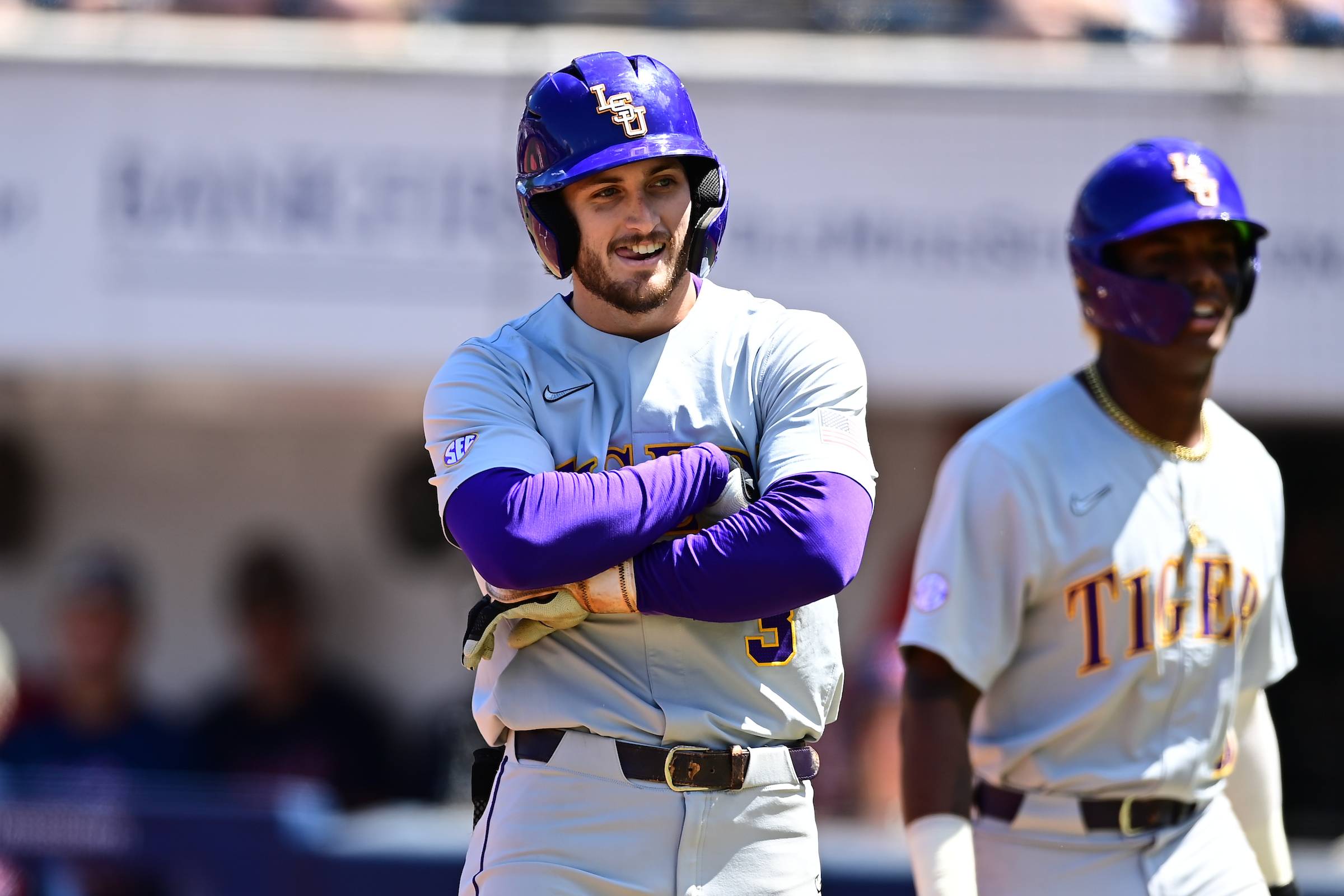 LSU's Dylan Crews – the undisputed best player in college baseball – put on a show for the ages on Saturday.
There's no better way to describe it.
Crews went off on Ole Miss at Swayze Field in Oxford, hitting his first career grand slam one inning after hitting a two-run home run, jumpstarting No. 1 LSU in a mostly dominant and convincing 8-4 series-clinching win.
Later, for good measure, Crews added a third hit for a single.
Crews hit his 10th and 11th home runs of the season, drove in a career-high six runs and celebrated the first grand slam in his illustrious collegiate career by paying homage to his, shall we say, more flashy teammate, Tommy "Tanks" White. White's own grand slam on Friday night in game one of the series powered LSU past Ole Miss, 7-3.
Crews tipped his hat to White by striking the patented "Doing The Tommy" pose after crushing his second-inning grand slam on Saturday made the score Dylan Crews 6, Ole Miss 0.
No. 1 LSU (31-7, 11-5 SEC) added two more runs, a solo home run by designated hitter Cade Beloso in the fifth inning and a two-out RBI single by Hayden Travinski in the seventh inning.
LSU starter Ty Floyd (6-0) pitched 8.1 innings and got the win in his most impressive outing of the season. He held Ole Miss (21-18, 3-14) scoreless until the bottom of the sixth inning when Rebels left fielder Kemp Alderman hit a three-run home run to center field to cut the Tigers lead to 7-3.
Floyd struck out eight, tying a career high, and gave up three runs on five hits while giving up one walk.
"Ty just was so sharp and that allowed him to extend, just a phenomenal effort," LSU coach Jay Johnson said. "He always prepares well, but the last couple weeks we really made some strides and the pitch execution was as good as you could do it today.
"Dylan is a special player, and he never lets the situation get too big," Johnson said. "He executes his plan, and he's the best player on the planet. He's just super committed to what he knows he needs to do. He's a special talent, but the talent comes out like that because he's so consistent in how he approaches the game."
Ole Miss starting pitcher Hunter Elliott (1-1) was charged the loss. He allowed five runs on two hits in one inning with five walks and three strikeouts.
The series finale of the LSU-Ole Miss matchup is scheduled for a 1 p.m. first pitch Sunday and will be streamed on the SEC Network+. The contest can also be heard on the LSU Sports Radio Network affiliates.
When it comes to
Hitting a home run
Maybe plating up
3 or 4 runs
He wrote the book
Yeah, he wrote the book@__dc4__ | ESPN2 pic.twitter.com/7MmIkFA42o

— LSU Baseball (@LSUbaseball) April 22, 2023
That Man Is Dangerous @__dc4__ | ESPN2 pic.twitter.com/XkUrqld0Jq

— LSU Baseball (@LSUbaseball) April 22, 2023