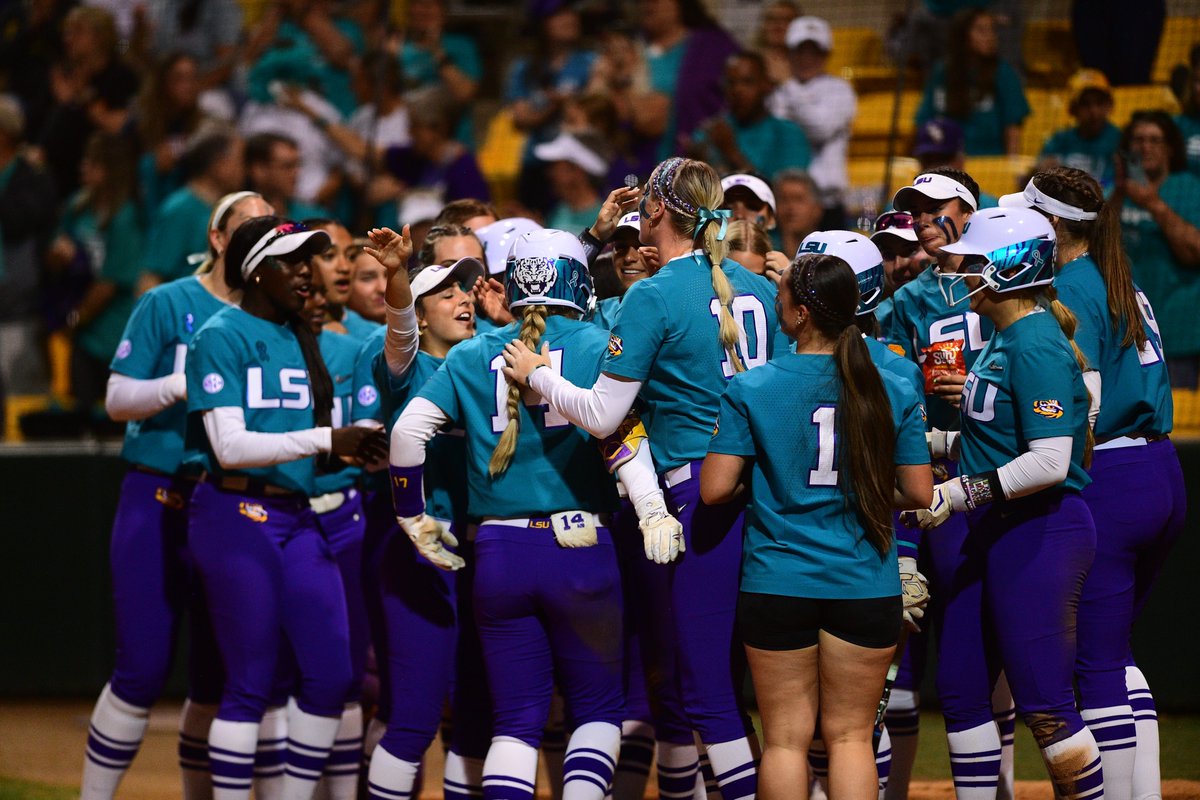 The No. 15 LSU softball twice battled back from multi-run deficits Saturday for a 10-4 victory to win its Southeastern Conference series with Mississippi State.
The Tigers (36-11, 9-8 in SEC) took the lead for good with a seven-run fourth inning and freshman pitcher Aleah Johnson was sparkling with 5.1 innings of scoreless relief of starter Raelin Chaffin.
LSU will go for its first sweep of the SEC series against State at 2 p.m. Sunday. The game will be streamed on the SEC Network+ channel and broadcast locally by 107.3-FM.
"I like how we continued to battle back when we were down," LSU softball coach Beth Torina said. "Our ability to create pressure was awesome. The offense really set the tone and allowed the defense to play free and aggressive."
Johnson (7-0) allowed three hits, walked five and struck out one.
LSU produced 18 hits against three State pitchers, led Taylor Pleasants' 3-for-3 performance with an RBI. Second baseman Karli Petty was 3-for-4 with a homer and four RBIs, Ali Newland 2-3 with three RBIs and left fielder Savannah Stewart 2-4.
Mississippi State (24-21, 3-13) took a 3-0 lead in the first on Aquana Brownlee's 3-run homer off Chaffin.
LSU cut into the lead, scoring twice in the bottom of the first, when Ali Newland drove in a pair of runs with a single to right.
Chaffin's outing was cut short in the second when Chloe Malau'ulu homered to center, extending State's lead to 4-2. Johnson replaced Chaffin who allowed four runs on five hits in 1.2 innings. She walked one and struck out none.
LSU batted around in the fourth, scoring seven runs on six hits and knocked out State's losing pitcher Aspen Wesley in the process.
Pleasants singled up the middle to drive in a run and following a pitching change with Kenley Hawk replacing Wesley, LSU's offensive assault continued with Newland's singling in a run to center and Petty delivering the big blow – a bases-clearing double to right. Petty scored the final run of the inning on a wild pitch.
Petty capped her team's scoring with a lead-off homer in the sixth – her third of the season.
"Petty was awesome tonight," Torina said. "She's worked really hard on making some adjustments and it was nice to see it pay off."