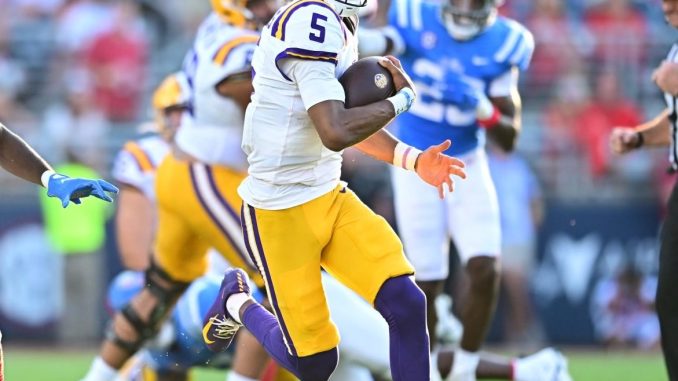 LSU should be embarrassed.
It has no defense.
None.
No proverbial leg to stand on, either.
LSU coach Brian Kelly did not, however, say the Tigers' defense was embarrassed after the school's football team, which formerly touted itself as DBU, played possum against Ole Miss Saturday night and slept through its crucial SEC West game against the previously offensively-challenged Rebels.
Embarrassed did not purse Kelly's lips when describing his woeful defense's state of mind or emotional state following the historic 55-49 steamrolling it was flattened by in Oxford while all those Hotty Toddy's and what not were being consumed and jokes no doubt being made at its expense.
Kelly, however, did say the players on that defense were pissed, as in pissed off.
"We need to be pissed off about what happened, and have some resolve about our circumstance. That's not a standard of of play. That's unacceptable," Kelly said.
"And so, we'll see how the guys, I expect them to respond the right way. They've got a lot of pride. They play for LSU. They know that that's not the standard. And I expect them to come back Monday. I'm ready to make sure that they address and we address as coaches, the things that we need to do better as well."
Kelly continued.
"Well, they got a lot of pride. I mean, they're not happy.
They're, they're upset. I mean, they know what happened out there.
"I mean, they had a chance to win a football game. And they, they prepare, they work hard. They want to win. And, and they feel like they let that game get away from them. Everybody has to respond to adversity, coaches and players alike. And it's life. Everybody's going to have to deal with adversity in some, some manner. And, and we have adversity in front of us. Let's see how we're going to handle it. I think our guys will respond and we put the challenge out there. We'll go to work on Monday," he said.
I guess that's a start.
Lord knows this defense needs to start somewhere. It is, after all, now five full games into the season.
Kelly said last week after the Tigers' matador defense put on a tackling exhibition against a 17.5-point underdog in the Arkansas Razorbacks, one that looked more like a defense from an eighth-grade girls flag football team than a SEC West division-leading major college football team's, that he still believed in his defense – because they were young and inexperienced, he said – and they could and would still improve.
Kelly said he thought, and I for one believed him, that the defense was improving (in practice) and that their biggest issues were correctable.
Silly me, I thought he meant this season. I actually thought he meant the issues would be correctable by Saturday night against Ole Miss.
Kelly is a good coach, a proven coach. A proven winner. He knows football.
Kelly said last week his defense's biggest problems were assignment-based, that they simply were trying to do too much, trying to be in places they weren't supposed to be in, and they needed to focus on doing the ordinary things extraordinarily. He said they would be alright.
Against Ole Miss on Saturday night, they were never in the right place at the right time except once, if I remember correctly. I'm sure the game film will show otherwise. Probably like five or six times, they were actually in the right place. But I guarantee you it wasn't 10 times all night that they were in the right place. And even if they were in the right place, say even nine times, they missed the tackle eight of those nine times.
After his offense – which is led by quarterback Jayden Daniels and is performing at an otherworldly great level so far this season – nearly overcame the worst defensive effort in the history of LSU football statistically, stylistically, and aesthetically, Kelly said you could even lay the Tigers' loss on the offense if you wanted to.
Why would you want to do that?
LSU's offense continued its league-leading pace all game – again – against Ole Miss. Only this time, it wasn't enough.
Try as it may, LSU's offense – despite its seven TD drives of 75 yards, 78 yards, 75 yards, 75 yards, 85 yards and 75 yards, respectively – with all averaging a combined three minutes elapsed for each drive – and despite its 637 yards of total offense – still couldn't pull the rug out from under this one.
"You could put it all on the offense and say, listen, if we convert a couple of drives there in a second half, we win the game," Kelly said.
Dude was serious.
"It'd be easy to say that and let our defense deal with what they did because we had a couple of opportunities to put the game away offensively, and we didn't. But, having said that, obviously they (our offense) played well," he said.
And, obviously, coach Kelly, your defense did not.
Play well, that is.
No matter how you look at it through anybody's eyes.
In a word, your defense stunk. Historically badly, it sucked.
LSU's defense gave up 55 points, eight touchdowns, 706 yards of total offense including 389 yards passing on 26 completions for an average of 15 yards per completion, 317 yards rushing for an average of 6.5 yards per carry to an offense that last week struggled mightily to gain 56 yards on the ground and squeezed out only 10 total points.
When asked about his comments from last week, or rather when asked a question that used as a basis his thoughts on his defense from last week and asked to compare what happened Saturday night in context, Kelly appeared a little pissed himself.
"Did you watch the game?" Kelly shot back.
Me, I was not at this press conference, not live and in person, anyway. But I took Kelly's redressing of a response as if he were asking me his question at me personally because in all honesty had I been at the postmortem in person like I usually am, I would have likely asked him the exact same question.
Of course, when he asked the question live, the reporter in question answered affirmatively.
"Yes," he said. He watched the game.
I would have answered Kelly somewhat differently.
I would have said I watched the game as much as I possibly could when I wasn't bent over with nausea.
"We were in position," Kelly retorted.
"We didn't make the plays that we needed to make. I mean those guys were either one-on-one or in a position to make a play (and didn't make the plays). Ole Miss was just better."
With about three minutes to play and LSU leading 49-47, the Tigers faced a third down and five yards from the Ole Miss 48. Daniels rolled to his right looking for Malik Nabers. Instead, Nabers was covered and Daniels ran out of room into the arms of Ole Miss senior linebacker Ashanti Cistrunk who was pursuing Daniels along with a flood of other Rebels.
The play resulted in a two-yard sack.
Facing a fourth down and seven, Kelly opted to punt.
Everyone knew, probably even Kelly, that giving the ball back to Ole Miss with more than two minutes to play, and leading by only two points, meant all Jaxson Dart had to do was hand the ball a few times Quinshon Judkins, who was averaging 6.5 yards per carry while using LSU's defense as a stepping stool to re-emerge as the first team All American running back he was during the preseason. Then maybe throw a pass to his always wide open tight end Caden Prieskorn, before being in the perfect position to kick a game-winning field goal as time ran out.
I was thinking at that moment in the game, it would be better for LSU to go for it on fourth and seven from the 50.
Worse thing that could happen for LSU, in my mind, was that Daniels would get sacked again and then Ole Miss would have to go less yards and consume less time so LSU's offense could get the ball back sooner rather than later and still have time to put together a game-winning drive.
Kelly opted to punt, though, and he said he never considered going for it on that fourth down.
"No. Too far. Too far. Not right there. We felt like you even saw, you know, we had a couple of other opportunities, right, to score and we still had a chance to score at the end there. It wouldn't, in my estimation, it was not the smart play to go for it in that situation," Kelly said.
When LSU's offense got the ball back, Ole Miss led 55-49 and the Tigers had 39 seconds on the clock left to play with.
Daniels went to work and ended up firing a 26-yard pass into Chris Hilton's outstretched hands high above everyone else's in the endzone as time expired.
Hilton did not make the grab.
LSU's offense failed to overcome the liability its defense burdened it with this time, just barely.
It's only one game. LSU's season is not over.
The Tigers still have time, seven more games, in fact, to work on developing a defense and learning how to tackle.
"We're not cancelling the season, okay?" Kelly said.
"We're going to be there, and we're going to work our tails off to get better. It was difficult of a loss. And, our guys felt it too. And we're going to go back to work. And, and we're going to work our tails off to get better. And we're going to work to get our offense even better. And, and hopefully that will be good enough too."