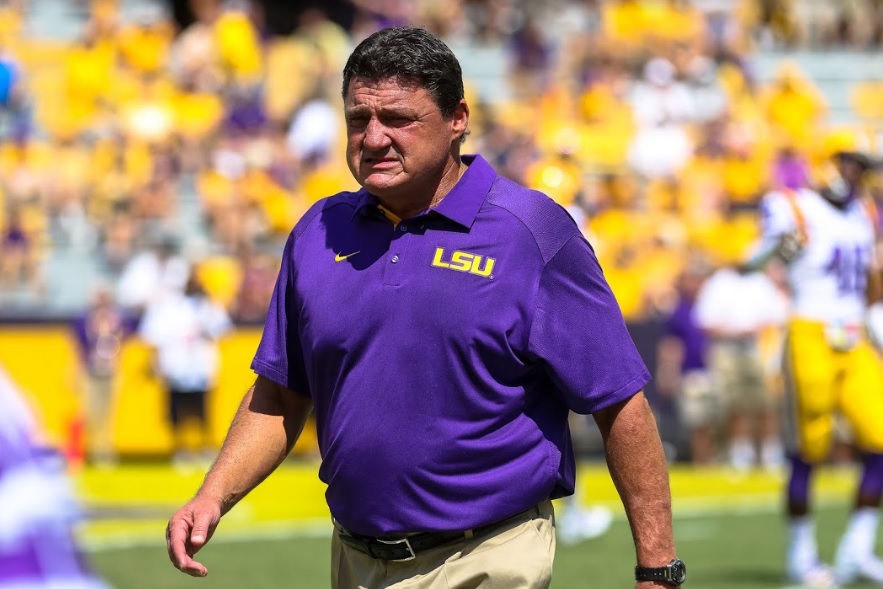 Spring football is a time for filling holes from the previous season, and LSU feels good it has corrected one of its more frustrating problems from 2018.
LSU averaged just 5.8 yards per punt return last season with Jonathan Giles handling the lion's share of the attempts. Giles had a long of 22 yards and had a costly muff in LSU's loss to Texas A&M.
Early enrollee Derek Stingley Jr. has taken over punt return duties since LSU began working on special teams a couple weeks ago, and he's been impressing the coaching staff ever since.
"He's looked really good," LSU coach Ed Orgeron said Tuesday. "He's got the vision and he's hard to tackle. He's a mild-mannered kid off the field, but he's got an edge to him on the field. He wants to make plays. Obviously what he did in high school was phenomenal. I think he's going to be a great returner."
Type Stingley's name into YouTube if you're looking for video evidence of what Stingley can do with the football in his hands. He finished his legendary career at Dunham High having returned 15 kickoffs/punts for touchdowns.
Orgeron likened Stingley's combination of speed, patience and vision to that of Reggie Bush, who he coached at USC.
"He sees green grass and he's going to go get it," Orgeron said. "I coached Reggie Bush at USC. I remember we were playing Oregon State and I called red — red meant right return. Red wasn't open so he went left and scored a touchdown. I called it again and he did it again. So much for plays."
LSU will scrimmage more on special teams this coming Saturday. The previous two scrimmages have been largely situational offense vs. defense in nature, though Stingley did return some punts in a live setting last week.
DEPTH NEEDED
LSU is short a number of bodies due to injury, especially on defense, which has created the need to shift some guys around to different positions.
Perhaps most notably, starting outside linebacker Michael Divinity worked with the inside linebackers on Tuesday afternoon. Offensive lineman Jakori Savage has been playing defensive line of late, a position where LSU is particularly shorthanded at the moment.
"Mike played mike linebacker today like he did in high school," Orgeron said. "I think he did very well. Mike is a good player for us. We need to have some depth there because we've got some guys hurt, and we just wanted to see if he could do it."
LSU lost another front seven defender recently as linebacker Ray Thornton will be "out for a while," Orgeron said. Thornton sprained his ankle in a non-contact injury and was spotted on crutches last Friday.
"We've got a lot of guys hurt," Orgeron said. "We've got like six or seven guys hurt on the defense."
ED INGRAM UPDATE
LSU's offensive line has been the "most improved" unit so far this spring, Orgeron said, but the coach wouldn't be opposed to some veteran reinforcements.
Ed Ingram was positioned to be LSU's starting right guard last season before being suspended indefinitely one day before the start of fall camp. Orgeron said at the time that it was a "legal matter" and declined to comment further.
Nothing has changes with Ingram's status as of now, but Orgeron would welcome the guard back into the fold provided he's cleared to play.
"It's a wait-and-see deal," Orgeron said. "Obviously it is out of our hands. If something happens and they tell me he can come back on the team, we'll let him."
Ingram isn't allowed to work out or practice with the team, but he's remained enrolled at LSU. Orgeron said he's seen Ingram recently and could report that the Texas native has stayed in good shape.