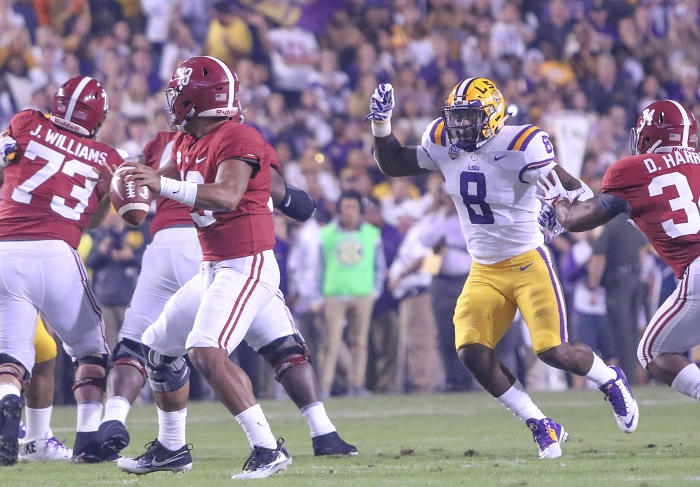 You won't find many fans of college football's targeting rules in Baton Rouge. Four Tigers were ejected from games for targeting during the 2018 season, including the infamous call that resulted in Devin White missing the first half of the Alabama game.
Now that the calendar has turned to 2019, those frustrating ejections and subsequent suspensions could turn out to be a belated blessing in disguise for LSU.
Why? Losing White for half the Alabama game and Jacob Phillips for the first half of the Fiesta Bowl against UCF created opportunities for Patrick Queen to show what he can do.
Queen made nine tackles in each of those marquee games and recorded a sack against UCF. Those were two of his four starts during a strong sophomore season during which Queen totaled 40 stops, including five tackles for loss.
Those efforts served as a test run as Queen battles this spring to fill the massive void left by White in LSU's starting lineup. And with Phillips out with an undisclosed injury, the junior suddenly finds himself as the most experienced inside linebacker on the field this spring.
"It's kind of weird, but everybody envisions that in their future," Queen said. "It's not something that you really think about, but it just kind of happens as things play around in your mind."
It's been a steady ascension to the top of the depth chart for Queen. He played sparingly as a true freshman in 2017, making most of his impact on special teams. Queen packed on 25 pounds during his first offseason at LSU and came back ready to contribute in his sophomore season.
Queen wants to add five more pounds of muscle this offseason, so long as it doesn't take away from the top-end speed that is the hallmark of his game — Queen believes he could give White a run for his money in a 40-yard dash.
Either way, Queen knows he's better prepared for a starting role haven gotten those fortuitous opportunities to play last season.
"Just the experience and getting a chance to go out and play and showcase my abilities," Queen said. "The experience was the big part, just knowing this is how it is going to be like the whole year. So basically, everything from last season just got me comfort and experience for the next one."
Nobody will expect Queen to play like an All-American and Butkus Award winner off the jump, but he's shown the speed and tackling ability to slide in for White in Dave Aranda's defense.
If only the task were that simple.
White wasn't just a dominant defender, he was the heart, soul and, most importantly, brain of LSU's defense. His boisterous nature and devotion to preparedness in the film room made him the perfect extension of Aranda on the field.
That role now falls to Queen, who admits to not being a big talker by nature. White sat him down before leaving to prepare for the NFL Draft and made sure his apparent successor understood everything that comes with the territory.
"He sat down and told me, 'You're the middle linebacker, you've got to be the vocal guy. You can't be scared to talk, you can't be scared to lead,'" Queen shared. "So I feel like stepping into the position suits me well. I feel like I'm more comfortable with everybody on the team with that speaking role."
That conversation was the continuation of an on-the-job training process that began back during Queen's rookie season.
White always appreciated the job Duke Riley did as a mentor when he was the converted running back in the linebacker room, and he always paid that courtesy forward. Queen remembers a bit of advice White gave him before his first positional meeting: make the film room is your friend.
"Huge influence," Queen said of White. "He sat me down day one and told me my best friend is going to be the film room. That's the key, so just taking that part from him and advancing it."
With Phillips on the sideline and a pair of rising freshmen working alongside him, Queen hasn't had much of a choice but to step up as a prepared leader this spring.
LSU's staff has taken notice of a more vocal and confident Queen leading a young group of inside linebackers in practice.
"Patrick Queen has been doing it all," LSU coach Ed Orgeron said. "I'm really pleased with Patrick Queen right now. Dave (Aranda) is really pleased with him."
The ability to handle that mental part of the game will ultimately decide if Queen is successful in filling the massive shoes that sit before him.
Every linebacker in the Southeastern Conference can run, hit and make tackles, but the great ones have an ability to keep their unit together and know where the ball is going before it's snapped.
"You've got to be smart," Queen explained. "You've got to know what you're doing. You've got to know where everybody has to line up, so I can't go on the field knowing what I've got to do, but knowing what the other person has got to do too."