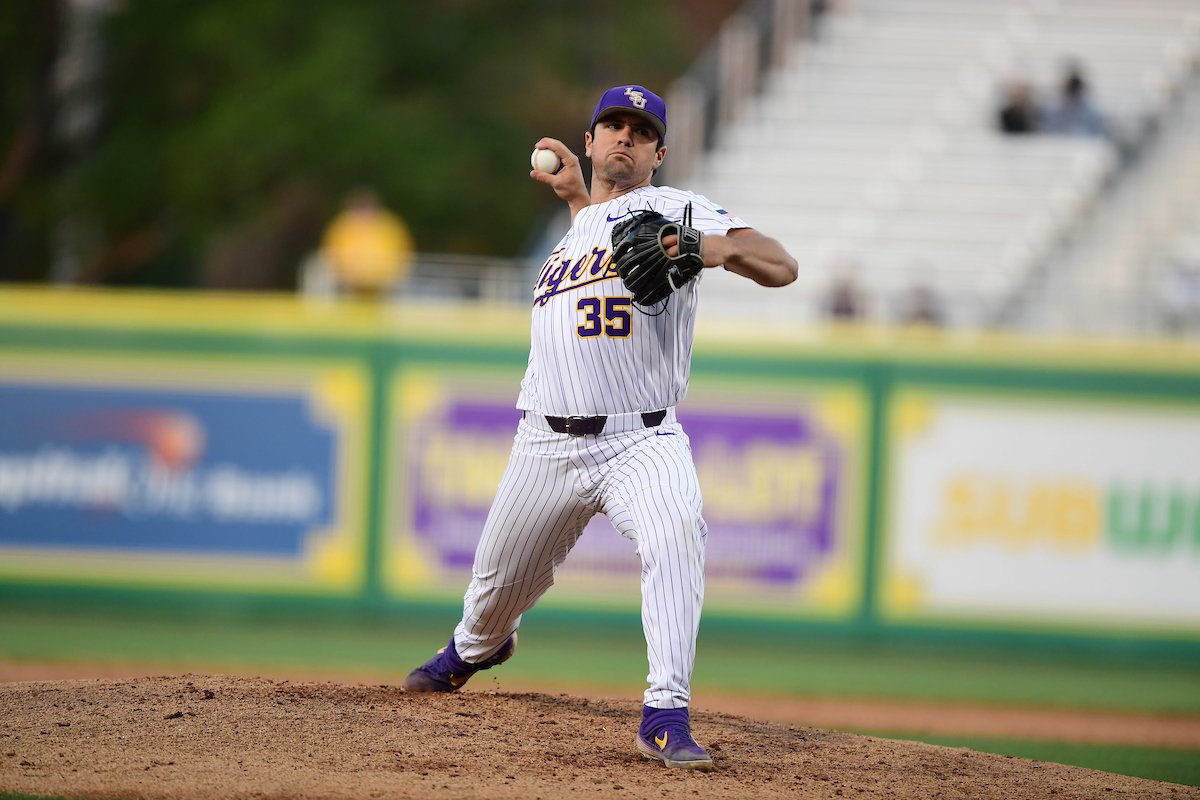 Paul Mainieri has been coaching long enough to know the difference between a quality pitchers' duel and a lousy night at the plate.
The first two games of a hotly-contested series at Georgia qualified as the former, as rightfully so. But even with the wind howling in, it's hard to make the same claim about getting two-hit through six innings by a reliever who came in with an ERA north of six.
LSU couldn't muster the late-game heroics that saved it last midweek and the offense stayed cold in a 2-0 loss to McNeese State at Alex Box Stadium on a blustery Tuesday night.
"There's not much to say after a game like that," Mainieri said. "Obviously I didn't have them ready to play, so that's just the way it goes sometimes.
"We're a better team than what we showed tonight."
Perhaps nothing embodies LSU's offensive funk better than the events of the eighth inning. LSU had the tying runs at the corners with nobody out and the big bats coming up.
Zach Watson lined out on a screaming line drive right at the McNeese third baseman. Antoine Duplantis popped out to second base. Chris Reid grounded into a fielder's choice to end the threat without any damage.
The first five hitters in the LSU order finished the game a woeful 1-for-17. The one was an infield single from Josh Smith.
"You've just got to go out there and compete at a higher level," Reid said. "Not every night are you going to come out here and go 4-for-4 or even get a hit, but you've got to compete, compete, compete every time you get a chance. You've got to care."
The senior continued: "We're wearing LSU or Tigers on our chest. That means something, not just to the guys on the team, but to people around the state and city and country. And it hurts when we go out there and play like that."
The entire team, sans coaches, met out in right field for roughly 16 minutes following the final out. Team leaders and veterans like Zack Hess, Smith, Duplantis and senior Clay Moffitt did most of the talking.
Their message was a relatively simple one: performances like that one cannot and will not be tolerated at LSU.
"I'm one of the older guys, I've been through the ringer and it means something. It means a lot being from Baton Rouge and growing up 10 minutes down the road. It hits close to the heart," Moffitt said. "You've got to appreciate what you're given, and given an opportunity to play for LSU can't be taken for granted.
He continued: "We just wanted to address that what we did was unacceptable for us and future players and past players. If the '09 team or the 97, 96, 93, 91, 2000, any of those teams saw what happened tonight, they would be disappointed. We feel like at LSU we have a tradition. You don't play like that."
Losers of three in a row, the Tigers will now travel to face a red-hot Mississippi State team having scored one run or less in three of their past four games. They'll head to Starkville off their most anemic performance to date.
"The good thing about baseball is that tomorrow's always another day," Reid concluded.
"Everybody is on board," Moffitt added. "This is LSU, and we don't deal with mediocrity. You get on the ship or you get off because the ship is going."
Ma'Khail Hilliard started on the bump for LSU and sailed through the first two innings, but the sophomore ran into trouble — though not necessarily of his own making — when extended into the third.
An error and an infield single that deflected off Hilliard got the ball rolling for McNeese State, and the game's first run came home on a wild pitch. Things could've gotten worse had Clay Moffitt not come in and gotten out of a bases-loaded jam as part of 2.1 innings of scoreless relief.
LSU had a golden opportunity to pull even in the fifth only to run themselves out of a rally. An infield single from Josh Smith would have loaded the bases with two outs, but Saul Garza got picked off after taking too wide a turn around third base.
Mainieri was short on arms heading into a short week, but Moffitt and Aaron Georgie kept the deficit at 1-0 through seven innings. Rarely-used freshman Will Ripoll took over in the eighth inning and allowed an insurance run to come home on a wild pitch.
"It was a very flat performance," Mainieri said, "and I'm the head coach, so it is my responsibility. For some reason I couldn't get them ready to go tonight."
LSU will have a travel day to figure some things out heading into a daunting Thursday-Saturday series at Mississippi State. First pitch is set for 6 p.m.