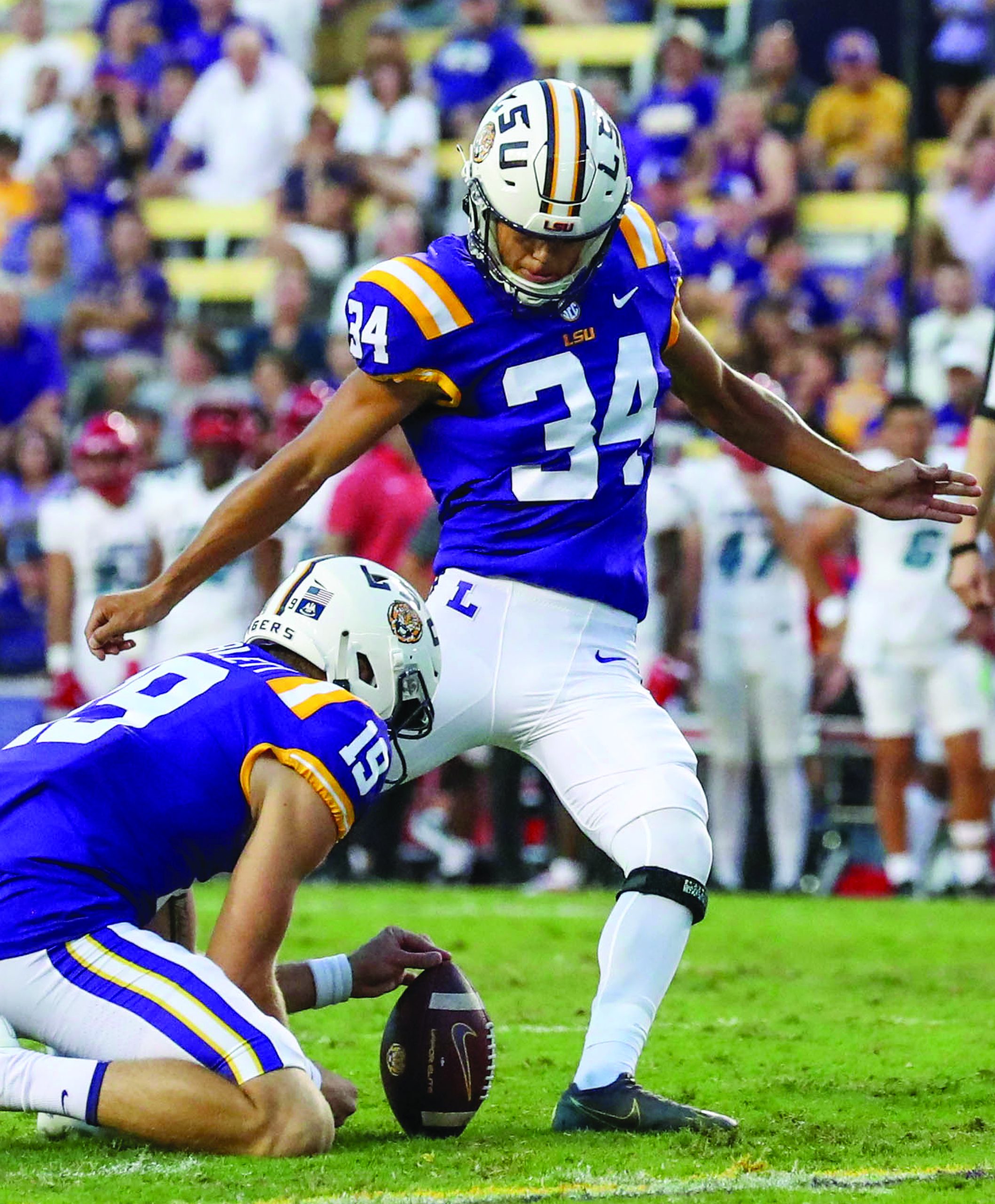 First-year LSU special teams coach Brian Polian signaled the warning bell before the 2022 regular season kicked off.
Having previously served in the same capacity to Brian Kelly at Notre Dame, Polian was an astute observer of the placekicking tradition he was inheriting by following Kelly.
Any program fortunate enough to have Cole Tracy and Cade York kicking in successive cycles can get accustomed to a level of excellence and that's what faced Polian in his first season.
"LSU fans, as it relates to kicking, you've been spoiled," Polian said this summer. "The last two guys have been unbelievable."
With York departing a year early for the NFL and becoming the school's first kicker drafted – going
into the fourth round to the Cleveland Browns – someone to kick extra points, field goals and kick
off was among the holes Kelly and Polian had to fix.
The Tigers relied on preferred walk-ons in Damian Ramos and Ezekeal Mata during spring practice and anxiously awaited the arrival of high school signee Nathan Dibert of Hartland, Michigan.
Kelly went as far as to suggest the staff nearly missed its deadline to invite preferred walk-ons to the start of fall camp in August.
That would have meant LSU would have been without the services of Ramos, something unfathomable after looking back at the regular season the Baltimore, Maryland native enjoyed this year.
"We're so smart we didn't invite him to camp until the very end," Kelly said.
The 6-foot-2, 183-pound Ramos resembled the type of start to the season, much like that of the team.
There was an early stumble, some undistinguishable moments followed by a steadiness that endeared him to his teammates and coaching staff.
Ramos led the team in scoring during the regular season, adding to that in the SEC Championship Game for 78 points. He kicked 48 of 50 extra points, was 10 of 14 on field goals and handled team's kickoff duties earlier in the season and recorded 11 touchbacks in 25 kickoffs.
"He demonstrated consistency more than anything else," Kelly said. "We have some really good, young kickers. I thought what Damian really exhibited in camp, and leading to the preseason, was consistency."
Ramos ended the regular season by making his last four field goals and five of his last attempts.
It was quite a departure from his first career game in the Caeser's Superdome. Ramos made his first attempt of 30 yards, but had a 30-yarder blocked in the second quarter and a potential game-tying extra point on the final play in regulation blocked, sealing Florida State's 24-23 win.
Ramos faced his first pressure situation Oct. 15 at Florida. With LSU trying to put away the game late in the fourth quarter, Ramos made a 47 yarder with 1:52 left in a 45-35 victory. He also delivered a key 32-yard effort with 6:52 to go in the fourth quarter for a 24-21 lead in a game LSU won, 32-31, over Alabama in overtime.
"What we know, we're going to be in it with him," Kelly said. "He's not going to be overwhelmed by the moment. He's going to be able to stick with his routine and he's going to put a good effort on every single kick that he's asked to make."