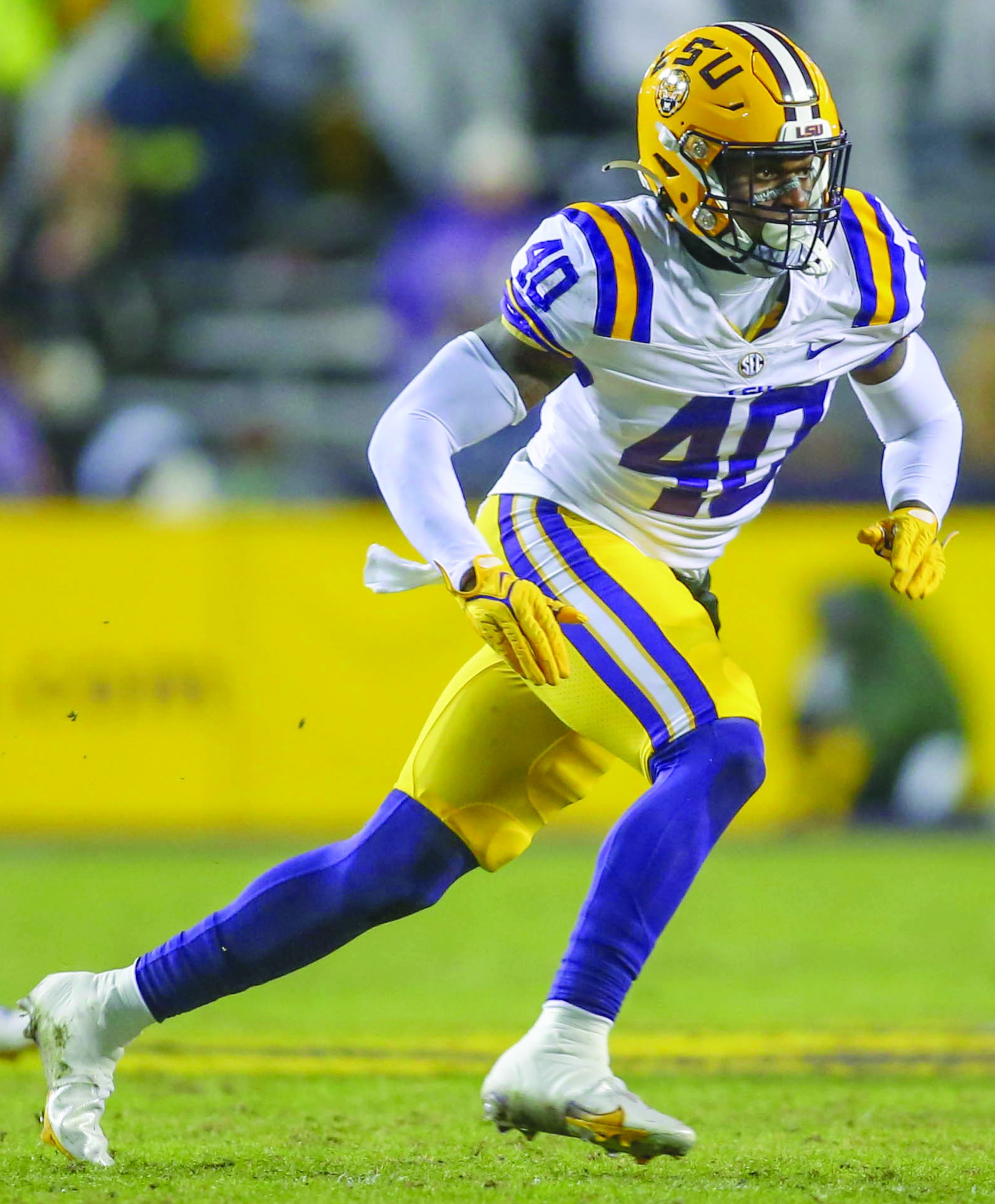 In the wake of his team's 45-20 loss to LSU on Oct. 22, Ole Miss football coach Lane Kiffin didn't hold back.
Kiffin wasn't overly critical of his normally high-powered offense, a group that managed a field over the last 45 minutes of the game. Instead, he gave credit to LSU's defense and in particular, the addition of one player on the field that wreaked havoc and made life miserable for the Rebels.
"I think they did a really good job; I don't think it was a lot of schematics," Kiffin said. "They started playing No. 40 (Harold Perkins) more which we thought they would eventually do."
It was the official coming-out party for Perkins.
The one-time Texas A&M commitment turned LSU Tiger on signing day had waited more than
half the season for such an arrival, and in such a momentum-building victory, Perkins began exhibiting flashes of brilliance.
He didn't stop with that nationally televised performance on Oct. 22.
The 6-foot-2, 220-pound Perkins began to morph into phenomena with his terrific instincts,
athletic ability and big-play penchant.
"Quite honestly, he has the makeup to do that. He is a mature kid," LSU first-year coach Brian Kelly said. "I was talking to a couple of our coaches about him. He is a bit of a throwback in this sense, 'just tell me what I need to do. I don't need all the other things. And I'll figure it out as I go'.
"It's kind of refreshing," Kelly said. "He doesn't need to know all the whys. I'm not saying that we shouldn't give the whys to our guys, and that's part of coaching today. You've got explain a lot of things. He doesn't need a lot of the whys, 'just point me in the right direction; I'll figure it out'. That's Harold Perkins."
Perkins, who's played both linebacker and 'Jack' position, was third on the team in the
regular season with 59 tackles. He ranked first with 10 tackles for loss, first in sacks with 6 ½ for minus-52 yards, 13 quarterback hurries and two forced fumbles.
"He's shown himself to be more than a freshman at this early point," LSU linebacker Micah Baskerville said. "He comes in every day with a great attitude and ready to work. That's one thing I like about him, he's always going to come in and work."
Although he experienced early success with seven tackles in nonconference games against
Southern and New Mexico, Perkins' true impact became apparent during the team's run to the SEC
Western Division crown and SEC Championship Game.
Perkins had five tackles, a tackle for loss and sack, to spark LSU's resurgence against Ole Miss,
setting the stage for clutch performances. He had eight tackles and a sack in an overtime win Nov.
5 over Alabama and a head-turning eight-tackle, three-sack effort that also included two forced
fumbles Nov. 12 to stave off Arkansas, 13-10.
"Perk's a special kid, a special talent," LSU senior defensive end Ali Gaye said. "He's out there doing things you would never imagine. He's doing amazing things on the field week in and week out. He's going to continue to be dominant and do this thing. The sky's the limit for him."