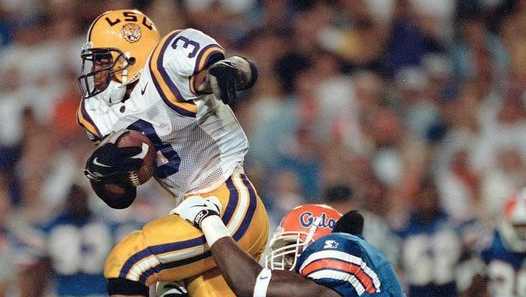 Former LSU running back Kevin Faulk has added another entry to his long list of post-career accolades.
Faulk was named Thursday to the Senior Bowl Hall of Fame's Class of 2022.
He's among elite company.
Also named to the class: Dallas Cowboys quarterback Dak Prescott, former NFL QB Phillip Rivers, Buffalo Bills linebacker Von Miller and former San Francisco 49ers linebacker Patrick Willis.
Faulk, a Carencro High product, spent his entire 13-season career in New England, where the versatile back played on three Super Bowl winning teams and rushed for 3,607 yards and 16 touchdowns.
Faulk played in 1999 Senior Bowl, won 31-21 by the Tony Dungy-coached South with UCLA quarterback Cade McNown named MVP.
"My Senior Bowl experience had two different aspects of it: The opportunity to meet and play with guys from other conferences, who eventually become your best friends – that was a big part of my experience," Faulk said according to the Patriots' website. "Secondly, the opportunity of getting coached by an NFL coaching staff was key for me. I have nothing but great memories of my time at the Senior Bowl."
Faulk was announced last January as a 2022 College Football Hall of Fame inductee.
He previously was named to the Patriots Hall of Fame, the Patriots' 50th Anniversary Team and the Louisiana Sports Hall of Fame.
In addition to rushing for a school-record 4,557 yards and 46 touchdowns over 41 games for LSU from 1995-98, Faulk – who also finished his college career as the SEC's all-time leader in all-purpose yards – was the Tigers' director of player development from 2018-19 and their running backs coach from 2020-21.
He left LSU's staff after former Notre Dame coach Brian Kelly replaced former coach Ed Orgeron.
Prescott, a two-time Pro Bowl selection who played at Mississippi State, was the NFL Offensive Rookie of the Year after being taken by the Cowboys in the fourth round of the 2016 NFL Draft.
Rivers – who played 17 NFL seasons, mostly with the San Diego/Los Angeles Charles – is a North Carolina State product and an eight-time Pro Bowl pick drafted No. 4 overall in 2004.
Miller, a Texas A&M product drafted No. 2 overall by Denver in 2011, is an eight-time Pro Bowl pick and a former Super Bowl MVP.
Willis, selected No. 7 overall in 2007 out of Ole Miss, spent his entire eight-year career with the 49ers, including seven straight Pro Bowl selections starting in the same season he was NFL Defensive Rookie of the Year.
"All five of these men were incredible players, winners, and community leaders in their respective NFL cities," Senior Bowl executive director Jim Nagy said in a statement. "They have done it all on the field, from Pro Bowls to Super Bowls."
As part of Senior Bowl Hall of Fame festivities in Mobile, Alabama, where the prestigious postseason game for NFL prospects is played, the five enshrines will play in the June 26 Senior Bowl Charities Celebrity Golf Tournament, with proceeds from the event benefitting the Mobile Baldwin Athletic Partnership, a program that provides athletic resources to underfunded public schools in Alabama.
First played in 1950 at the Gator Bowl in Jacksonville, Florida, the Senior Bowl moved to Mobile in 1951.
It's been inducting its own Hall of Fame members since 1988, when the inaugural class included Joe Namath, Walter Payton, Jim Taylor, Mean Joe Greene, Lee Roy Jordan, Steve Largent, Pat Sullivan and Travis Tidwell.