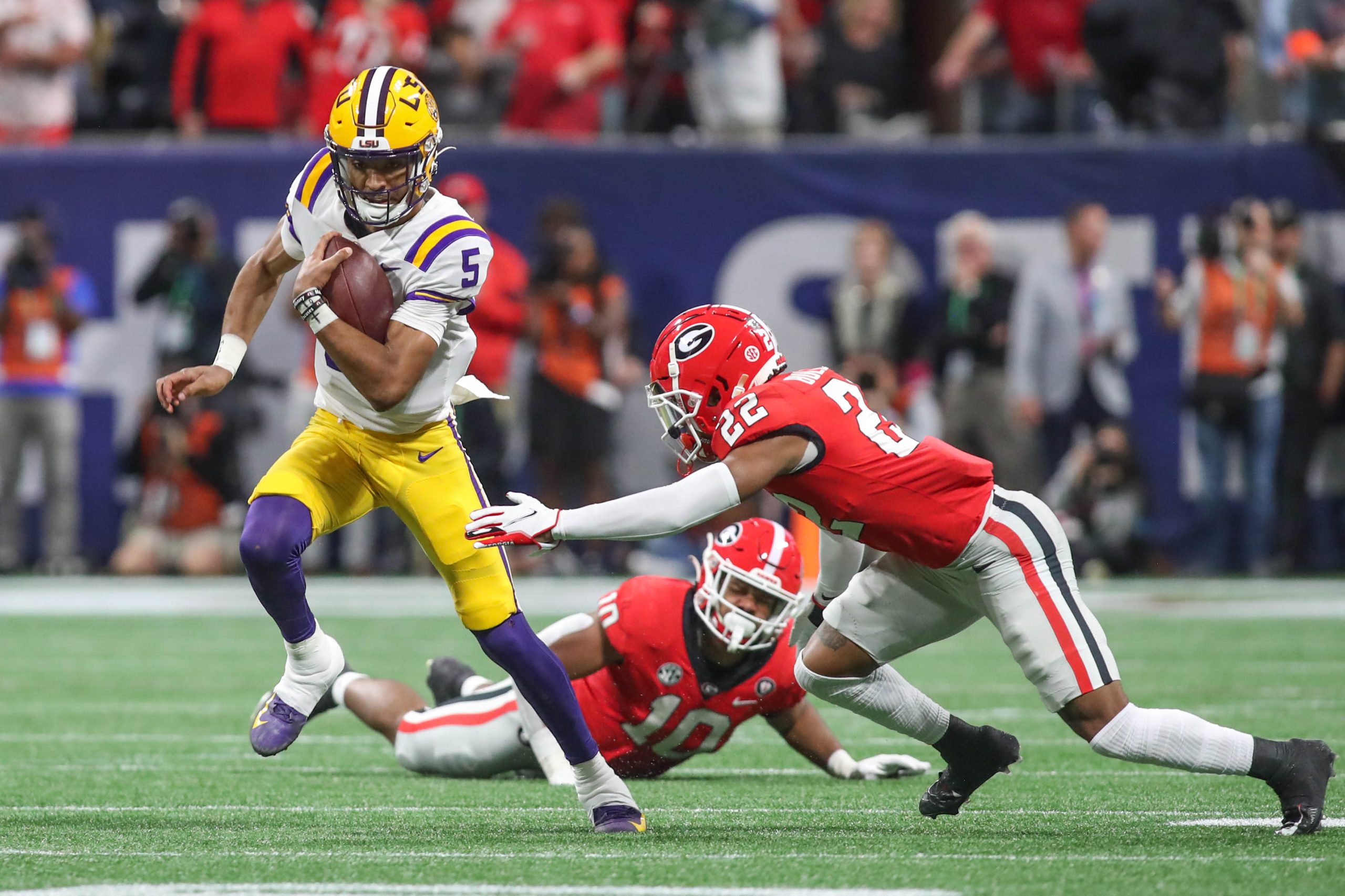 The last time LSU fans saw quarterback Jayden Daniels, he was parked on the team's sideline in last Saturday's Southeastern Conference Championship Game against Georgia.
Daniels, who led the Tigers to the Southeastern Conference Western Division title, reaggravated an ankle injury during the first half of the game, severally limiting him during the second quarter and eventually giving way to reserve Garrett Nussmeier in a 50-30 setback.
With his team's postseason destination determined Sunday, a Jan. 2 encounter with Purdue in the Citrus Bowl in Orlando, first-year coach Brian Kelly laid out a plan for Daniels that would hopefully return the junior to the practice field and prepare for the game.
"Yeah, he's probably going to need about a week to 10 days," Kelly said during Sunday's Zoom call with reporters. "So, we won't practice him this Saturday. He'll be out this week, probably take it into the middle of next week before we start to even think about getting him out and around. So, give him plenty of time so he's 100% healthy.
"No sense of reaggravating it, putting him in a situation where, it gets back in and out the of the lineup kind of situation," Kelly added. "I think (LSU athletic trainer) Bo Lowery is looking for at least 10 days where he can really recover and get that thing back to 100%."

Daniels, a transfer from Arizona State, became one of the nation's top dual-threat quarterbacks, leading LSU to a 9-3 regular season record when he was first injured in the team's finale in a 38-23 loss at Texas A&M.
He's led the Tigers in both rushing and passing, becoming just the fourth player in school history with more than 3,000 yards of total offense.
Daniels has completed 254 of 371 passes for 2,774 yards with 16 touchdowns and three interceptions. He's rushed for 818 yards – a school record by a quarterback 0 and 11 touchdowns, another single-season mark by a quarterback, and wound up as one of two FBS quarterback nationally to pass for more than 2,000 yards and run for 800-plus.
Daniels' total of 3,592 yards ranks second in school history in a single season and his 27 touchdowns responsible for is fourth best. He's also scored 66 points which ranks second behind kicker Damian Ramos.
He accounted for six touchdowns, tying for the second-best performance in school history, during LSU's 45-35 road win over Florida – rushing for three TDs and throwing for three more.