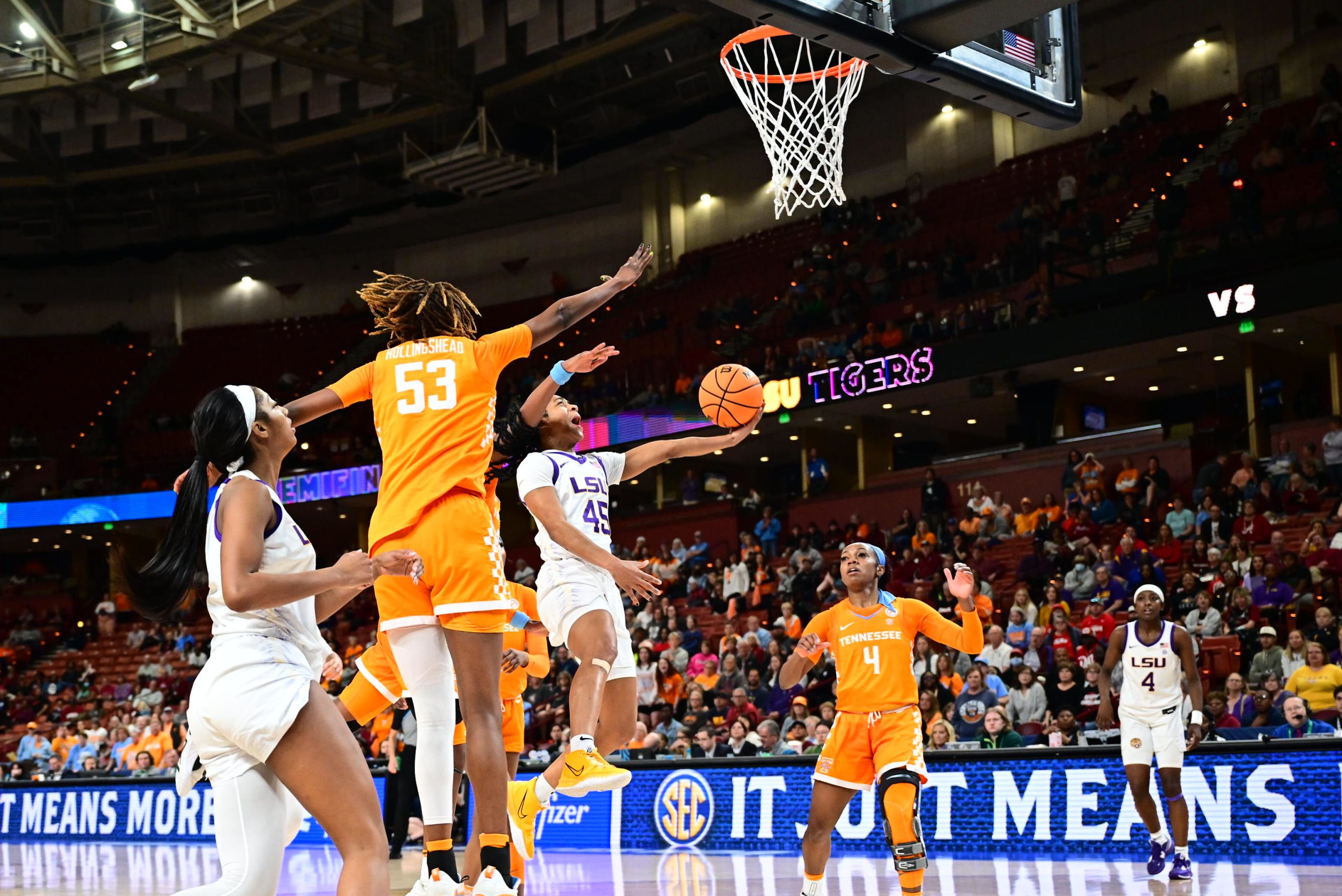 LSU won't have to worry about that rematch with South Carolina after all.
Instead of reaching the finals of the SEC Tournament for the first time in 11 years, the second-seeded Tigers have to deal with the disappointment of relinquishing a 17-point, first-half lead in the semifinals and falling 69-67 to third-seeded Tennessee on Saturday at Bon Secours Wellness Arena, Greenville, South Carolina.
Tennessee (23-11) will face top-ranked South Carolina in Sunday's championship game at 2 p.m. on ESPN. The Gamecocks advanced with an 80-51 thrashing over Ole Miss in the other semifinal.
Fourth-ranked LSU (28-2), which had its five-game winning streak snapped, appeared prime to reach the SEC Tournament final, playing a flawless first half. The Tigers opened as much as a 27-10 lead, shooting 51.4% from the field and forcing the Lady Vols into 13 turnovers.
"We got some work to do," Morris said. "We got a lot of growing to do. We got a lot of young ones on our team, experience, toughness. We got a week to prepare for playoffs, and that's pretty much all we're focused on right now, is our next season."
The tandem of Rickea Jackson and Jordan Horston powered a second-half turnaround, combining for 21 points and helping the Lady Vols outscore the Tigers, 42-27, and register their first win over a ranked opponent this year.
Sophomore Angel Reese recorded her school-record 28th double-double with 22 points and 11 rebounds. She also broke the school's single-season made free throws record previously held by Maree Jackson (204) in 1977-78.
Fifth-year guard Alexis Morris scored 13 of her 20 points in the first half and her final shot – a heave from just inside of halfcourt – was well off the mark at the buzzer.
The Tigers shot 43.1% (28 of 65) from the field, was outrebounded 37-35 and managed just 7-of-9 shooting from the free throw line.
LSU will wait until March 12 when the NCAA Selection Committee unveils its tournament bracket. The Tigers are expected to be a first-and-second host for the second straight year.
Jackson, the team's leading scorer at 19.4 points, led Tennessee with 26 points and 10 rebounds, while Horston added 17 points and 10 rebounds. Reserve Jillian Hollingshead added 11 and Tess Darby 10.
LSU was undefeated when it ventured to South Carolina on Feb. 12 where it was soundly defeated, 88-64. The Tigers, whose NCAA Tournament profile indicates they'll be a No. 2 seed, were hopeful of moving to one of the nation's top four seeds and needed a victory over South Carolina to have such an opportunity.
LSU was halfway there, leading 40-26 at halftime, but never regained the same offensive form and watched Tennessee – especially Jackson and Horston – catch fire. The Lady Vols also switched defenses from man-to-man to a 1-2-2 zone and caused the Tigers some difficulty.
"It's a big win because that (LSU) is a very good basketball team with a lot of weapons," Tennessee coach Kellie Jollie said. "I'm proud of our team continuing to fight, battle and chip away at a big lead."
The Tigers, who took a 76-68 over the Lady Vols on Jan. 30 in Baton Rouge, were outscored 21-11 in the third quarter and found themselves in a tie for the first time at 56-56 on Jackson's basket with 6:40 to play.
"We didn't execute," Morris said. "They zoned, shook us up for a little bit, but we didn't execute and we needed to execute and come together and, you know, be coachable."
The game was tied two more, the final time at 60-60 on Reese's drive and spin to the goal, when Tennessee took the lead for good with 4:19 to play. Horston made it 62-60 on a putback and Jackson followed with a pair of free throws – part of the Lady Vols' 21-of-25 shooting from the line.
Morris scored her first points of the second half with a 3-pointer that drew LSU to within 64-63 with 3:04 left but the Tigers could never catch Tennessee.
Morris had a driving basket and later converted a steal into a layup, leaving LSU with a 68-67 deficit with 1:24 to go and the Tigers had possession to go ahead when Reese was called for an offensive foul – her sixth turnover of the game – with 12.8 seconds left.
"I thought we were shooting two free throws," Mulkey said, "so I was heading back to wherever to get my thoughts together, and then they said, Coach, she called an offensive foul. I just thought she was shooting two free
throws."
Darby made a free throw with 11.2 second left and Tennessee, which had three fouls to give, smartly fouled LSU twice and left seven seconds when the ball was inbounded at midcourt to Morris for her final attempt.
LSU opened a 22-10 lead in the first quarter behind 58.8% (10 of 17) shooting with Morris and Reese each scoring seven points.
Reserve guard Kateri Poole knocked down a 3-pointer and Johnson added a jumper for a 27-10 advantage after a Jasmine Carson steal, forcing Tennessee to take a timeout.
"It was obvious they couldn't guard us in man," Mulkey said. "We came out the gate smoking. So, we go against a zone. It's not like we haven't seen zone this year. It was almost like we were just tired. No one flashed. No one moved. No one screened the zone. We had no dribble penetration to make two take
you. We had no ball reversal, nothing. We just relied on the shot clock winding down, set a pick, jack a shot up.
"Was that fatigue? I don't know," Mulkey said. "But we attack zones every day in practice and it affected us. Their press did not affect us; their zone affected us. We will continue as we prepare for the playoffs to attack zones."