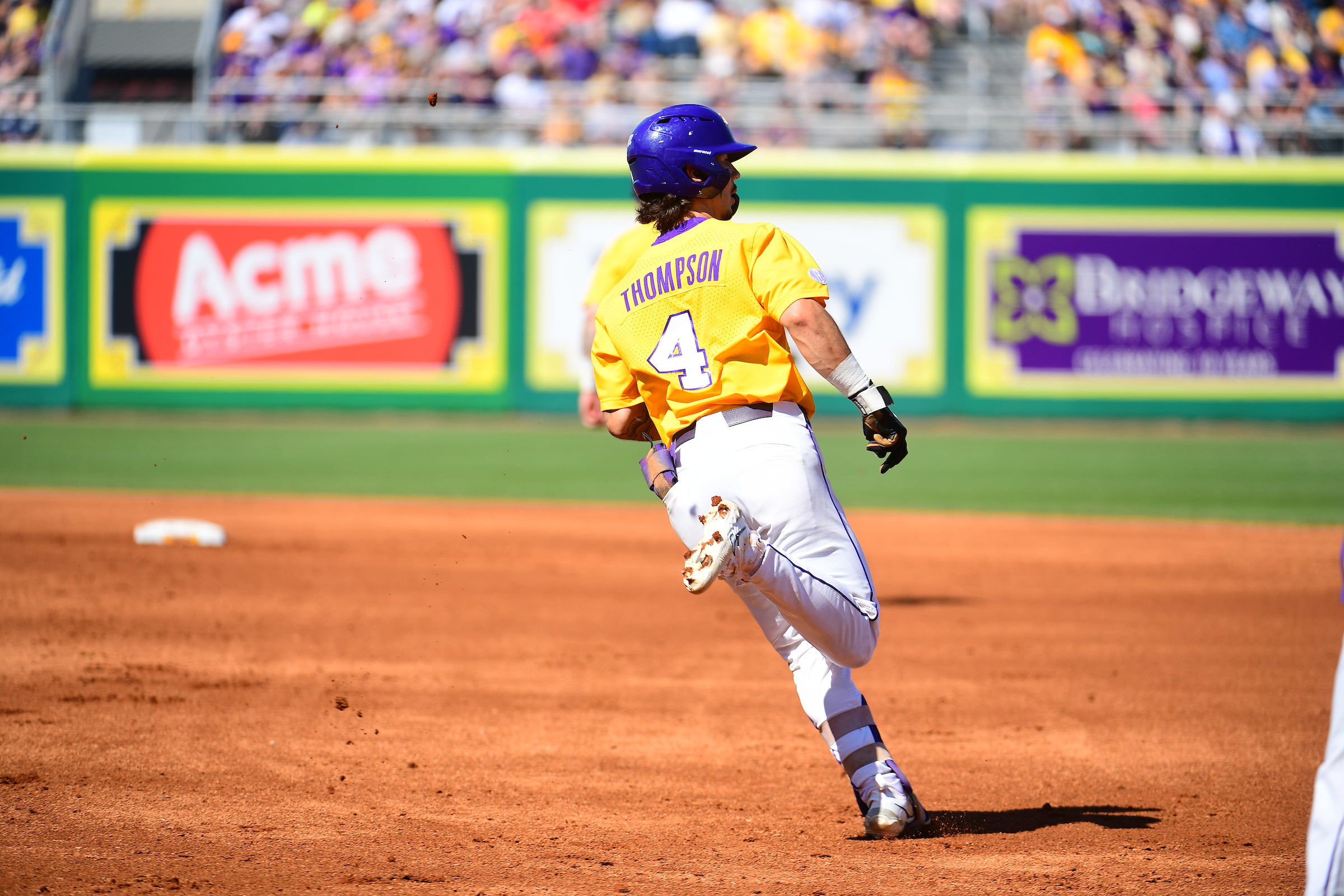 Fifth-year senior Cade Beloso cracked his second pinch-hit home run in as many games and Jordan Thompson had two hits and two runs batted, helping No. 1 LSU methodically pulverize Central Connecticut State University, 13-0, in seven innings at Alex Box Stadium, Skip Bertman Field on Sunday afternoon.
LSU (10-1) had 13 runs on eight hits. It was the team's third shutout of the season with the Tigers playing host to Butler at 6:30 p.m. on Monday.
Winning pitcher Nate Ackenhausen (2-0) pitched 1.1 innings in relief of LSU starter Chase Shores.
"It was a good game," LSU baseball coach Jay Johnson said. "I was pleased with the pitching; I thought Chase Shores did a great job, and we got his pitch count up a little bit, which we've been trying to do. Nate Ackenhausen came in and was effective, just as he's been each time so far, and he got a big strikeout with the bases loaded. I liked the shutout and liked the errorless game by our defense.
"Offensively, I thought we were pretty good, but there's a couple of at-bats I'd like to have back. We'll keep working on those, but I'm not going to complain about 13 runs in six innings of offense."
LSU used a bevy of relievers after Ackenhausen which included Griffin Herring, Garrett Edwards, and Christian Little. The trio would throw two scoreless innings while picking up four strikeouts with two hits allowed.
LSU took a 4-0 lead in the bottom of the first when Dylan Crews hit a two-run double down the left-field line scoring Gavin Dugas and Tre' Morgan who had reached base on a hit by pitch and catcher's interference call, respectively. Thompson then doubled to right field, knocking in Crews. A fielder's choice by Brayden Jobert drove in designated hitter Tommy White, who had been hit by a pitch.
LSU failed to plate a run in the second inning. Paxton Kling hit a ground-rule double to center field to lead it off but Dugas and Morgan each flied out before Crews grounded out to first base to end the inning. LSU had scored in eight consecutive innings going back to Saturday's 26-4 victory over CCSU.
Shores gave up three hits, struck out four and walked two when he was relieved by Ackenhausen with two outs in the top of the fourth inning. Shores then gave up his first hit when center fielder Kyle Gordon singled through the left side of the infield. but managed to get right fielder Joe Rios to fly out to end the inning with no damage done.
CCSU starting pitcher Jake Neuman made quick work of LSU in the bottom of the third, throwing only four pitches and forcing White, Thompson and Jobert each to ground out.
CCSU loaded the bases in the top of the fourth inning, chasing Shores with two outs. First baseman Ramon Jimenez (2-for-3) singled to left and then Shores induced Dan Hussey and Derek Haughey to fly out before giving up an infield hit to Aidan Redahan.
Shores then hit Elliot Good with a breaking ball to fill up the bases. Ackenhausen was summmoned out of the bullpen and struck out Brady Short swinging on three pitches to end the Blue Devils' threat.
LSU scored four runs on two hits in the bottom of the fourth for a 8-0 lead.
Dugas slapped an RBI-double, driving in Neal, and Kling and Tre Morgan (single) reached base when Crews drew a bases-loaded walk. Vincent Spizzuocco came on in relief and Dugas and Morgan scored on a throwing error.
CCSU loaded the bases with no outs in the sixth when Jimenez opened with a single and Herring hit consecutive batters Hussey and Haughey. Edwards, however, struck out pinch-hitter Jeff Nicol and then forced Good to hit into a 6-4-3 double play to snuff out the Blue Devils' threat.
In the bottom of the sixth, Beloso pinch-hit for Kling and smacked his second home run in as many days, a two-run, high-velocity line drive shot to make it 10-0. His home run scored Brady Neal who had reach on a hit by pitch.
After Morgan and Crews walked, White and Thompson hit consecutive RBI-singles with still only one out and then Alex Milazzo, pinch-running for White, scored on a sacrifice fly to right field by Jobert to account for the final score.