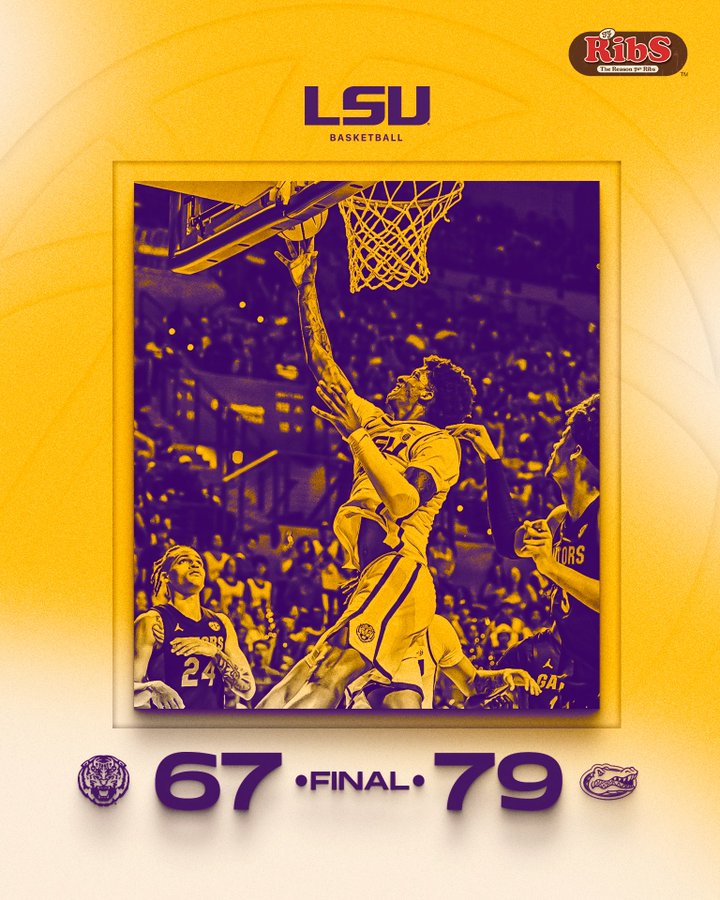 KJ Williams picked up his fourth personal foul with 9:59 left to play on Saturday night in LSU's Southeastern Conference regular season finale at Florida.
And at that moment, LSU was doomed.
LSU's loss of Williams at that critical moment, its primary offensive weapon, for almost five minutes proved too costly for the Tigers.
The complete tenor of the game changed with Williams out and he could not affect any change in Florida's momentum upon his return.
Florida handed LSU its 16th loss of the season in SEC play, 79-67, meaning the Tigers finished the 2022-23 conference slate winless on the road.
LSU, the No. 14 seed, plays Georgia, the No. 11 seed, on Wednesday in the first round of the SEC Tournament in Nashville at 7:00 p.m. on the SEC Network.
Florida's Riley Kugel scored 21 points, hitting 4 of 7 3s, while Will Richard added 18 points and three 3s. Kyle Lofton had 16 points.
Most of Kugel's damage was inflicted in the second half, scoring 17 and hitting four 3s. Lofton scored 11 in the second half with the Gators pouring in 50 points in the final 20 minutes.
Williams led LSU with 19 points, Derek Fountain had 13 and Adam Miller added 10.
LSU (13-18, 2-16 in SEC) led Florida, 33-29 at halftime, and built its lead to as many as 12 points early in the second half. But the Tigers' lead dwindled to three points on the play where Williams picked up his fourth personal and that play sent him to the bench.
By the time LSU coach Matt McMahon decided to put Williams back in the game with 5:10 left to play, Florida (16-15, 9-9 SEC) led by four points, after a KJ Lofton 3 put the Gators up, 59-55.
Three minutes later, with Williams back on the floor, the momentum of the game had completely shifted. Two 3s from Kugel, a layup from Reeves, and a conventional three-point play from Kugel put Florida up by 12 points.
Following an LSU turnover by Miller in the corner, Kugel made a another fastbreak layup and the Tigers trailed by 14 (74-60) with a 1:45 to play.
LSU made just 5-of-20 shots in the final 10 1/2 minutes, twice having 1-for-8 droughts. The Gators, on the other hand, made seven of their last nine shots.