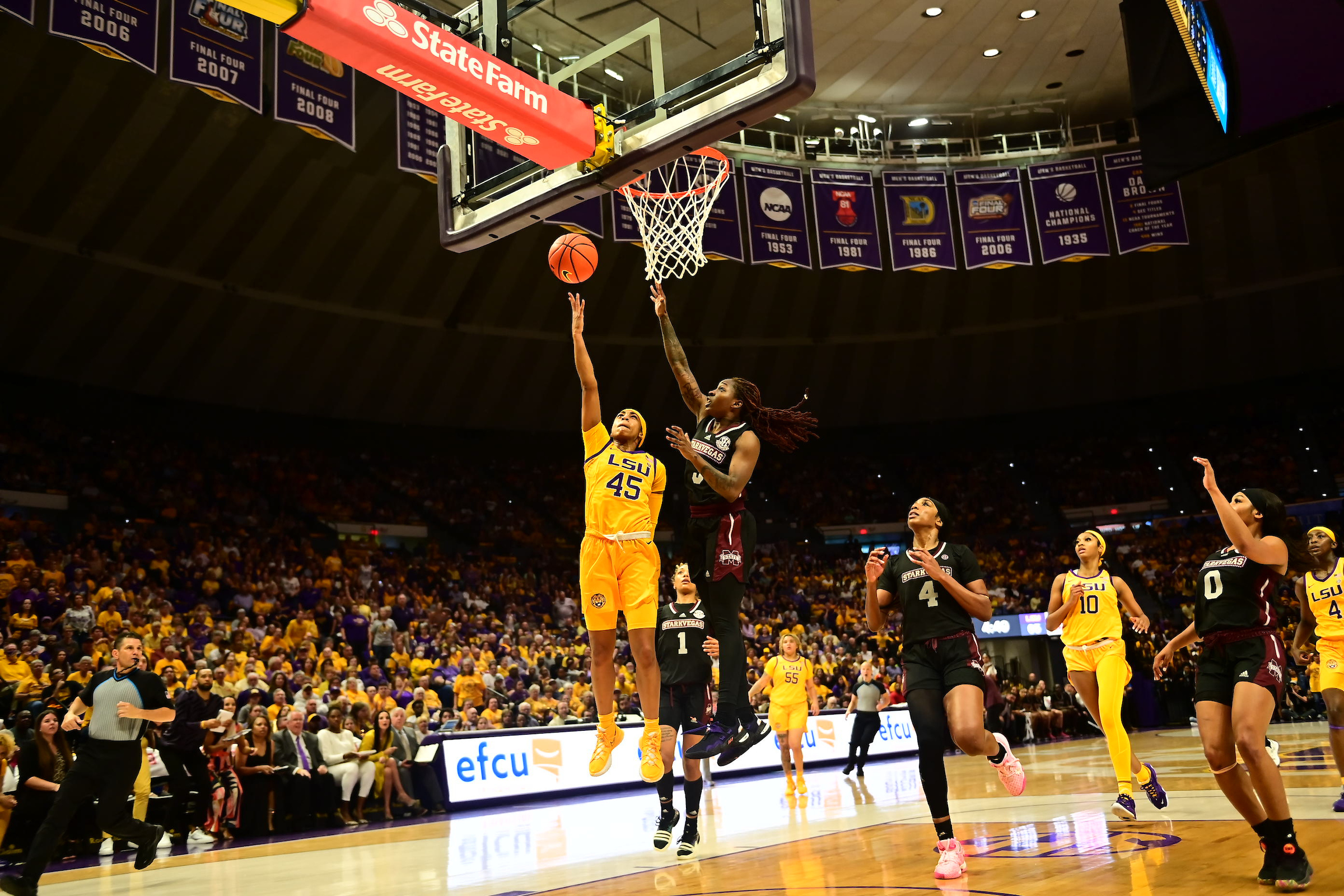 LSU senior guard Alexis Morris has heard the directives from coach Kim Mulkey.
It's been a reoccurring theme over the past two weeks that when Tigers have had the opportunity, they've heard Mulkey implore them to try and bury their opponents.
With fifth-ranked LSU hosting senior day and closing out the regular season, they were presented again with such a prospect against Mississippi State and it was Morris that helped the Tigers pull away for a 75-59 victory Sunday before a school-record crowd of 15,721 in the Pete Maravich Assembly Center.
"Coach has told us to learn how to put teams away when we're already on their necks," Morris said. "It's something we're starting to take pride in. We're taking it personal as a team and we're being challenged by our coaches to do so."
LSU's in the midst of one of the more memorable seasons in school history. The Tigers matched the school's best regular season record at 27-1 and concluded Southeastern Conference play at 15-1 and second to top-ranked South Carolina.
Moreover, LSU completed the fifth perfect season at home at 15-0, the first since 2005-06.
LSU won't play again until March 3 of the SEC Tournament in Greenville, South Carolina. The Tigers will face the winner of the Auburn-Georgia game in quarterfinal action at 5 p.m.
Morris scored 13 of her 23 points in the fourth quarter when LSU outscored Mississippi State 20-13. She shared team-high scoring honors with Angel Reese whose double-double streak reached 27 games, equaling the school's single-season mark established by former All-American Sylvia Fowles, with 23 points and 26 rebounds. Graduate forward LaDazhia Williams came within a point of a season high with 16, and fellow graduate student Jasmine Carson added eight.
The aforementioned trio, plus senior Emily Ward, were honored at halftime.
"I did things we worked on in practice," said Williams, who made 6 of 7 shots. "We really emphasized getting inside to the post and we knew how they were going to play us. We knew we would have one-on-one opportunities and I was able to knock down shots.
LSU was faced the possibility of being able to extend its lead in each quarter and the fourth was no different.
Mississippi State (20-9, 9-7) pulled to within 54-49 on Ramani Parker's 3-pointer that opened the quarter when LSU answered with a 8-2 run that Williams started with an inside basket. Morris extended her team's lead to 61-51 on back-to-back perimeter jumpers, the latter taking place with 7:20 to play.
After a pair of jumpers off inbound passes, Morris showed her athleticism with a straight-line drive on a fastbreak that resulted in a layup and 67-53 lead with 4:47 showing.
The Tigers never allowed their lead to dwindle below double digits the remainder of the way with Morris scoring six and Reese adding four, including an offensive follow at the buzzer.
More important during that span, though, was Mulkey's ability to give two of her seniors – Williams and Morris – curtain calls and receive their adulation of an adoring crowd.
"It's emotional, but I was emotional for all four of them before the game and after the game," said Mulkey, who is 53-7 in her second year at LSU. "They will never play another regular season, last game at home. They'll play a couple of more games in the (NCAA) playoffs."
LSU won shooting 40.9% (27 of 66) from the floor that included a rare 0 of 14 from 3-point range showing, but solid 74.1% (20 of 27) from the free throw line. The Tigers won the battle on the boards 48-26 and were a terror on the offensive glass with a decided 21-3 advantage behind 10 from Reese who had her fifth 20-plus/20-plus game of the season.
"I don't know if I've been part of a game where we didn't make at least one three," Mulkey said. "But I'll take those 27 free throws, I'll take those 48 rebounds. Whatever it takes. They came through.
"We just played in my opinion the hottest team in the SEC," Mulkey added. "Those guys take you off the dribble as good as anybody. They're playing good, and they will get in the NCAA Tournament. If they don't, it would be awful."
LSU lost steam near the end of the third quarter and relinquished the grip on a 14-point lead when State scored the last six points, drawing to within 54-46.
The Tigers believed they gained a bonus when Morris' 60-foot heave hit the bottom of the net but was disallowed after video review.
LSU's lead fluctuated between 11 to eight points midway through the quarter when Carson made it 54-40 with a free throw with 1:36 showing.
A 3-pointer from Debreasha Powe fueled a 6-0 run from State that factored in last three points from Asianae Johnson, reducing the Tigers' lead to 54-46.
LSU appeared to be on the verge of blowing out State with more three minutes remaining before halftime and settled for a 36-30 lead instead.
Morris, who came alive midway through the second quarter, making two straight field goals during a 6-0 run that pushed the Tigers' lead to 36-24, forcing State to take timeout.
The Bulldogs, who were led by Jerkaila Jordan's 16, responded with the last six points of the quarter, ignited by Ramani Parker's 3-pointer with 1:32 to go and Anastasia Hayes finished the quarter with a free throw.
The first quarter was tied four times when LSU took the lead for good at 10-8 lead on Carson's drive when a follow shot from Reese extended it to 12-8. That turned out to be the Tigers' last field goal of the quarter, enabling the Bulldogs to rally and take a 15-14 lead on Jessika Carter's lay-in with 1:50 showing.
LSU opened on an 11-0 run over the first two minutes of the second quarter for a 23-15 advantage on Williams' second inside basket during the run. The Tigers maintained eight-point leads with less than five minutes to play with Morris beginning to heat up and the play inside of Williams who scored 10 points in the quarter.
"It's just me being aggressive," Williams said. "Knowing that I could score the ball also, playing my role and doing whatever my team needs me to do."