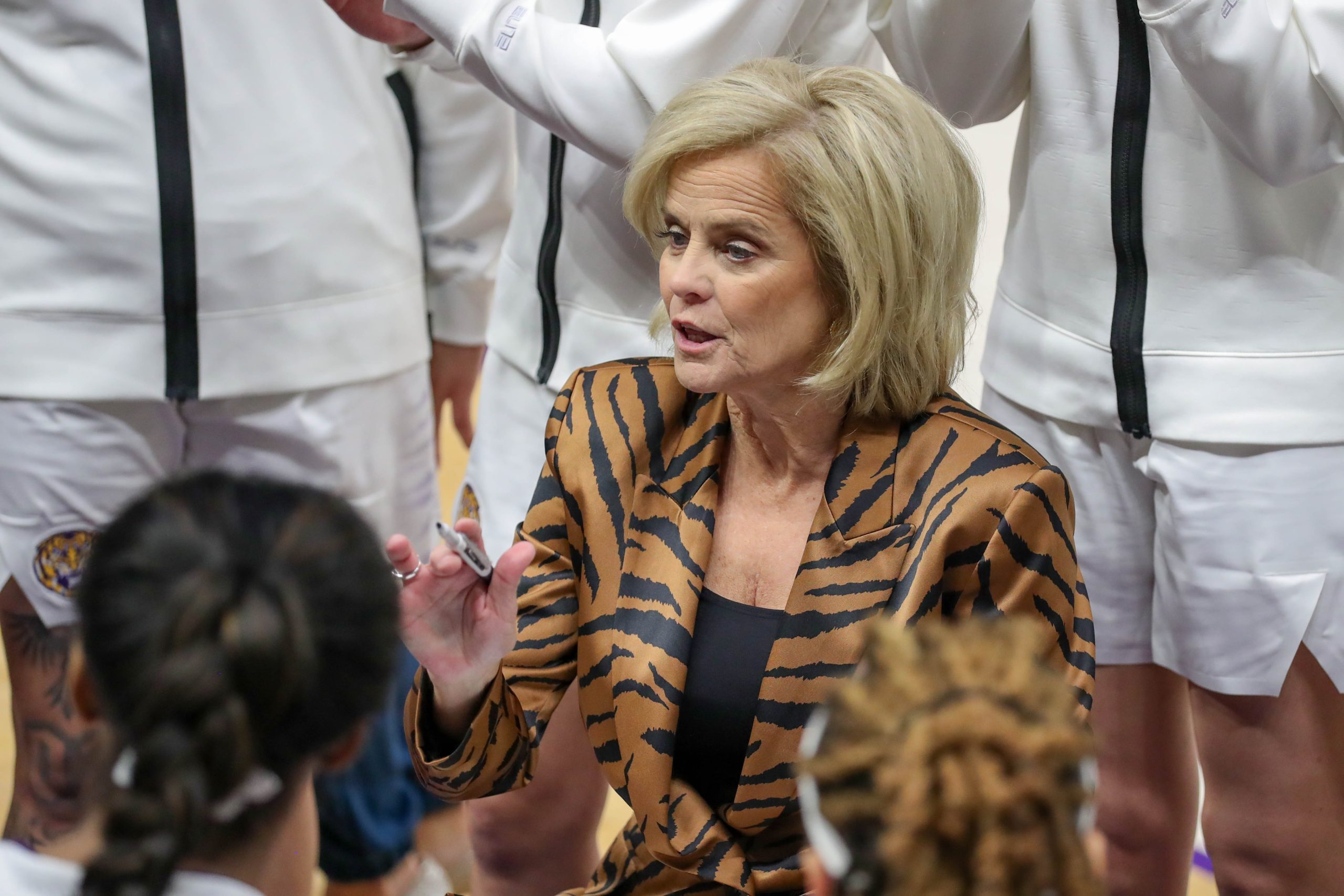 Last year's non-conference schedule for LSU women's basketball made for lively debate because of its perceived leniency along the team's path to a national championship.
Third-year coach Kim Mulkey said her intention was to strengthen her schedule when her future teams were equipped with greater talent to handle the demands of a challenging slate.
Mulkey appeared to steer her 2023-24 non-conference schedule that direction and released the 14-game portion of that slate against three teams that took part in the NCAA Tournament with one – Virginia Tech – joining the Tigers in the Women's Final Four in Dallas.
After opening with a pair of exhibitions Oct. 26 and Nov. 1 with East Texas Baptist and Loyola-New Orleans, respectively, the Tigers embark on the Naismith Hall of Fame Series encounter on Nov. 6 against Colorado at T-Mobile Arena in Las Vegas, Nevada. The Buffaloes reached the Sweet 16 last season before losing to Iowa, the team LSU defeated 102-85 for the national championship.
LSU hosts three consecutive home games between Nov. 9-14 against Queens (N.C.) – a game the Tigers will unveil their national championship banner – followed by Mississippi Valley State and Kent State, respectively.
LSU's first true road game will be at Southeastern Louisiana, who went to the NCAA Tournament, on Nov. 17. The contest will serve as an unofficial homecoming for Mulkey, a native of nearby Tickfaw who starred at Hammond High School.
The Tigers will compete in the Cayman Island Classic – Nov. 24-25 – against a pair of teams that earned bids to the National Women's Invitational Tournament in Niagara and Virgnia.
The LSU-Va. Tech rematch is set for Nov 30 and will be among the headline games in the SEC/ACC Challenge at 8 p.m. The Tigers had to rally from a nine-point deficit to the Hokies in the national semifinals for a 79-70 victory to advance to the national title game versus Iowa.
LSU will return from final exams and host three in-state schools from Dec. 10-17, facing UL-Lafayette (10th), McNeese (12th) and Northwestern State (17th). The Tigers travel to Coppin State on Nov. 20 to play a game in Baltimore, Maryland – hometown of junior All-America forward Angel Reese – before returning home to close out the non-conference schedule Dec. 30 with Jacksonville.
The entire 2023-24 schedule, including SEC games, will be released at a late date.