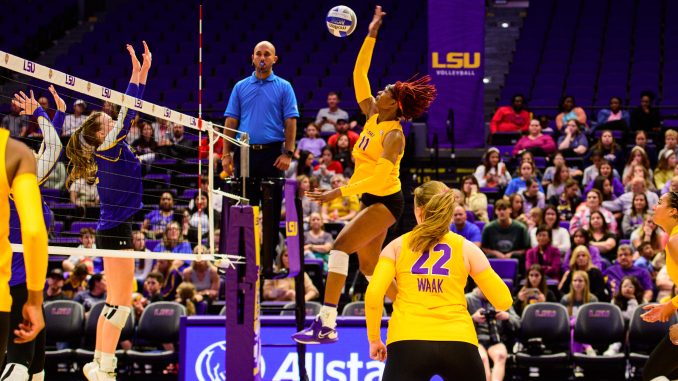 LSU middle blocker Anita Anwusi could have been content walking away from a career at the end of 2022 that included the program's first NCAA Tournament bid since 2017 and first tournament victory since '14.
But the Houston native wanted more than just a 16-14 season and postseason play. Sure, she took care of business in the classroom, earning a degree in kinesiology with a concentration in physical activity and health, coupled with a minor in psychology.
However, the synergy created within the program by second-year coach Tonya Johnson, along with a talented returning roster, were too much for Anwusi pass up. The 6-foot-3 decided to take advantage of the NCAA's COVID exception, gaining an additional year of eligibility that will make her the centerpiece this season when 2023 season gets underway this weekend in the Tiger Classic.
LSU faces UCLA on Friday at 6:30 p.m. and Saturday at 5 p.m. at the Pete Maravich Assembly Center. Both teams will be streamed by SEC Network+.
"I wanted to stay, I wanted to play out another year," said Anwusi, who is also pursuing a MBA. "I would have never thought a COVID year would have happened. It's a true blessing. On top of that, the coaching staff we have is an amazing group of people. I wanted to stay and work with them one more time. They've helped me so much in the year they were here. I want to see how far this can go. What we were able to do last year with the staff being in their first year was amazing. I wanted to stay."
Anwusi having the best season of her career may have had a direct correlation in LSU's postseason path. The Tigers were 9-9 in Southeastern Conference play – including a pair of wins over ranked teams in No. 15 Kentucky and No. 20 Arkansas that improved the team's NCAA chances at an at-large berth.
Anwusi played her part as dominant middle blocker to perfection.
"She's one of those kids that's wants to be great," Johnson said. "She's invested in learning about the game and making herself a better player. She's long and does some great things from a blocking standpoint. I'm looking for her taking a big step for us offensively."
Anwusi was named '22 honorable mention on the AVCA's All-South regional team. She started in all 30 of her team's matches, leading LSU in total blocks (136) and blocks per set (1.14) to go along with a .289 attacking percentage, 221 kills (1.86 kills per set).
She registered nine double-doubles and had nine double-digit matches in kills and increased her career total in that category to 524 in 95 matches.
For the second straight season Anwusi was named to the All-SEC's preseason team along with teammate Sanaa Dotson, but unlike '22, she wants to add a postseason honor from the league to her credentials.
"It's a blessing to be voted for the preseason SEC team," Anwusi said. "I would love to be on the postseason team as well. Last year I was voted on the preseason team but unfortunately didn't make the postseason team.
"I have different goals this year and will for sure be on that postseason team," Anwusi added. "I have some goals and standards that will lead me to that. I'm blessed to be on the team and next to names in the conference that well deserve to be on the team. The conference is so good. Every match is going to be a battle and you have to compete until the very end."
Anwusi's prime motivation in the offseason didn't involve jumping higher for more kills and digs, but to strive for greater consistency on the court and with a large group of newcomers, provide support and leadership off the floor.
"I wanted to show up every match with a consistent nature so my team would know they could rely on me, even if I'm not super offensive one game," she said. "I wanted to work on being consistent on and off the court, being able to be a voice, to have that ability to help people out especially when they're in need and need someone to talk to.
"Being focused on the details," she said. "That's what has led me to continuously improve every season. I've learned more and more about the games, increased my volleyball IQ to where the little details continue to appear and make sense and I continue to be consistent with how much I'm focused on those details. I'm excited for the season because the offseason has been a lot of hard work and consistency."
Part of that offseason outside of LSU contributed to Anwusi's growth and may unlock a path with USA Volleyball.
That began in February for more than a hundred players from across the country with a tryout Colorado Springs, Colorado, and Anwusi was included on the same team coached by members of the U.S. national's coaching staff. She was named to the 20-member U.S. collegiate national team that trained for a week in Anaheim, California, creating additional momentum and confidence going into her final season.
"It was really cool," Anwusi said. "This was my first time going. It was a blessing and super fun. It's a once in a lifetime opportunity and you get a glimpse of what it looks like to be trying out and to be on the actual national team. I was able to get some tips and tricks on how to improve my game and grasp knowledge outside of volleyball like leadership skills and being a good teammate."
Johnson expects Anwusi to continue her upward trend toward greatness.
"Anita's made significant improvements every year she's been here," Johnson said. "She's an absolute beast and she wants to be great. She's one of our hardest workers, but she's also like the mother hen of the team. I'm looking for her to having an incredible season."