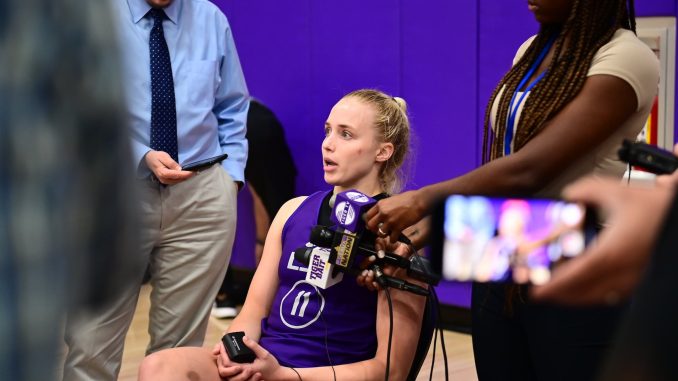 The reigning queens of women's college basketball began practice two weeks ago with the stated goal of planting their flag atop the mountain once again.
When third-year LSU coach Kim Mulkey opened practice last Monday for the 2023-24 season, she did so with all the requisite parts necessary to assemble another national championship team.
"I'm super excited. Basketball's my first thing," LSU All-America forward Angel Reese said Thursday during the team's Media Day in its practice gymnasium. "I'm a senior and finally get to graduate this year. The important thing is to win another championship and graduate as well. I'm happy to be with this team."
The 6-foot-3 Reese took the women's college basketball world by storm, enjoying the best season of her career with a nation's best 34 double-doubles. She became just the fourth player in Southeastern Conference history to lead the league in both scoring (23.0) and rebounding (15.4) – ranking in the top 10 nationally in both categories.
Reese represents the apex of LSU's talent-laden team that went 34-2 overall and won the school's first national championship. She's joined by SEC Freshman of the Year Flau'jae Johnson and junior point guard Kateri Poole, who started in the Final Four, along with the nation's top two players from the transfer portal – guard Hailey Van Lith of Louisville and Aneesah Morrow of DePaul.
According to ESPN's Way-Too-Early Top 25 rankings, the Tigers are ranked No. 1 and figure to gain additional top billing between now and the start of the season on Nov. 6 against Colorado in the Naismith Hall of Fame series in Las Vegas, Nevada.
"Whatever that means? I don't know," Van Lith said of some of the national feedback of this year's team. "Big personalities? A lot of people are giving opinions whether they're good or bad about our team and they're expecting us to take them into account. I think it's up to us (whether) to take it into account.
"There are opinions saying we're going to be the best team ever for women's basketball and there's opinions saying big personalities, Van Lith added. "There's always going to be an opinion. There's going to extremes that are for and against us and it's up to us whether to let it affect us or not."
Mulkey also signed the nation's top-rated freshman class that's highlighted by a pair of McDonald's All-Americans Mikayah Williams of Bossier City and 6-6 center Aalyah Del Rosario. The Tigers also welcomed four-star signees Janae Kent of Oak Forest, Illinois and point guard Angelica Velez of The Bronx, N.Y.
"It's getting more competitive, and I love it," Johnson said of the team's practices. "We're just pushing each other. We play against the best players in the gym, and we're competing every day, and we're making each other better. It's about us having the right mindset and coming together. We're going to mesh. It's not going to happen right off the bat. But as we continue and get to March it's going be scary."
Johnson's the team's second-leading returning scorer at 11 points with sophomore reserve forward Sa'Myah Smith (4.6 points, 4.0 rebounds) and reserve junior guard Last-Tear Pao (3.4 points, 1.2 assists) both played in all 36 of the team's games last season.
"Coach Mulkey's had great players in the past," said Reese, who will decide at the end of the season whether to return for the 2024-25 season or enter the WNBA Draft. "She's had a 40-0 team (2011-12). Just knowing her history and being able to play under a coach that knows how to coach this. Not a lot of coaches know how to coach all of this talent. We all listen to her and understand what she says and what she says is respected. She's a legendary coach as well as a player as well. That kind of helps as well."
Expectations of contending for another national title grew in intensity with the signing of Van Lith and Morrow – both of whom have raised the intensity level of practice and will contend for starting spots at the point guard and small forward positions, respectively.
Van Lith, a two-time All-ACC selection and honorable mention All-American, averaged 19.7 points, 4.5 rebounds, 3.2 assists and 1.4 steals for Louisville which was knocked out of the NCAA Tournament in the Elite Eight by Iowa last season. She scored 1,553 points during her 101-game career, shooting 42.2% from the field and 85.0% from the free throw line.
The 6-foot Morrow was a two-time All-Big East Conference selection and was the only player other than Reese nationally to average a double-double with 25.7 points and 12.2 rebounds last season. She recorded 53 double-doubles during her 66-game career, scoring 1,570 points (23.8) with 860 rebounds (13.0), 176 steals and 102 blocks.
Morrow was a second team selection on The AP second team All-America team in 2021-22.
"You can look at the star power and question it," Van Lith said. "We're committed to making it gel, making it work. We're all happy for each other."