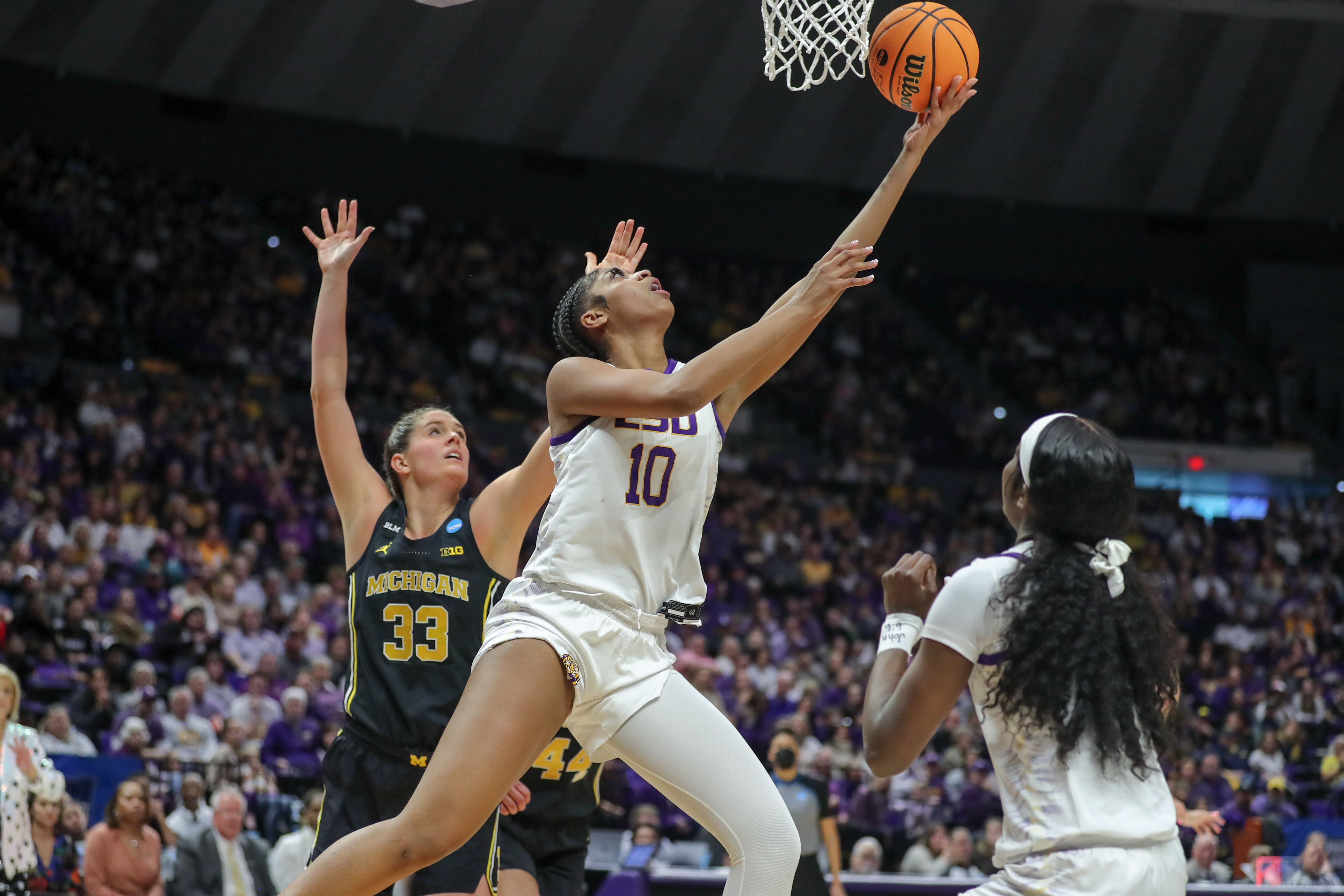 There are some NCAA Tournaments that require offensive style points and elegance to keep dancing.
Third-seeded LSU advanced to its first Sweet 16 in nine years with brute force, imposing its will on the defensive end in a 66-42 victory Sunday over No. 6 Michigan before a crowd of 10,108 at the Pete Maravich Assembly Center.
LSU (30-2) will face second-seeded Utah, a 63-56 winner over No. 10 Princeton, Friday in Greenville, South Carolina at a time to be announced.
"We were locked in defensively," LSU second-year coach Kim Mulkey said of her team that limited Michigan to season lows in points scored and field goal percentage (34.8).
Sophomore All-America forward Angel Reese produced her 30th double-double with 25 points and 24 rebounds – the first time that's been done in an NCAA Tournament game – with six blocked shots. Senior guard Alexis Morris added 11 points and graduate LaDazhia Williams also had a double-double with 10 points and 10 rebounds.
The Tigers, who finished 17-0 at home this season, compensated for 35.3% shooting (24 of 68) by outrebounding the Wolverines (23-10) 46-26 and held a distinct 18-2 edge in second-chance points.
"We had three keys to the game, and one was defense and holding them under 40% and we were able to do that," Michigan coach Kim Barnes Arico said. "We did a good job until the fourth quarter, but it was the offensive rebounding that really killed us. It was their offensive rebounding and their second-chance opportunities that really hurt us."
LSU finally hit its offensive stride in the fourth quarter, shooting 67% (7 of 11) and opened as much of a 24-point cushion which included the final score on Morris' drive with 1:40 left.
Michigan, which averaged 74.5 points, suffered its worst loss of the season, eclipsing a 68-52 defeat at Indiana on Feb. 16. The Wolverines were the only team in the nation with three players averaging 16 points but the only member of that group to reach double figures was guard Laila Phelia with 20 points.
"They were physical and really limited our scoring and didn't allow us to get into rhythm," Barnes Arico said of LSU's defense. "I thought they did a great job."
LSU extended its lead in the third quarter to 47-31 with an 8-2 run to finish the quarter that included Reese making a pair of free throws with 32.4 seconds to go.
It was the near the end of the quarter, though, that sent a bigger message when Reese blocked Phelia's shot into the stands, resulting in a shot clock violation with 1.7 seconds left. She then turned to the crowd and urged them into a rhythmic chant of L-S-U.
"Just being able to play as hard as I could and just leave it on the floor for them was the most important thing for me," Reese said of LSU's four seniors.
LSU had to call timeout when Michigan came out on the locker room on a 7-0 run, cutting a 15-point halftime deficit to 30-22 on Cameron Williams' layup at the 6:11 mark of the third quarter.
"Against Tennessee look what happened," Reese said of her team's blown 17-point lead in a 69-67 SEC semifinal loss to the Vols. "We couldn't get comfortable. We came out in the third quarter pretty slow. Being able to say in the timeout, 'stay poised, stay together'. We needed to address now so it didn't happen like the SEC. I thought we responded really well."
LSU successfully ran a play to get Morris a basket, taking a handoff from LaDazhia Williams and driving to the goal for a 39-24 advantage. Reese then scored six of her team's last eight points of the quarter.
Reese overcame shot to the mouth in the first minute of the game to post a double-double by halftime, powering LSU to a 30-15 lead.
Reese was trying to position herself for a rebound on Kateri Poole's long 3-point attempt, but instead came up with a bloody upper lip that resulted in her having to leave the floor and receive medical attention. After several minutes on the team's bench, they were to get the bleeding to cease and fit her with a mouthpiece, Reese came back with a vengeance.
"I got hit the first play of the game," Reese said. "It wasn't intentional. Just going up for a rebound and got hit in the mouth."
Reese stopped during a baseline drive and made a short jumper for a 12-7 edge to close the first quarter.
The Tigers' offense witnessed a resurgence of sorts with Jasmine Carson, who was benched in favor of Poole to better match up with Michigan's size on the perimeter, making three 3-pointers and scoring nine points in the second quarter. She drained consecutive trifectas on a pair of assists from Reese – the first from the corner, the from the perimeter, to cap an 11-2 run and expanded the team's lead to 23-9 at the 6:23 mark.
In her previous three games, Carson had scored a total of two points and made 1-of-12 shots.
Reese scored her team's last seven points of the quarter, the finale coming on a drive to the goal with 2:08 to play that made it 30-13. The Tigers had outscored the Wolverines 18-6 to that point when Emily Kiser added a reverse lay-in with 1:49 showing.
"It was good," Mulkey said of her defense. "It was darn good."