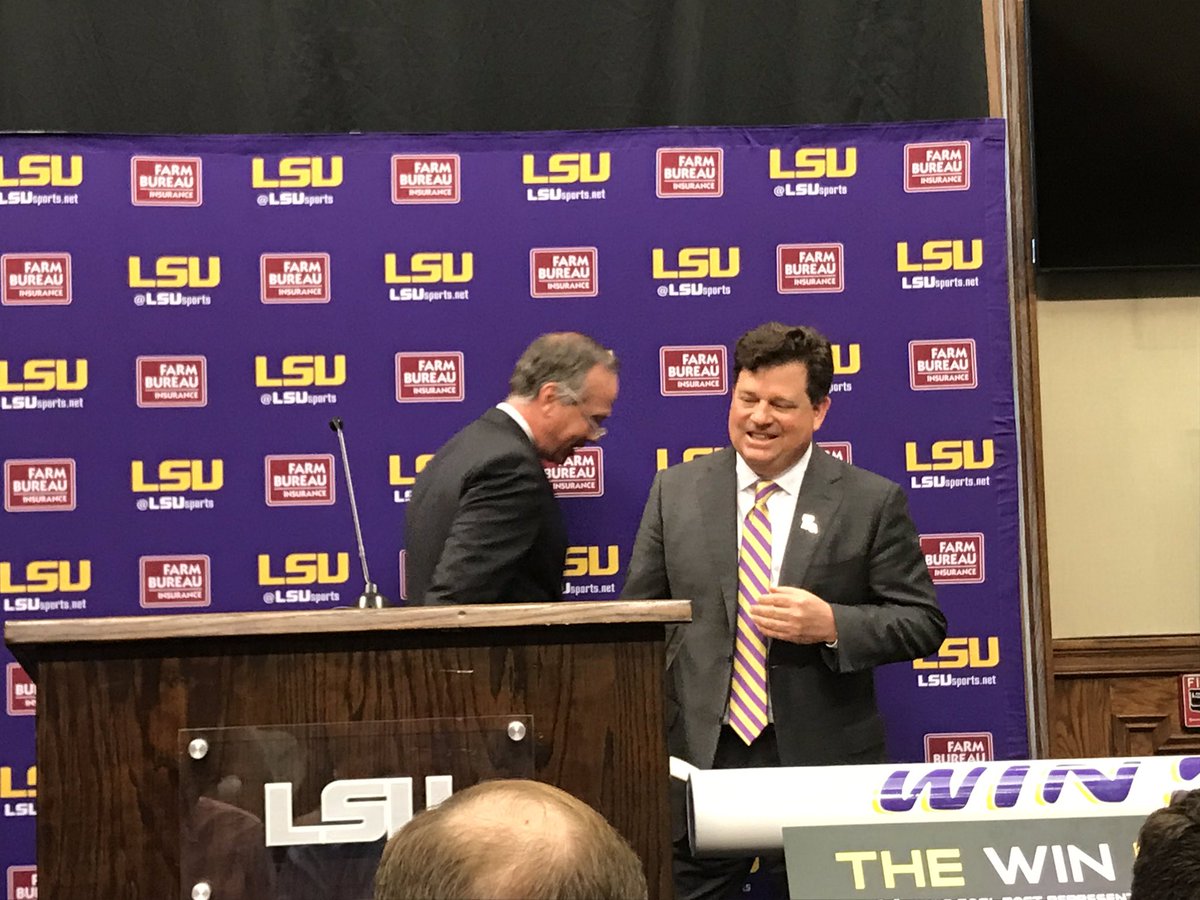 The news of LSU athletic director Scott Woodward's contract extension and salary increase to $1.85 million annually that was approved by the school's Board of Supervisors back on Oct. 21 flew way under the radar.
Perhaps it was the timing, almost a week after the Tigers' football win at Florida and day before a home victory over Ole Miss as LSU began its unlikely climb to the SEC Western Division title in Brian Kelly's first year as head coach.
Woodward's four-year extension (plus incentive bonuses tied to SEC championships won and academic performance) and raise from his original contract salary of $1.1 million makes him the highest paid
athletic director in the SEC and second highest nationally behind Texas' Chris Del Conte $2.23 million annually.
The general public is perpetually aghast about the multi-million dollar salaries paid to college head football coaches. And if those naysayers ever bothered to consider the economics, say of Kelly's $9 million annual salary (that increases $200,000 each year), it's a drop in the bucket investment since the football program pays the freight for the rest of LSU men's and women's athletic programs which all (except for men's basketball and baseball) usually lose millions of dollars.
Then, there's the football program's economic impact on the city of Baton Rouge from seasonal jobs created to visitors for home games.
It's why most athletic directors are solely judged on the success or failure of the head football coach they hire.
Kelly is just one of 11 new head coaches that Woodward has hired in 44 months as LSU A.D. after being hired April 18, 2019.
Just this past calendar year of 2022, nine of those new hires began or completed their first season and four of them are in the Tigers' headliner sports.
In order of their hiring date:
• Kim Mulkey, women's basketball (hired April 2021): A Louisiana native and a Naismith Basketball Hall of Famer who three NCAA championships at Baylor in 21 seasons, Mulkey led the greatest turnaround of a program in SEC history last season when her first LSU team was 26-6 overall and 13-3 in the SEC (second) and lost in the second round of an NCAA regional that LSU hosted. Her current team, loaded with talent from Mulkey's first full recruiting cycle, is ranked No. 5 and 18-0.

• Jay Johnson, baseball (hired June 2021): Despite a huge lack of starting pitching and sloppy infield play, the Tigers finished 40-22 overall and 17-13 in the SEC (fourth place) in Johnson's first season after he was hired from the University of Arizona. After LSU was eliminated in finals of the NCAA's Hattiesburg Regional, Johnson put together the nation's No. 1 recruiting class for the 2023 season.

• Brian Kelly, football (hired November 2021): Kelly's 10-4 season (even with an SEC title game loss to two-time defending national champ Georgia), his incoming top 5 ranked recruiting class, and the fact he has cleaned up the embarrassing off-the-field image that haunted the program the last two years of the Ed Orgeron error, uh, era, makes him a home run hire. All the bleating from the national media sheep who said the former Notre Dame head coach wouldn't be a fit in deep South went silent when the Tigers ripped off five straight wins and advanced to No. 5 in the College Football Playoff rankings before the unexpected Nov. 26 loss at Texas A&M.

• Matt McMahon, men's basketball (March 2022): Since former Murray State head coach McMahon inherited a program in which 12 of LSU's 14 scholarship players transferred after last season when previous head coach Will Wade was fired for being charged with NCAA recruiting violations, this hire can't be judged until at least McMahon's third season. He hastily put together a roster of six transfers (including four from mid-major programs) and five freshmen.
As of Dec. 2, the Tigers were 7-1 with no overly impressive wins against an underwhelming schedule. While it's true McMahon's first team is a work in progress, a 16 to 17-win season would be an accomplishment considering the strength of the SEC.
The common denominator of the Mulkey, Johnson, Kelly and McMahon hires? They all are cognizant of representing LSU in the best possible light, so they comport themselves and build programs in such a manner.
After having two consecutive head football coaches (Les Miles, Orgeron) whose private behavior wasn't exactly shining examples for the athletes they recruited (some which behaved criminally and were allowed to do so) and a head men's basketball coach who was personable and knowledgeable but not very good at covering his cheating tracks, Woodward believed hiring character was just as important as acquiring proven winners.
Throw in the fact he deftly guided LSU through the COVID-19 crisis starting in March 2020 and managed to keep the athletic program financially afloat.
Add it all up.
And you'll see Woodward's pay raise is a bargain.