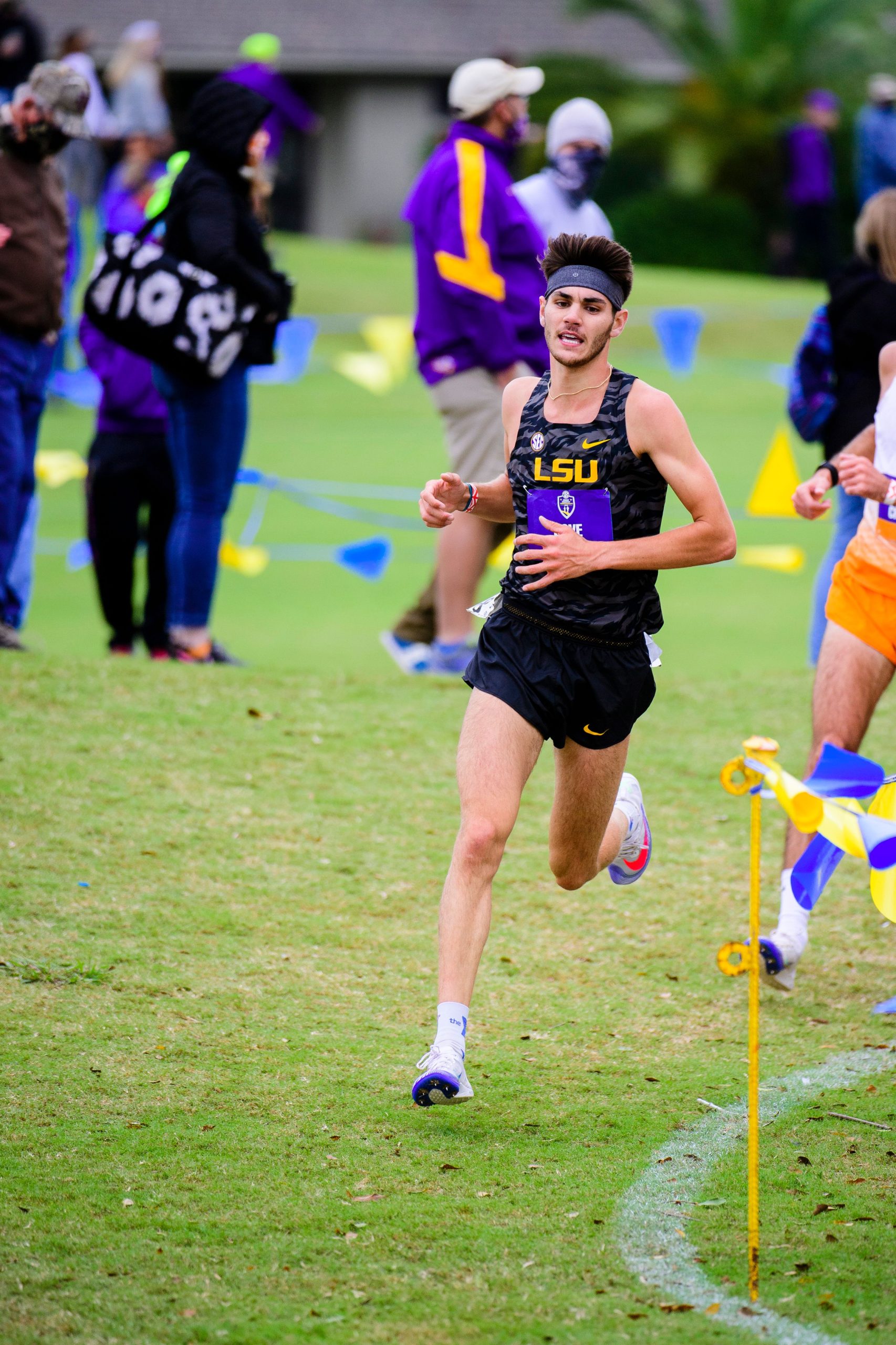 It was the latest step in his journey as a dedicated triathlete where LSU sophomore Davis Bove found himself lining up against some elite company in one of the nation's high-level races this summer.
"I found myself toeing the line against people who were just at the Olympics," Bove said. "Being in those big races, on those big stages; they had people that I looked up to and you learn how deal with it. It has helped my college career and realizing when I go to a big championship meet it's just another day of competing. It's more exciting."
Competing in the triathlon – which consists of a 750-meter swim, 12.5-mile bike ride and 3.1 mile or 5K run – has long been a staple of Bove's training since his successful running career began at Centennial High in Franklin, Tenn. and continued at LSU.
In fact, during his recruiting process, Bove made it abundantly clear to prospective schools of his desire to continue running in triathlon's during his college career, something he believed was an extremely important tool in his training for the distances he was going to cover in both cross country and track.
"I wanted to make sure schools would allow me to keep that up," Bove said of the triathlon which has a competitive calendar between March to October. "I wanted to keep that up because the benefits of training are really great. I've avoided overuse because I don't have to run all the time."
The improvements have been hard to ignore for Bove who opened the 2021 cross country season Sept. 9 by leading LSU to the championship in its own LSU Invitational. He was second overall, covering the 6K course in 19 minutes, 9.6 seconds, and continued a stretch that dated to last season where he's been the Tigers first runner across the finish line in his last five meets. He followed that with a 27th place showing (24:84.4) in the Arkansas Chile Pepper Festival where the Tigers finished sixth as a team.
LSU competes in another regular season meet this month at College Station, Texas before heading to Columbia, MO. for the Southeastern Conference Championships (Oct. 29th).
"We want to be top five in the conference and even do better than that," Bove said. "We've got our eyes on hoping to get to the NCAA championships (Nov. 20). Individually, I want to get better than I was last year. … top three in conference. I want to show up to every race with the mindset that I can win and that comes from good training."
Because of the NCAA extended all cross country runners an additional year of eligibility because of COVID-19, Bove begins this third season firmly entrenched as one of LSU's top runners because of the level of consistency he's been able to maintain. He was the team's top finisher during last year's shortened season that didn't include being able to run in either the NCAA South Central Regional or NCAA Championships.
There's been a steady climb for Bove in his cross country career where he's finished in five of seven meets as a freshman and placed 23rd (23:35.6) in his first SEC meet and 17th at the NCAA South Central Regional event.
He was 17th at last year's SEC meet – the best finish for an LSU male runner since 2007 – in a time of 24:32.6 over the 8K course and helped the Tigers' team finish eighth.
Bove was named to the All-Louisiana Cross Country team.
"Looking back my freshman year it gives me a lot of confidence now," said Bove, who became the school's first runner to be named SEC Runner of the Week (an honor he earned twice). "It was my first time running 10K at regionals. Before I ran cross country, I had never run farther than 5K. I wasn't prepared for the distance, but I still got 17th. Since then, I think I've made huge improvements, especially in the longer type races. It gives me a lot of confidence remembering the times I had my freshman year compared to where I'm at now and my teammates."
For the first time since he's been at LSU, Bove transitioned from cross country and ran in several distance races for the Tigers during the indoor and outdoor track teams.
"By the end when that was all over, I was pretty much toast," Bove said.
Bove posted the No. 1 times for LSU in the spring with personal bests in the 800 (1:49.96), 5,000 (14:53.96) and 1,500 (3:44.18). He advanced to the NCAAs in the 1,500 where he finished ninth.
After a 10-day break to recover from the fatigue of the outdoor season Bove returned to training for a summer's worth of triathlon competitions which featured coveted races in California and Canada that bridged the gap until it was time to return LSU and the cross country season.
"I did better last year than I did my freshman year," Bove said of cross country. "I wasn't content with my performance last year. I think I'm better than 17th. Top 10 is definitely a goal, but I don't want to limit myself. I want to go into every race thinking I'm one of the people that can win this."