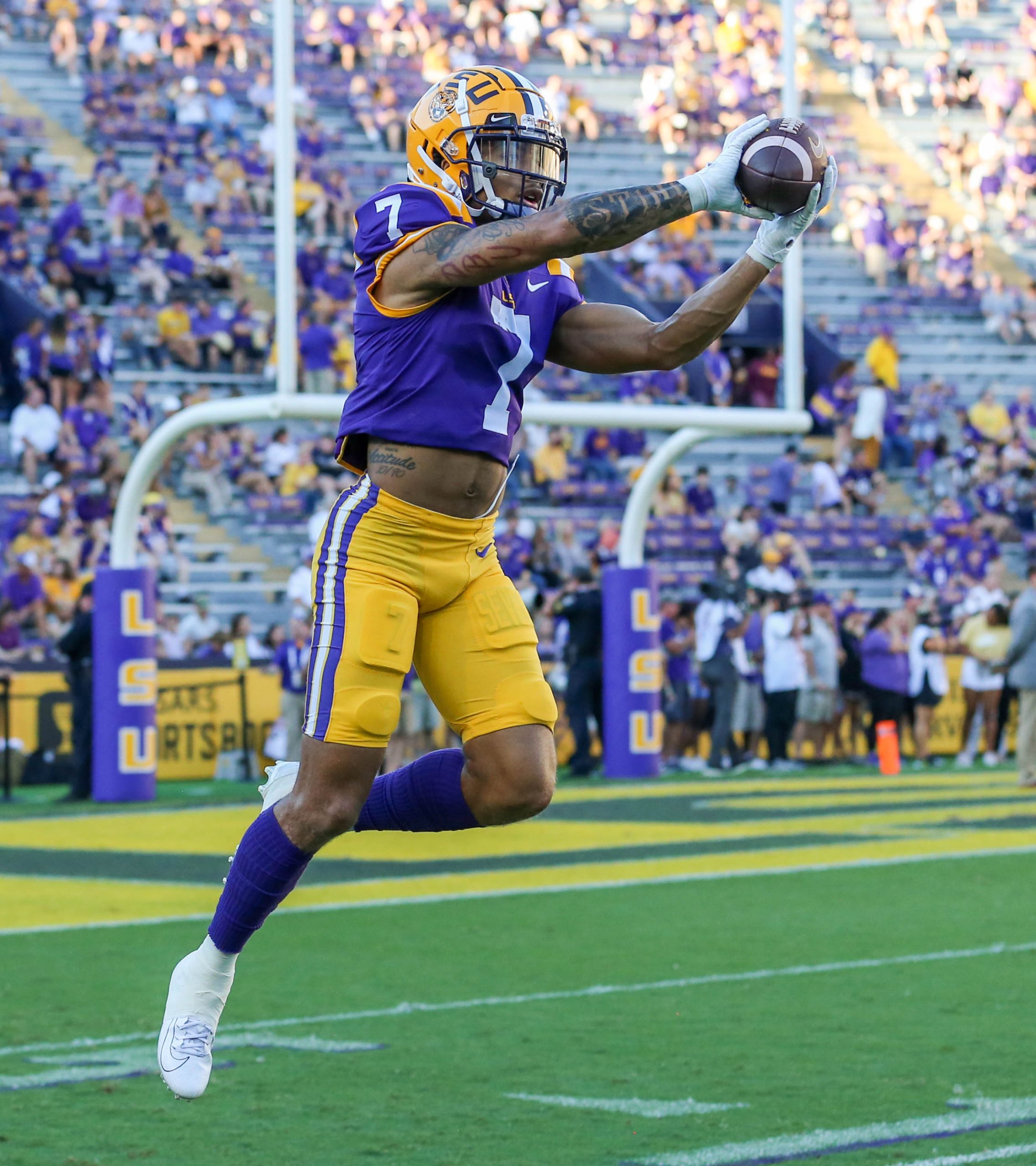 LSU will be without two-time All-American cornerback and projected high NFL draft pick Derek Stingley Jr. indefinitely after the former Dunham High School standout had a procedure performed on his left foot, the school announced Wednesday morning.
Stingley, who first injured his foot during the team's fall camp, played in his team's first three games with five tackles and a forced fumble. He suffered a reoccurrence of the unspecified injury in a Sept. 22 practice, forcing him to leave the field three days before his team's road trip to Mississippi State.
"I appreciate all of the support from LSU and the fans," Stingley Jr. said in a school release. "I'm doing all that I can to return to the field as soon as possible. I want to finish out the season with my teammates and I will do everything I can to get healthy so that I will be able to play again this year."
Stingley accompanied the team to Starkville on Sept. 25 where he was on the field in a walking boot on his left foot. The following week in preparations for the game with Auburn, LSU head coach Ed Orgeron said Stingley had flown to an undisclosed location for another opinion on his injury and wasn't spotted on the sideline in the Tigers' 24-19 home loss to Auburn.
"You have to play it by ear," Orgeron said during Wednesday's SEC Coaches Teleconference. "It was one of those injuries that was nagging. Obviously, he went to the doctor and had it taken care of. We don't know when he will be back or if he will be back. If he would be back, we would be happy, if not we'll have to carry on."
Stingley burst onto the national collegiate scene as a freshman during LSU's national championship run with 38 tackles and a team-high six interceptions, including two in the Tigers' win over Georgia in the SEC Championship game. He also compiled a staggering 21 pass deflections.
Stingley played in seven of his team's 10 games in 2020, suffering from assorted injuries and experienced a decline in his production to 27 tackles, five pass deflections and no interceptions with few if any opposing quarterback opting to throw in his direction.
Because of his potential high draft stock, Orgeron was asked whether he would understand Stingley's decision to opt out of the remainder of the 2021 season where he could become 100% healthy again and begin preparations for the NFL Scouting Combine Feb. 23-March 2.
Orgeron pointed to an improving Dwight McGlothern, who made his first career start against Auburn, who will continue to start at the team's left cornerback position. He was credited with five tackles and a quarterback hurry in the game, but Orgeron said cornerback-turned-safety Jay Ward could be another option at cornerback.
Orgeron said with safety Major Burns out of this week's game at No. 16 Kentucky, he would prefer to leave Ward at safety and count on the return of senior safety Todd Harris, who has missed three straight games with an injury.
"I think if he can, I think he will," Orgeron said of Stingley returning at some point to play this season. "Knowing Derek and talking to him, I think he wants to come back with his team. But obviously that's a decision that a family has to make. I think each individual is different."
Here's what else Orgeron said in Wednesday's teleconference:
On whether changing offensive line coaches in mid-summer has led to a poor running game
I'm never going to use that as a coach. (Offensive line coach) Brad (Davis) is a good coach. We need to be more committed to the run. We're doing some different things this week where they can help us with the run. But obviously, having a new coach in the middle of the summer teaching different things could affect stuff, but it shouldn't be to the extent that we're not very good running the football. That should not be a factor.
I think it's a combination of (lack of) commitment to the run. I think the style of run we're doing is not working, so we have to change some things. I think that has more to do with it than anything.
On Dwight McGlothern and others replacing the injured Stingley at cornerback
Dwight has played very well. We always have (safety) Jay Ward (who can also play cornerback) if we have to, we don't want to do that. (Safety) Major Burns is out this game. Hopefully, Todd Harris can come back and get some plays for us.
But Eli Ricks, Dwight McGlothern, Raydarious Jones are going to have to play.
On redirecting the focus of returning players from a national championship team after losing games
The challenge is looking at it and fixing the things that are real. These are the things we have to fix. When you look at it like that, very constructively, say `These are the things we're doing well, these are the things we have to fix', and show it to them on film, show them `Is it a technique or a lineman call?' If you give them a solution, then you have a shot.
On the challenge of the remaining schedule of six ranked SEC teams
That's the SEC. That's why you come here. It's been like that almost every year. Our national championship year, we beat six out of 10 top 10 teams. So that's what it takes to be in the SEC, that's what it takes to be a champion. We know that. But we've got to look at it one game at a time and the first game we've got to look at is Kentucky.
On living by his mantra "Flip The Script" and how does he do that this year
Take it one game at a time. We've been here before. We just have to keep on looking at the things we can fix, be constructive, believe in our coaching staff, believe in our team. Better block out the noise because there's a lot of noise out there, we know that. We've been here before. We can handle it. It's a matter of playing better. Just go play Kentucky and win this game. That's all we can focus (on).
On what LSU players have stepped up as leaders
I really like Damone Clark and what he's doing. I think the guy has got tremendously better. He's doing a great job. BJ Ojulari (is a) outstanding leader, Ali Gaye. On offense on the line, Austin Deculus and Ed Ingram have been great for us, Keyshon Boutte has been fantastic, Max Johnson. . .those guys have been real good leaders for us. . .and also Avery Atkins.
On what impresses him about Kentucky's offensive line
Their zone blocking scheme is very good. They know how to pick stuff up. They work well in combinations together. Their running back (Chris Rodriguez Jr.) is a really good running back but I know he credits his offensive line. Whoever the offensive line coach is, he's doing a tremendous job. I like the way they work together, I like the way they come off the ball, especially their run blocking and zone blocking schemes are fantastic.
On former LSU starting left tackle Dare Rosenthal, who transferred this past summer to Kentucky after he failed drug tests that would have suspended him for several LSU games
With Dare, something had to happen and it (his transfer) was out of my control. I'm glad he gets to play and I'm glad he's playing on an undefeated team. I'm happy for him. I think he's playing very well. I recruited Dare out of Ferriday High, so obviously I wish him the best, just like all our players, just not against us.
On Kentucky starting quarterback Will Levis, who transferred from Penn State
The way he operates, the plays they are calling and the style of offense fits him very well. I'm very impressed that he knows exactly where to go with the football according to coverages. That's a matter of instinct, a matter of technique, but it's a matter of knowledge of the offense. His coaches are doing a very good job of coaching him. He has an excellent run game, an excellent play-action pass game. He has some good athletes to throw the football to.