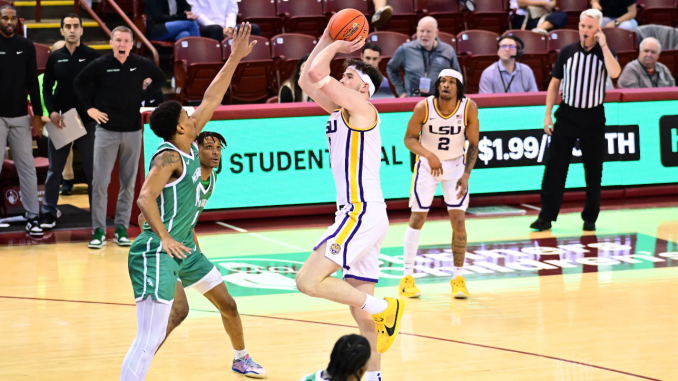 LSU needed a win in the worst kind of way, and an improved defense against the best defensive team in the country over the last three seasons proved to be the medicine to cure what had been vexing the Tigers.
Will Baker scored 16 points, Derek Fountain had 14 and LSU snapped a two-game losing streak with a 66-62 win over North Texas on Friday in the Charleston Classic.
Jordan Wright added 12 points for the Tigers.
Fountain's bucket gave LSU (2-2) the lead for good with just over four minutes left as the Tigers closed the game on a 10-5 run. Baker's short jumper and Mike Williams III's two free throws in the final minute gave the Tigers a seven-point lead over North Texas (2-2) that the Mean Green could not overcome.
"We needed it in the worst way," LSU coach Matt McMahon said. "I was really proud of our players today. Their response was terrific from what was a really disappointing way to lose last night, but we had about 16-hour turnaround to find out what we're about as competitors and if we're gonna be able to come together and build a team."
The second-year LSU coach said he thought his team proved their character.
"I thought the guys really responded well," he said.
"A key moment to me was when we went down five there in the second half, and then they had all the momentum and I thought we really could have splintered there. I thought the leadership of our guys like Will Baker and Derek Fountain and Mwani Wilkinson really kept everyone connected so we could find a way to win. And we got better on the defensive end in the second half. We were over-rotating against the 3 in the first half.
"And that led to some open shots. Really, the three-ball is what gave North Texas life in the first half. Eight of those get knocked down, but you hold them to just four in the second half," McMahon said.
Jason Edwards scored four 3-pointers and made all eight of his free throws to lead the Mean Green, finishing with 22 point. Rubin Jones had 15 points and John Buggs III had four 3-pointers and 14 points.
Jones hit a 3-pointer with nine minutes left for a four-point lead but the Mean Green made only 2 of 15 shots from that point, including five 3-point misses, while the Tigers made six of their last nine, all from within the paint.
In all, the game had 22 lead changes with LSU's seven-point lead in the final minute proving to be the largest.
Overall, LSU shot 50% and outscored North Texas in the paint 36-10. The Mean Green was 12 of 32 from 3-point range and shot just 32% overall.
However, the big key to the game was LSU's inability to defend the 3-pointer in the first half. North Texas had eight 3-pointers in the first half and only four in the second half.
LSU, which lost to Dayton 70-67 on a last-second 3-pointer in the tournament's first round, will play the winner of Towson-Wake Forest for fifth place on Sunday.
Meanwhile North Texas, a 53-52 loser to St. John's in its opening-round game, gets the loser in the seventh-place game.
North Texas missed seven consecutive field goals leading up to Williams III's two free throw attempts with 20.1 seconds left. Williams hit both free throws to make it a three-possession game at 64-59, LSU.
But Edwards knocked down a 3-pointer with 10.9 seconds and North Texas called an immediate timeout trailing 66-62.
LSU inbounded the ball to Wright after the timeout, and the graduate transfer from Vanderbilt missed the free throw, but Jones missed a layup as time expired.
LSU led 62-57 with 1:06 to play when Jones hit his first two free throw of the game to cut the Tigers' lead to 62-59. North Texas had hit one of their previous 12 field goals.
Fountain rebounded a short Carlos Stewart missed jumper off the front of the rim and put it back in with 8:03 to play, but he failed to convert the plus-one free throw, leaving LSU down by two, 52-50, but Tyrell Ward was able to get a put back the next time down the floor for the Tigers to tie the game at 52-52 with 7:40 left to play.
Williams III's two free throws with 10:38 left to play gave LSU a 48-47 lead, but Jason Edwards was fouled by Wright a minute later and Edwards hit both free throws to put North Texas ahead again, 49-48, the 18th lead change of the game. Jones then sunk a 3-pointer to put the Mean Green up by four points with 8:47 left and LSU in the middle of a three-minute scoring drought.
Buggs' 3-pointer at the 11:30 mark of the second half put North Texas ahead 47-44, but Fountain hit a jumper inside the paint to pull LSU back within one at 47-46 a few seconds later.
Trae Hannibal appeared to hit his first 3-pointer of the season, from the left corner, to put LSU up 43-40 but Hannibal was then hit with a technical foul and North Texas was awarded two free throws and Hannibal's 3-pointer was changed to a two-pointer, which left the score 42-42.
A three-foot jumper by Fountain with 13:53 left in the game tied the score, 40-40.
North Texas went on a 6-0 run to open the second half and take a 40-35 lead into the first media timeout as LSU was clearly trying to work in and through Baker in the low post but failed to convert down low.
LSU led 35-34 at halftime following a first half that had 14 lead changes. Wright scored 10 points in the first half while Baker added 8 points. The Tigers scored 18 points in the paint during the first 20 minutes of action.
LSU outshot North Texas 52 percent to 41 percent in the first half, but the Mean Green hit four more 3-pointers while also outrebounding the larger Tigers 15-14.
LSU jumped out to a 4-0 early lead when Baker made two shots, but North Texas went on an 8-0 run – a pair of 3-pointers by Noland and Jones and Scott's layup with 17:21 left in the first half put North Texas up 8-4.
Wright's 3-pointer cut North Texas' lead to 8-7 following the first time out of the game at 15:14 to play, then Fountain's 3-pointer put LSU back in the lead at 10-7.
North Texas led 19-16 with 7:56 left in the first half but following a media timeout Wright hit two free throws because a flagrant one personal foul by Noland to cut it to 19-18. LSU took the ball in after the flagrant foul and the two free throws and Wright's layup put LSU back in the lead at 20-19.