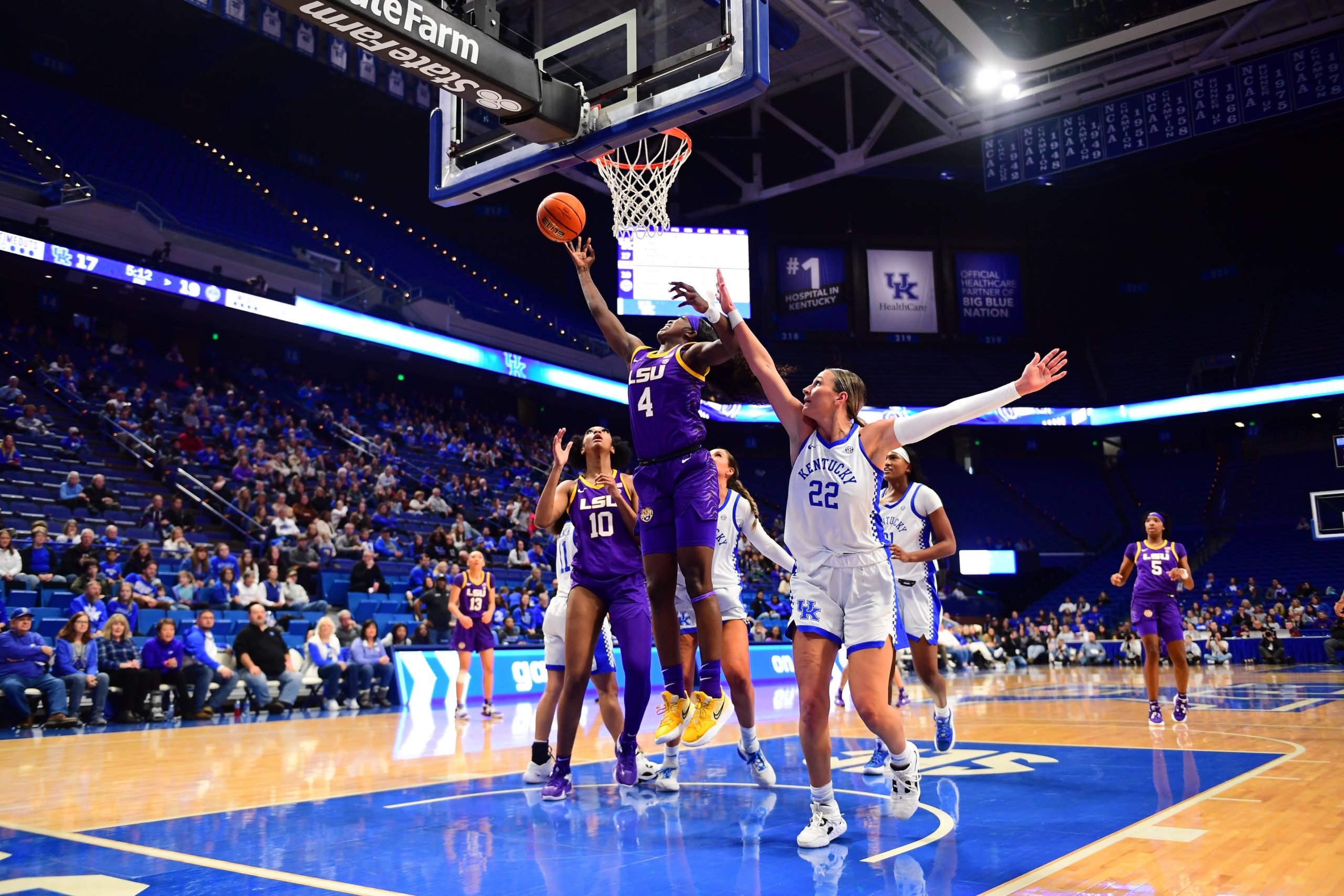 LSU freshman guard Flau'jae Johnson continued to grow up in front of her Hall of Fame coach.
With the No. 7 Tigers leading by a basket and looking for a spark midway through the second quarter Johnson stepped to the forefront with a series of plays that defied her years.
Johnson drove the lane with authority to ignite a 12-0 run to end the quarter and she combined with teammate Angel Reese for 52 points, leading LSU past Kentucky, 67-48, Sunday in a Southeastern Conference matchup at Rupp Arena.
"She's a very confident basketball player," LSU coach Kim Mulkey said of Johnson. "I've said many times she's hardest on herself. She hit some big shots. She's not afraid to be aggressive and take it to the rim. When we were a bit stagnant offensively Flau'jae played like she's been doing this a long time at the collegiate level. She had a very good game."
LSU never trailed to extend its overall record to 16-0, the best start in school history. The Tigers (4-0) remained in a four-way tie for the SEC lead with South Carolina, Tennessee and Ole Miss.
"I thought our start was just very good today," Mulkey said of her team's 13-5 lead and 17-12 edge after the first quarter. "We attacked, we scored the ball, I thought we executed. I think we did what we've been doing defensively. We got our message across on how to start a game. We didn't end the game good."
Reese had her 16th double-double of the season with 26 points and 13 rebounds. She keyed LSU's superb effort at the free throw line (25 of 31) by making 16 of 17 attempts (94%), a noteworthy improvement over her 66% for the season.
"I said you normally take your worst free throw shooters out of the game late when you know they're going to foul," Mulkey said. "Angel made some when it mattered. She's not proven me wrong yet. Today she just missed one. She missed a lot of shots (5 of 14), but I don't even worry about her field goal percentage anymore because Angel's going to get her own misses."
Johnson scored 14 of her 26 points in the first half that featured a key stretch of the second quarter when senior guard Alexis Morris was sidelined with an illness and wound up with one point in 13 minutes.
"Our goal was not to let other people go off on us, and we ended up letting Flau'jae (Johnson) have 26 (points)," Kentucky coach Kyra Elzy said. "So, if we're going let her (Reese) get her average, we can't let other people go off."
Once Kentucky got as close as 19-17 on Maddie Scherr's 3-pointer at the 5:52 mark, Johnson began to flex her muscle.
Johnson, who added eight rebounds, triggered a 12-0 run over the last five-minutes-plus of the quarter, enabling the Tigers to build a 31-17 halftime lead on Sa'Myah Smith's offensive putback with 2:18 showing.
During her team's finish in the quarter, Johnson scored eight points and helped the Tigers turn a 19-17 lead into a 14-point halftime lead. She kick-started that stretch with a drive through the lane, a 10-foot jumper and putback at the 3:11 mark to make it 25-17.
It was her fourth straight double-figure game, fourth time with 20-plus points and was one point off her career high.
Kateri Poole's drive continued LSU's late surge, Johnson added a drive after a turnover and Smith's putback capped the team's 14-5 scoring edge in the quarter.
Kentucky (8-8, 0-4 in SEC) was limited to 13% shooting (2 of 16) in the quarter and missed its last nine shots.
"It was just obvious that Angel and Flau'jae carried the load offensively for us," Mulkey said. "We had three starters only scored five points but really this game was probably closer to a 25-30-point game. You can build on that. You can build on what our bench did for us today. I thought it was big and they played like experienced players."
LSU, which outrebounded Kentucky 45-23, scored 25 points off 29 turnovers.
The Tigers also held the Wildcats to 34% shooting (19 of 55) and without field goals for 5 minutes, 52 second in the second quarter and six minutes in the third quarter.
"Missing shots, having bad offensive games, that's part of basketball," Mulkey said. "That's why you love coaching sport because you don't know when you're going to shoot 60% or 30%. When you do is you sell them on that defense and when they come to that huddle you can say, 'do ya'll realize that hadn't scored a point over the last six minutes of that quarter'. Those are the things I emphasize."
LSU outscored Kentucky 23-10 to extend its lead to 54-27 after three quarters when Reese beat the buzzer with a driving layup. The Tigers extended their lead to as many as 29 points with the latter coming on Johnson's 17-footer with 7:30 to play for a 58-29 cushion.
"This game in particular I saw them listen to the scouting report, I saw the game start the way you want it to start," Mulkey said. "The corrections will be, let's fix what we didn't go good at the end of the game."