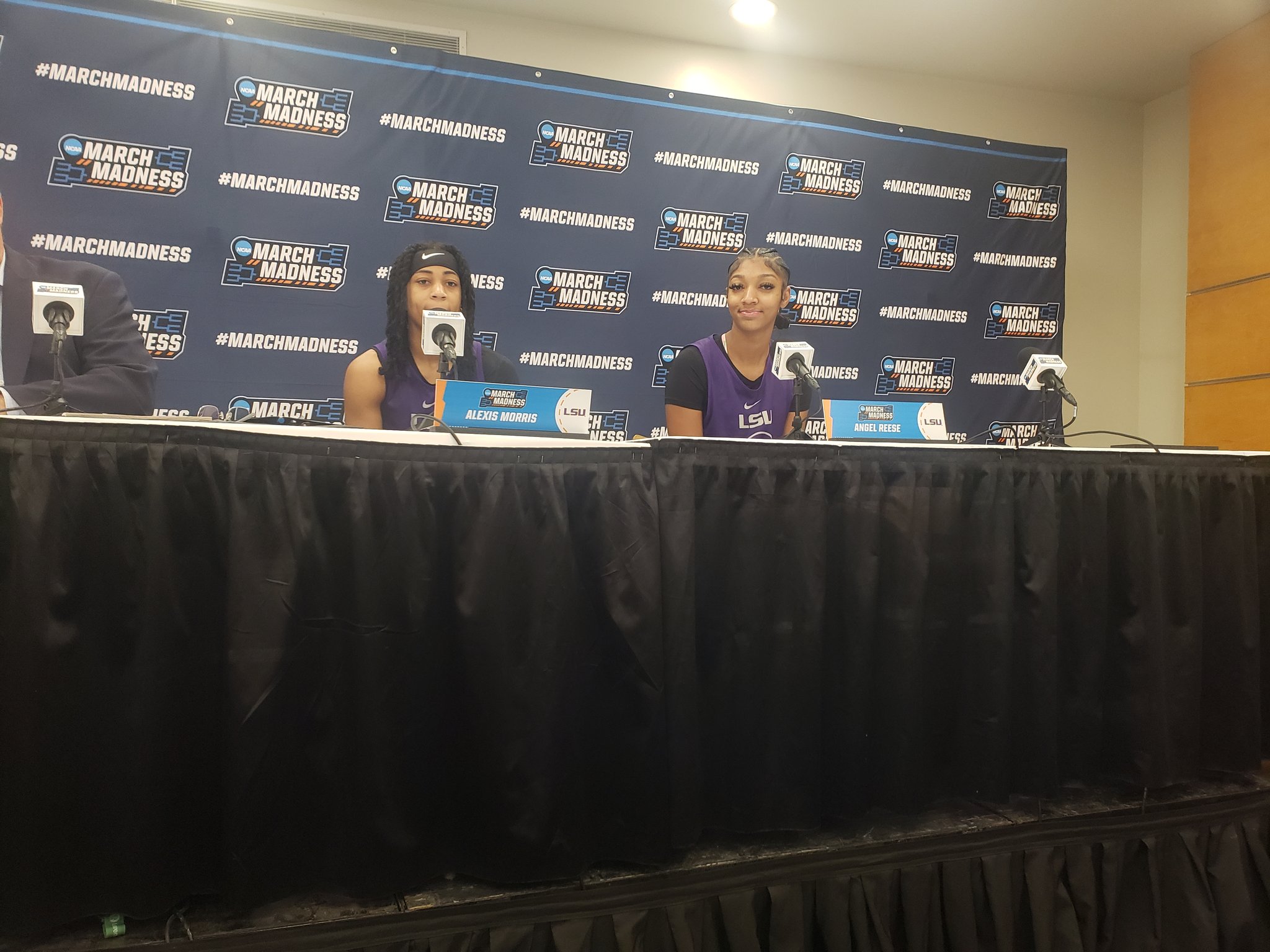 LSU senior guard Alexis Morris has seemingly spent a lifetime trying to get back to this position.
Morris was an all-freshman Big 12 Conference selection and starter on Baylor's 33-2 team that had its season end in the Sweet 16. She was a major contributor for the Lady Bears with an impeccably bright future that ended with an arrest and dismissal from the team.
Morris, a native of Beaumont, Texas, endured a basketball journey that took her to Rutgers and Texas A&M before rejoining coach Kim Mulkey at LSU last season. As fate would have it, she injured her knee before the end of the regular season and was reduced to a reserve coming off the bench but wasn't more than a shell of herself as a player in the Tigers' 79-64 second-round loss to Ohio State in the second round of the NCAA Tournament.
With No. 3 LSU (28-2) back in the same exact position, hosting No. 14 Hawaii (18-14) at the Pete Maravich Assembly Center in the first round of Friday's NCAA Tournament at 4:30 p.m., Morris is 100% healthy and inspired for one final run at an elusive Women's Final Four in Dallas, Texas.
The game will be televised by ESPN2 and carried locally on 107.3-FM.
The LSU-Hawaii game follows Friday's opener between Michigan and UNLV which tips off at 2 o'clock.
"It hit me this morning," Morris said during Thursday's NCAA Tournament news conference. "I was injured last year. I'm excited. The last time I played in the NCAA Tournament was at A&M but I didn't get much playing time to perform. The last time was my freshman year. It's kind of like déjà vu. I just want to survive and advance and get to the Final Four."

Morris was the lone returning starter from last year's NCAA second-round team. She's the team's most season postseason player with three starts in eight career games, but her role in those games diminished since her time at Baylor where she averaged 14 points in three games under Mulkey.
The COVID-19 health scare resulted in a cancellation of the 2020 NCAA Tournament when Morris was at Rutgers. She appeared in three games off the bench at Texas A&M which reached the Sweet 16 round of the 2021 tournament and she averaged four points in 10 minutes a game.
Morris was a major player in last year's LSU team which went 26-6, averaging 15 points a game but was slowed considerably by a knee injury suffered against Alabama. In the Tigers' two NCAA games, she made 1 of 9 shots from the field and noticeably lacked her trademark explosion that made her one of the SEC's top guards.
"This year she has the ball in her hands," Mulkey said of Morris, the team's second-leading scorer at 15.1 points and team leader with 4.2 assists. "Alexis Morris is one of the quickest in the game, just lightning quick. Can shoot the 3-ball as good as any perimeter player. She plays like you want a perimeter player to play. She comes off screens.
"You want her shooting the shot to win the game," Mulkey added. "You want her to shoot the free throw to win the game. And she's that senior that we need more of, because they have a sense of urgency, and they just don't ever want their college career to end."
Morris is the undisputed leader on a team that welcomed nine new players this season and won its first 23 games. She's helped LSU evolve into a Top 10-program this season that was in the conversation for a No. 1 seed in the NCAA Tournament until a 69-67 loss to Tennessee in the semifinals of the SEC Tournament.
The Tigers have melded the talents of Morris and transfer portal additions such as 6-foot-3 forward Angel Reese of Maryland, 5-10 guard Jasmine Carson of West Virginia, 6-4 forward LaDazhia Williams of Missouri and 5-8 guard Kateri Poole of Ohio State.
For all of their experience in the regular season at their former schools none of them brought the kind of postseason grit Mulkey's trying to establish in her second season.
Reese earned first team All-America laurels this week from The Associated Press and United States Basketball Writers Association. She led the Southeastern Conference in scoring (23.4) and rebounding (15.5) this season, along with shooting 54% and a team-high 50 blocks, but she started in three of six NCAA Tournament games at Maryland and averaged 15 points and 7.1 rebounds for a pair of Sweet 16 teams.
Williams garnered minimal playing time during her two trips to the NCAA Tournament at South Carolina, failing to score a point. She played in two straight NWITs for Missouri before transferring this season to LSU where she's averaged 9.4 points and 6.1 rebounds.
Carson, who averages 9.4 points and has a team-high 54 3-point baskets, averaged 11 minutes off the bench and scored three points in two trips to the NCAA Tournament for West Virginia. Poole, who averaged 4.4 points in 21 minutes off the bench, traveled with Ohio State for last year's first-and-second rounds at LSU, averaging four minutes and scored one point for the Buckeyes who eliminated the Tigers to advance to the Sweet 16.
"You know, there's not many of them that have had the experience that you really need to say I know what to expect," Mulkey said. "They have had the experience of playing on our court in front of our fans, but I think it's going to be an awakening for several of them that have to play key roles for us."
Hawaii returns the bulk of a team that played in last year's NCAA Tournament, losing 89-49 at Baylor. The Rainbow Wahine, which lost six of their first seven games this season, finished third in the Big West Conference's regular season before making a run to the league's postseason championship.
Hawaii wiped out a 15-point second half deficit and outscored Santa Barbara 25-13 in the fourth quarter for a 61-59 victory and the conference's automatic bid.
Sophomore guard Lily Wahinekapu, a transfer from Cal State Fullerton, is the team's lone starter averaging double figures at 12.6 points while reserve guard Daejah Phillips averages 11 points. The Rainbow Wahine of 11th year coach Laura Beeman are making 6.59 3-pointers a game.
"They're a really good team," Reese said. "You can't sleep on them. You can't sleep on anybody going into the tournament. They took an eight-hour flight to get here. They might be jet-lagged, but I'm not taking them for granted. They can shoot the three really well. I saw that. I saw that they don't give up. We could be up 20. You saw in the Tennessee game we were up 17 at one point and we laid down. Just making sure we put the foot on the pedal from the first quarter to the fourth quarter and take care of business."