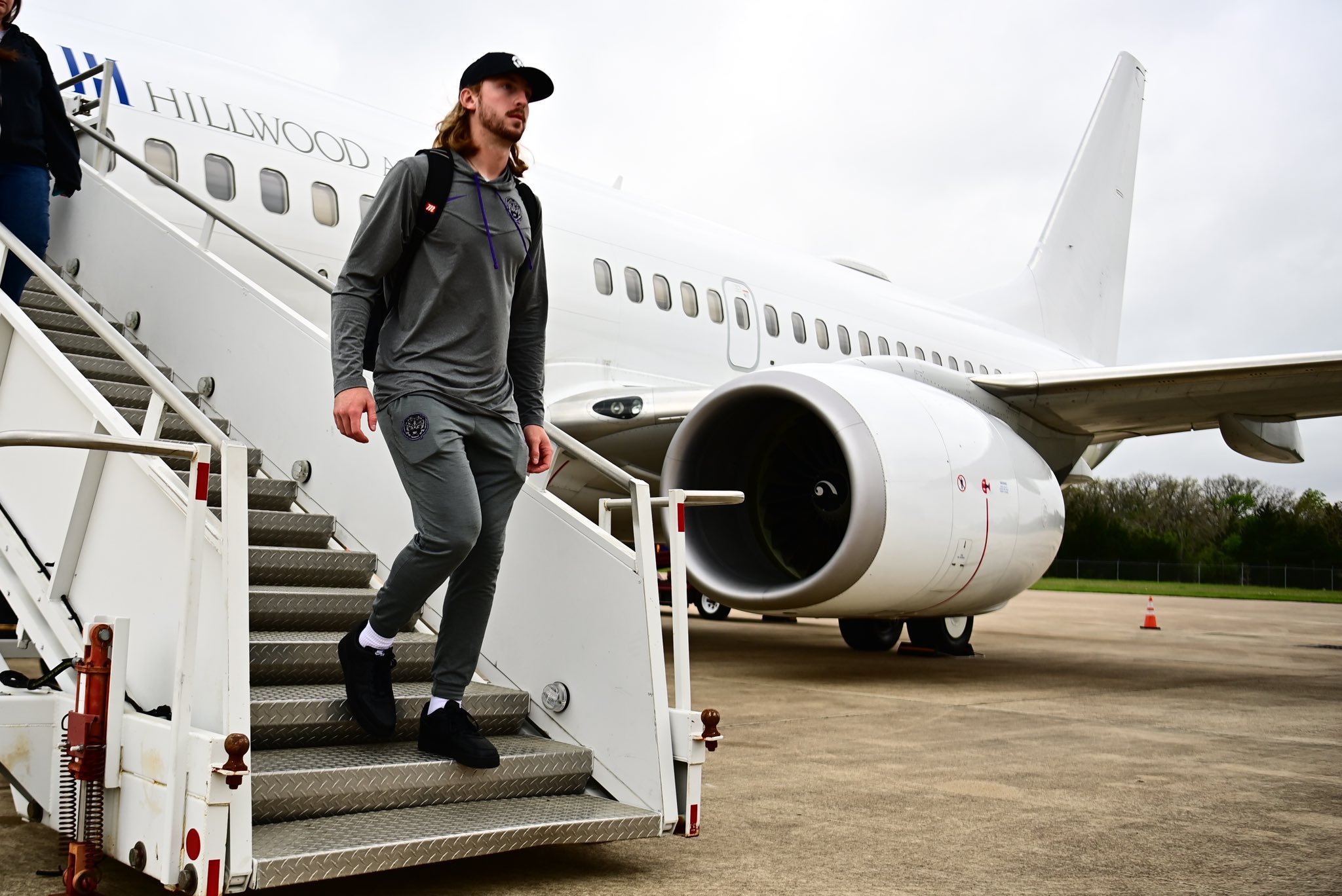 So far, so good this season for No. 1 LSU. The super team has been, well, super. But now the proverbial rubber begins hitting the road.
LSU opens Southeastern Conference play on Friday at No. 11 Texas A&M (13-4) at 6 p.m. in what is expected to be an extremely hostile environment and likely less than ideal weather conditions.
The Tigers (16-1), winners of 11 straight games, lead the nation in shutouts with six, and can only point to one lone Saturday in late February the last time they ventured into Texas when they faced some adversity, a 12-4 loss on February 25 to Iowa in the second game of the Karbach Round Rock Classic.
LSU, however, rebounded to win the Round Rock Classic tournament title with a 16-4 win over Sam Houston State. The Tigers then promptly went into Austin two nights later and used an eighth-inning three-run home run from second-baseman Gavin Dugas to put away Texas, 3-0, before a hostile road crowd.
LSU coach Jay Johnson said the additional road contest was intentionally devised schedule-wise to prepare the Tigers for weekends on the road such as the one they will face starting this weekend at Blue Bell Park in Bryan-College Station.
Texas A&M is currently not playing like it did last season when it spent last June finishing its season in Omaha at the College World Series. The Aggies are ranked 13th in the SEC in hitting and have admittedly struggled at the plate but appear to breaking out of their shell, so to speak, in its current eight-game winning streak.
Take preseason All-American second baseman/designated hitter Austin Bost, as an example.
Bost was one of the hitters who was off to a slow start this season, but he's turned it on of late and is now batting .323. To put some other numbers behind that, Bost began the season 2-for-24 but has had a hit in every game since February 28 and has had two or more hits in seven different games since then. Bost has hit six doubles, three home runs and 23 RBIs, while also having as many walks as strikeouts, since his slow start.
Three losses in a five-day stretch in late February, 7-4 against Lamar and two to non-mighty Portland, all at home, were not very impressive and honestly troubling for Texas A&M, as were the 14 unanswered runs to open the game against the then-No. 14 Louisville Cardinals scored enroute to a 14-5 win over the Aggies in their own back yard in Houston at the Shriners Children's College Classic one week later.
Texas A&M has pitched well, with a 3.35 team ERA, and its starting rotation of Nathan Dettmer (1-1, 2.37), Troy Wansing (2-1, 2.75) and Chris Cortez (1-0, 5.60) has shown an extremely high ceiling thus far. In the bullpen, it has eight different pitchers who have thrown at least five innings this season with ERAs of 3.60 or lower, with lefthanders Justin Lamkin (1.13 ERA, 16 IP) and Evan Aschenbeck (2.08 ERA, 13 IP) having emerged as real weapons.
Johnson, however, is confident LSU will be ready the challenge A&M presents.
"I love the talent on our team; I think we match up great with anyone," Johnson said. "Our players have shown a strong mindset, and I think if they continue to be themselves and execute the fundamentals – quality at-bats, play great defense, apply strike zone pressure from the mound – we will be headed in the right direction.
"Playing in the SEC is difficult, but that's also what makes it awesome to play in these games," Johnson said. "This is how you test how good you are, and that's exciting. Texas A&M is a great team, and they have a lot of veteran players that were on their College World Series team last year. It should be a great challenge."
No. 1 LSU Tigers (16-1) at No. 11 Texas A&M Aggies (13-4)
DATES/TIMES
· Friday, March 17 @ 6 p.m. CT (SEC Network)
· Saturday, March 18 @ 2 p.m. CT (SEC Network +)
· Sunday, March 19 @ 1 p.m. CT (SEC Network +)
STADIUM
· Blue Bell Park, Bryan-College Station, Texas
RANKINGS
· LSU – No. 1 in all college baseball polls
· TAMU – No. 11 Baseball America, No. 15 D1 Baseball, No. 15 Collegiate Baseball
RADIO
· LSU Sports Radio Network affiliates, including 98.1 in Baton Rouge
· Live audio for LSU games at www.LSUsports.net/live; Live stats for LSU games at www.LSUstats.com
TV/ONLINE
· Friday's game will be televised on the SEC Network and streamed live on SEC Network +
· Saturday and Sunday's games will be streamed live on SEC Network +
LSU SERIES RECORD VS. TEXAS A&M
· Texas A&M leads the all-time series with LSU – which began in 1907 – 29-26-1 … the Aggies won two of three games over the Tigers last season in Baton Rouge on March 18-20, which was the opening weekend of SEC play … the Aggies lead the series, 14-13, in the 27 games played between the schools since Texas A&M began playing baseball in the SEC in 2013 … 11 of the 27 games played since 2013 have been decided by one run … LSU is 7-8 vs. Texas A&M in its SEC regular-season games played in Bryan-College Station since 2013.
PITCHING MATCHUPS
Game 1
LSU – Jr. RH Paul Skenes (4-0, 0.75 ERA, 24.0 IP, 4 BB, 48 SO)
TAMU – Jr. RH Nathan Dettmer (1-1, 2.37 ERA, 19.0 IP, 7 BB, 24 SO)
Game 2
LSU – Jr. Ty Floyd (3-0, 1.08, 16.2 IP, 5 BB, 21 SO)
TAMU – So. LH Troy Wansing (2-1, 2.75 ERA, 19.2 IP, 6 BB, 33 SO)
Game 3
LSU – So. RH Thatcher Hurd (2-0, 2.04 ERA, 17.2 IP, 9 BB, 25 SO)
TAMU – So. RH Chris Cortez (1-0, 5.60 ERA, 17.2 IP, 12 BB, 17 SO)
ABOUT THE TIGERS
· LSU enters the Texas A&M series riding an 11-game win streak … the 11-game win streak is LSU's longest since the 2017 Tigers won 17 in a row from May 11 through June 17 … LSU's 16-1 start this season is the Tigers' best record through 17 games since the 2015 team also posted a 16-1 mark.
· LSU is batting .361 (129-for-357) during the 11-game win streak with 31 doubles, three triples and 27 homers – the Tigers have outscored their opponents, 142-14, over the past 11 games. LSU is No. 3 in the SEC in team batting average with a .338 mark.
· The Tigers' pitching staff has posted a 1.24 ERA during the 11-game win streak with 108 strikeouts in 87.0 innings while limiting opponents to a .140 batting average. LSU is No. 2 in the SEC in team ERA at 2.27.
· Freshman rightfielder Paxton Kling is hitting .593 (16-for-27) during LSU's 11-game win streak with three doubles, one triple, three homers, six RBI and 15 runs … junior centerfielder Dylan Crews is batting .541 (20-for-37) during the Tigers' 11-game win streak with seven doubles, four homers, 18 RBI and 21 runs … Crews is riding a 15-game hitting streak entering Friday night's game at Texas A&M.
· Sophomore third baseman Tommy White is hitting .447 (17-for-38) during LSU's 11-game win streak with seven doubles, six homers, 26 RBI and 17 runs scored … he earned Collegiate Baseball National Player of the Week recognition on Monday after he batted .438 (7-for-16) in LSU's five wins last week with three doubles, three homers, 14 RBI and nine runs … he homered, doubled and collected four RBI in LSU's win over Lamar on March 8 before posting two doubles, two homers and nine RBI in the Tigers' three-game sweep of Samford last weekend … in the Tigers' win over Samford last Sunday, White launched LSU's first grand slam of the season.
· Freshman first baseman Jared Jones was named SEC Co-Freshman of the Week on Monday after he batted .600 (6-for-10) for LSU last week with four homers, 11 RBI and five runs … he homered four times in four consecutive plate appearances over the course of the Tigers' games versus Samford last Friday and Saturday … in last Friday's game, Jones launched two 2-run homers in his final two plate appearances, and in last Saturday's game, he unloaded two 3-run dingers in his first two plate appearances … he added an RBI single in Sunday's win over Samford, as the Tigers completed a three-game sweep.
· Sophomore right-hander Thatcher Hurd received SEC Co-Pitcher of the Week and Collegiate Baseball National Player of the Week recognition on Monday after he posted two wins in two starts last week, working a total of 11 scoreless innings with three walks and 18 strikeouts … Hurd allowed just four hits and limited opponents to a .111 batting average in his two outings … he defeated Butler on March 6, firing six shutout innings with three hits, one walk and 11 strikeouts, just one strikeout shy of his career high … Hurd then posted a win over Samford last Sunday, working five scoreless innings and limiting the Bulldogs to one hit with two walks and seven strikeouts … Hurd pitched 3.2 perfect innings versus Samford before allowing a batter to reach base.
· Junior right-hander Paul Skenes improved to 4-0 this season with a win last Friday night over Samford, working six innings and limiting the Bulldogs to one run on two hits with one walk and 12 strikeouts … Skenes' cumulative ERA is 0.75 and he has recorded 48 strikeouts in 24 innings this season while limiting opponents to a .099 batting average.
ABOUT THE AGGIES
· Texas A&M, which advanced to the College World Series in 2022, is batting .279 as a team this season, which is No. 13 in the SEC … the Aggies' pitching staff is No. 5 in the SEC with a 3.35 ERA
· The Aggies have collected 33 doubles, three triples, 16 home runs and 25 steals in 30 attempts … infielder Hunter Haas is hitting .371 with four doubles, three homers and 10 RBI … infielder Austin Bost is batting .323 with six doubles, one triple three homers and a team-high 24 RBI … utility player Ryan Targac also has three homers and is second on the club with 17 RBI.
· The Texas A&M pitching staff has recorded 188 strikeouts in 153.0 innings while limiting opponents to a .227 batting average.