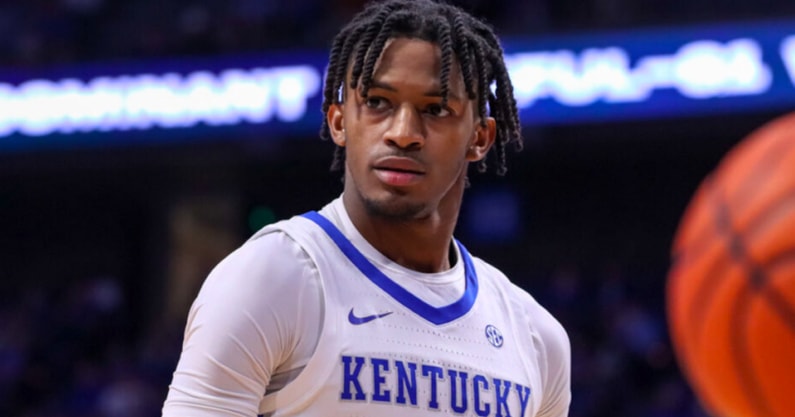 The former Texas Player of the Year and McDonald's All-American is the latest player to transfer and join LSU men's basketball coach Matt McMahon.
Six-foot-nine, 210-pound Daimion Collins, who spent the first two years of his career at the University of Kentucky, committed to LSU on Thursday, On3Sports reported.
The addition of the former five-star Collins, who entered the transfer portal on April 21, gives McMahon a total of six new players from the NCAA transfer portal where the Tigers second-year coach is looking to reshape his team's fortunes following a 14-19 record in 2022-23.
McMahon signed a local trio of guard/forward Jordan Wright of Vanderbilt and point guards Jalen Cook of Tulane and Carlos Stewart of Santa Clara. The Tigers also gained signatures from 7-foot center Will Baker of Nevada and 6-10 forward Hunter Dean of George Washington, a native of Mandeville.
"Daimion Collins had a year I wouldn't wish on anyone and has been through more than any player should, including losing his grandfather in the last week," Kentucky coach John Calipari said of Collins last month. "He's a talented player and good person with a bright future. Daimion Collins and his family know that I'll always be here for him."
Collins, who played at Atlanta, Texas, was considered one of the nation's top power forwards in the Class of 2021 where he was ranked No. 4 by 247Sports and No. 13 overall. He was ranked No. 15 overall by On3.
Collins earned Gatorade Player of the Year honors in his home state after averaging 35.2 points, 14.4 rebounds, 7.0 assists and 6.2 blocks during his senior season. The three-time district MVP and three-time Class 3A all-state choice was a first team MaxPreps All-American and third team selection on the Naismith All-America team.
He signed with Kentucky over LSU, Oklahoma, Texas, Texas Tech, Kansas, Houston and Baylor where his career never quite blossomed the past two years.
Collins started in two of 52 games, shot 51% from the field, scored 2.4 points and pulled down 2.1 rebounds.
During Kentucky's recent 22-12 season, which ended with a 75-69 loss to Kansas State in the second round of the NCAA Tournament, Collins averaged 7.9 minutes a game with averages of 1.9 points and 1.9 rebounds. He enjoyed a season-high of seven points against Arkansas.
He was expected to play a bigger role in the success of the Wildcats last season after averaging 10 points, 5.3 rebounds, 3.0 blocks and 1.0 steals during Kentucky's four-game exhibition trip to the Bahamas.
Three months later Collins dealt with the death of his father Ben on Nov. 1. He was 43.
Collins missed both of his team's exhibition games and first two regular-season contents, along with dropping 15 pounds during his grieving process. He also missed three weeks of the season January with a foot injury.
During his first season Collins, who had three doubles-doubles, led the team in blocks seven times and had season-highs of 12 points against North Florida and 10 points with six rebounds against Alabama.