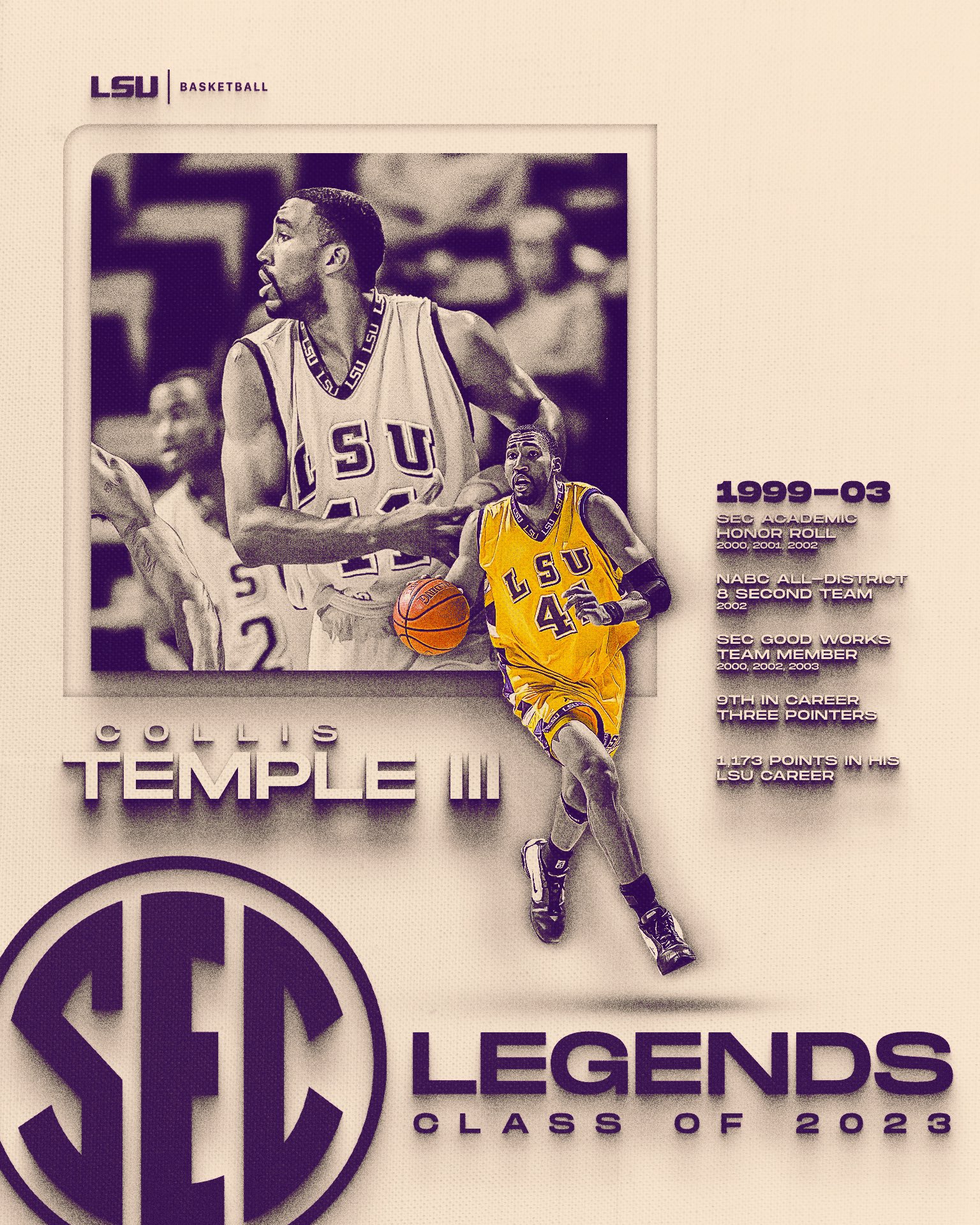 Four years after it was scheduled to happen but was postponed because of a nationwide pandemic, former LSU basketball standout Collis Temple III will take his rightful spot as an SEC Legend during this year's SEC basketball tournament.
The SEC Legends will return for the first time since 2019 to the tournament March 8-12 at Bridgestone Arena in Nashville
Temple, whose father Collis Temple Jr. was the SEC Legend in 2006, will represent LSU after having played for the Tigers from 1999-2003. He was a part of the SEC Championship team in 2000 that advanced to the NCAA Sweet 16 and played on three post-season teams including the 2002 NIT squad and the 2003 NCAA Tournament team for Coach John Brady.
Temple scored 1,173 points in 115 games, an average of 10.2 a game. He averaged in double figures each of his last three seasons – 14.3 points in 2001, 13.4 points in 2002 and 10.8 points in 2003. He made 171 three-pointers, which is presently ninth all-time at LSU.
2023 Allstate® SEC Basketball Legends
ALABAMA – Jerry Harper, 1953-56
ARKANSAS – Nick Davis, 1997-99
AUBURN – Layton Johns, 1960-63
FLORIDA – Chris Richard, 2003-07
GEORGIA – Rod Cole, 1987-91
KENTUCKY – Vernon Hatton, 1956-58
LSU – Collis Temple III, 1999-2003
OLE MISS – Eric Laird, 1982-85
MISSISSIPPI STATE – Jerry Jenkins, 1973-75
MISSOURI – Steve Stipanovich, 1979-83
SOUTH CAROLINA – Tre' Kelley, 2003-07
TENNESSEE – Lang Wiseman, 1989-93
TEXAS A&M – David Britton, 1978-1980
VANDERBILT – Butch Feher, 1973-76